John Cage: City Circus, Program XIII
Wednesday, November 28, 2012 - 02:07 PM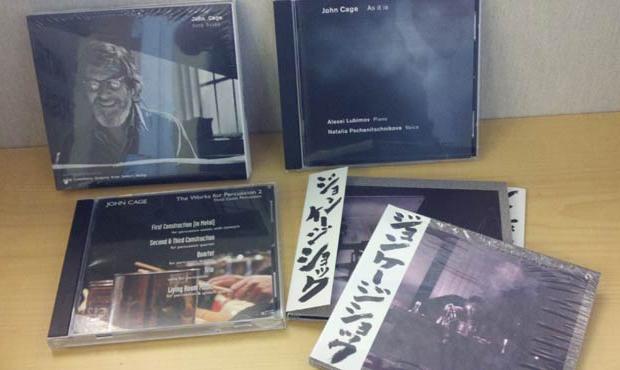 To mark what would have been John Cage's 100th birthday, New Sounds and Q2 Music have been presenting a 1994 series of rare in-studio recordings and interviews with the composer - "John Cage: City Circus," what we thought to be thirteen programs worth.  Except that when we went digging through the archives, we could only come up with twelve.  So here, after many years, and in this John Cage centennial year, is the missing 13th installment - a new show to complete the series.
John Cage: "City Circus"

More
For this show, hear new recordings of music for prepared piano by John Cage, along with recent works dedicated to Cage and the spirit of his music.  Perhaps we'll sample from some just-issued rare concert recordings from Japan, a beautiful set of 90 pieces involving voice, electronics and theatrical action- "Song Books," and selections from a new ECM release of Cage's prepared piano music featuring pianist Alexei Lubimov.
PROGRAM #3386, John Cage: City Circus XIII   (First aired on 10/10/2012)                                                           
ARTIST(S)

RECORDING

CUT(S)

SOURCE

Alexei Lubimov

As It Is

John Cage: Dream, excerpt [2:19]

ECM 2268
www.ecmrecords.com

Danny Holt

Fast Jump

David Lang : Memory Piece No. 1 (Cage) [5:57]

Innova 734
www.innova.mu
www.dannyholt.net

Alexei Lubimov, Natalia Pschenitschnikova

As It Is

John Cage: The Unavailable Memory of [3:29]
John Cage: She is Asleep [7:48]

ECM 2268
www.ecmrecords.com

Third Coast Percussion

The Works for Percussion 2

Second Construction [7:50]

Mode 243
www.moderecords.com

Talujon + 60 percussionists

Live, Lincoln Center, Aug. 3, 2012

Phil Kline: Dreamcitynine, excerpt [7:04]

Alexei Lubimov

As It Is

Lubimov: Dream, var. [8:22]

See above.

Christina Fong, violin & viola

Three2, Twenty-Three, Six, Twenty-Six

John Cage: Twenty-Six, excerpt  [4:50]

OgreOgress Prod
www.cdbaby.com
More in: