PATH Officials: Several More Weeks Before Hoboken Service Is Back
Path train service in and out of Hoboken, New Jersey, remains suspended leaving commuters with options like pricier ferry trips or longer bus rides to get into Manhattan. Nearly a month after Sandy, Port Authority officials who operate the PATH Train system brought reporters down into a tunnel below Hoboken on Tuesday to see just why the repairs are taking so long.
Officials said the whole PATH train system suffered $300 million dollars worth of damage. They predicted it will be several more weeks before the Hoboken station reopens.
Huge spools of cable were sitting on flatbed cars where the PATH train would normally be. The turnstiles and vending machines were covered in clear, plastic tarps. The Hoboken station is currently an active construction site. So PATH officials began with a safety briefing and distributed hard hats and neon vests. 
Before leading reporters nearly a quarter mile into one of the damaged tunnels, Stephen Kingsberry, acting PATH Train System director, pointed to a display of photographs from the storm. One showed water rushing down a set of steps even though a pressurized flood gate appeared to be in place.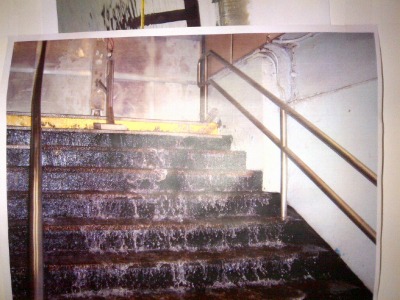 "Water came down everywhere," explained Kingsberry. "And it was so much water that it flooded the track area which is beneath us."
Eight feet of water destroyed switches, corroded cables, and took about a week just to pump out. Since the city of Hoboken itself flooded, Kingsberry said there was no way to keep the station dry.
"I mean it wouldn't flood if we could move the station above ground and put it somewhere in the sky," Kingsberry said.  "But since we need to be underground where the trains are, we're doing what we can do to fortify what we have so the water won't penetrate as much."
Right now crews are working day and night. They're replacing damaged cables, switches and fixing broken equipment. Then the whole system will need to be tested before service is restored.