Christie and Cuomo's Dueling Visions for Post-Sandy Rebuilding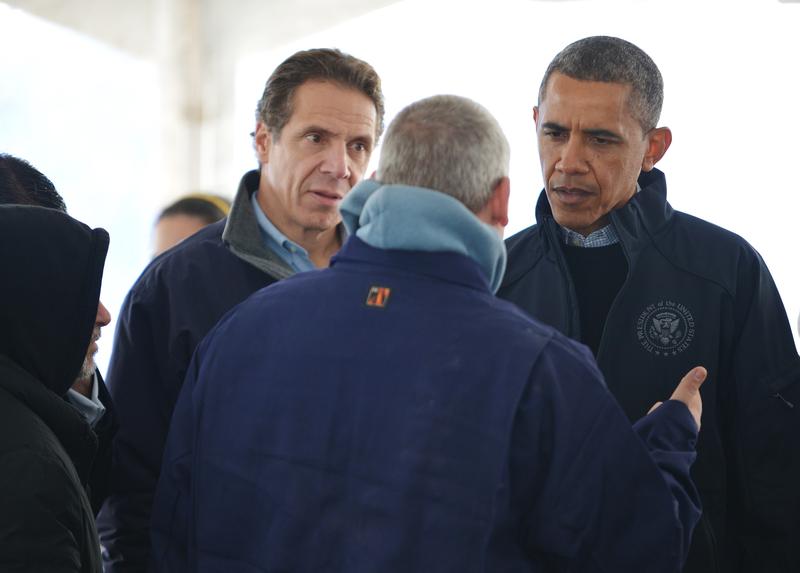 The governors of New York and New Jersey are just beginning to plan how they will rebuild after Sandy, but for now, Governors Andrew Cuomo and Chris Christie are talking quite differently about what storm-ravaged areas will be like after the storm.
A Bolder Cuomo
Less than 24 hours after Sandy's landfall, Governor Cuomo declared that it had ushered in a new era. Climate change is here, he said, and ever since, he's pressed the case for doing more than just building back what was lost.
"First question is going to be is what should we rebuild, where, and how?" Cuomo said at a news conference after the storm. "Maybe Mother Nature is telling us something." 
This kind of boldness is new for Cuomo. His first two years in office have been more about  back-room pragmaticsm in Albany than big national issues. He's ceded that space to Mayor Bloomberg, who's talked about climate change for years. But now, it's Gov. Cuomo's crusade. A new reality of fiercer storms, he says, means the status quo cannot stand.
"Where we rebuild and where we don't rebuild is going to be something we look at," Cuomo said. "The overall vulnerability of this region to floods and storms. When we designed and built New York, we did not think of floods and storms because we didn't have them.
Cuomo still hasn't given much detail about his rebuilding plans, but he has called for massive infrastructure for flood protection, but sometimes, like here, it also sounds like he's wants to retreat from the waterfront, a highly sensitive issue, or at least rethink development in places like the Rockaways.
He told Albany radio host Fred Dicker on WGDJ-Talk 1300 this week, that the high-density public housing there was a problem before Sandy– but he didn't offer a specific fix. 
"The Rockaways had issues to begin with. Public housing issues, large numbers of state facilities located there – it's compounded that. There's going to be a lot of lessons to learn here."
Cuomo spokesman Josh Vlasto says Cuomo does not want to relocate specific communities. He simply wants to build back smarter.
Christie's Shore Nostalgia
Still, it's a contrast with New Jersey Gov. Chris Christie, who's not embracing the same kind of futuristic overhaul. After the storm hit, Christie toured the devastation, hugging residents along the way. He mournfully talked about losing the Jersey Shore of his youth. 
"There's no question in my mind we'll rebuild it. But for those of us who are my age, it won't be the same," Christie said. "It'll be different. Because many of the things that made it what it was are now gone and washed into the ocean."
Initially, Christie didn't want state government to get involved in how and where residents could build back.
"Oh, I think the government does plenty of restrictions on where people can build. I don't know that we need to increase it. I think, in the main, that's a local decision, and  the localities need to make that decision themselves."
That was three weeks ago. Since then, Gov. Christie has softened, saying there could be some new rules, like getting rid of protections for residents who don't want dunes in their beach views.
"For the people who didn't want the dune to block their view, they now no longer have a house to have a view from. So how about that choice."
He's calling for new engineering projects along the beach – and a lot of federal money. His objective, he says, is to bring the Jersey Shore back. 
"The Jersey shoreline is not only an economic engine of our state, it is also the cultural heart of our state. And I will not back away from rebuilding the Jersey Shore."
Political Subtexts
New York University political scientist Patrick Egan says there's a political dimension to both approaches. Christie's relentless focus on the shore allows him to appeal to a broad constituency in his blue state – not just those directly impacted by the storm.
An even greater share of New Jersey's residents know the Jersey Shore, enjoy the Jersey Shore, visit the Jersey shore, and so even if they live far inland, do have a kind of sentimental attachment to that area.
It's less complicated for Cuomo, Egan says, because climate change and infrastructure align with his party and the New York electorate - so he can ask for things like $30 billion dollars in federal aid. 
"Naming a number early, I think, is a little bit easier for Cuomo than Christie who has to navigate a lot of different constituencies here."
In New Jersey then, it's a nostalgia-infused recovery. In New York, it's a campaign for a new age. But in the end – a lot of the rebuilding could be determined far from Trenton and Albany. Insurance companies will settle claims and set new premiums – and lot by lot, storm-battered residents and developers will decide which post-Sandy vision to embrace.