It's been almost a month since Sandy, a storm for the record books.
A 14-foot tidal surge helped destroy several businesses and homes, including 900 buildings that got slapped with red stickers — marking the structure as unsafe — in New York City alone. Sandy led to the deaths of 77 people in New York City and New Jersey, and cost an estimated $50 billion for the region.
But the numbers only tell part of the story.
WNYC took a few moments on Thanksgiving Day to check in with some of the many people we met while reporting on the aftermath.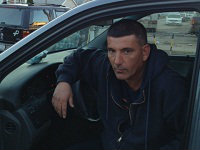 Stephen Drimalas, Staten Island
Two weeks ago, Stephen Drimalas was outside his modest home on Buel Avenue in Ocean Breeze, Staten Island. He took WNYC's Jim O'Grady inside his home to show off a neat line of mud drawn across his walls — the high-water mark of the Sandy-driven flood that had ripped through his neighborhood.
On the night of October 29, the water topped eight feet. Standing in the debris field that had once been his living room, he described his narrow escape from a storm surge that was bearing down on him, and how he returned the next day to find a pile of dry laundry where he'd left it on his bed — a bed that was floating in a roomful of water that reached his waist.
Drimalas, who works for the city Department of Transportation, has two main worries now: mold and money. To prevent mold, he has discarded his soggy possessions, stripped the walls down to the studs and ripped out the electrical system because a residual coating of seawater had already begun to corrode it. "To get mold removed or sprayed, is very expensive now," he said. "Everybody jacked their prices up because they know you need them."
An insurance adjustor came out last week to take measurements and assess the damage. But he left without saying a word about money, or even when the company would be getting back to Drimalas. "He just told me, you know, you have to wait it out," Drimalas said.
—Jim O'Grady
---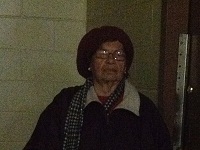 Angelina Solano, East Village
About a week after the storm, most of the East Village appeared to be back to normal. But at Campos Plaza I, a tattered public housing development on the edge of the neighborhood, 71-year-old Angelina Solano was lugging four gallons of water up to her apartment on the 17th floor.
"I no got water. No steam. I'm a sick person. I got problems," she said through tears. "My daughter she is not healthy. My husband is sick, too. This is terrible."
Solano explained the water was from a fire hydrant that someone had pried open. Her family was rationing it and didn't want to use the water to flush the toilets so now they said the bowl was full of excrement, which was stinking up the apartment.
Solano's building came to life again a few days after I spoke to her. Her life is getting back to normal. She was cooking a Thanksgiving meal for 15 when I spoke to her Tuesday. A few weeks ago a holiday meal seemed unfathomable. She counts herself lucky. Solano was one of about 80,000 public housing residents to be affected by the storm. According to the housing authority, all buildings now have power, heat and hot water.
The family now stores several gallons of water inside the house.
—Cindy Rodriguez
---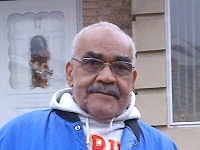 Daniel Archevald, Staten Island
Daniel Archevald had just begun sorting through the storm damage and debris that was beginning to pile up outside his home on Stacey Lane in Midland Beach, Staten Island.
The 71-year-old didn't evacuate early on but attempted to outrun the rushing waters by car the evening Sandy hit. He had to abandon the car too and ended up being rescued by a friend with a kayak.
Since paddling out of danger, he and his girlfriend heat, electricity and hot water have again returned, which he said helps a lot. But his basement, first floor and countless home furnishings were ruined. He doesn't have flood insurance and it's still unclear what damages FEMA will cover.
In spite of the uncertainty, Archevald has remained surprisingly calm. "I've been through worse than that," he said recently. "I was shot twice."
He was wounded by gunfire two separate times in the 1980's while working his Pepsi Cola delivery route. So comparatively, he said, deciding to stay and rebuild won't be as challenging. Archevald reflected "I'm not a quitter, I'm not a runner, I do what comes natural, I guess — staying and fighting."
—Kathleen Horan
---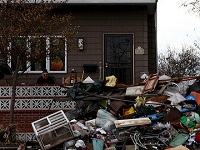 Raul Romero, Far Rockaway
On election day, one week after Hurricane Sandy, Raul Romero, 60, was on his way to a FEMA office when he came across the voting supersite in Far Rockaway. At PS 180, near his home on Beach 100th St., a massive white tent had been hastily set up on the dry mud-caked middle school basketball court. "When I saw the tents, I pulled over to see if this is the voting," he said that day. "I was tickled pink. Tickled pink that I could do my duty."
Romero lives with his wife and two of his five daughters in a 14 story-coop, a block from the ocean, near the Cross Bay Bridge. At the time it was cold. He had no power. No heat. No water.
Last week, Romero's power had just been restored. The water too, but not to the 14th floor. So he goes down 5 stories for water. And there's still no heat. So he bundles up and sleeps in his clothes.
His daughters and six grandchildren who all live in Far Rockaway are now strewn about the city, staying with relatives in Brooklyn. But Thanksgiving is always a big day for the Romeros, but this year will be different. "I don't know if there even will be a gathering, maybe in a local diner or something…  because things are real tight right now," he said.
Romero would love to have his family over to his 14th floor apartment, but he has to travel a mile and a half for groceries. He says it's time consuming, and wearing him out. He's taken some relief supplies, but only takes what he needs, nothing more. He said, if the family could somehow find a way to all gather at home, despite the conditions, "that would be my early Christmas."
—Stephen Nessen
---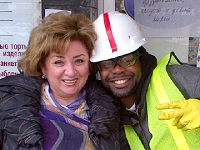 Lina Kats, Coney Island
Disasters are awful, by definition. But loss and adversity sometimes have a way of invigorating people. Lina Kats, owner of Belarus International Food Market, seemed to WNYC's Ilya Marritz to be one of those people when he met her on the Saturday after Sandy. Her store was one of the only open shops on Neptune Avenue, Coney Island. Kats moved around her store's ruined basement energetically, directing the cleanup.
When I returned to the store this week, Kats' mood had worsened. "The spoiled food cost me 40 thousand dollars. We counted," she said. Her insurance is resisting reimbursing the damage, and other expenses are piling up, including the cost of replacing walls before mold sets in.   
Still, Belarus International Food Market is surviving, if not prospering. There is food on the shelves, and former Soviet Citizens move through the store's two narrow aisles. "Lot of old people who can't go anywhere…Where they gonna go? Everything is closed around. So they come here," Kats said.
—Ilya Marritz
---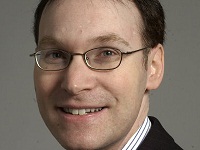 James Madore, Long Beach
Newsday reporter and Long Beach, Long Island resident James Madore spoke with WNYC a few days after Sandy hit.
He described waves from the bay meeting with the ocean, and colliding in the center of the street. In the aftermath of the storm, thousands of people lost power, and sand and debris piled up in the streets.
Now, Madore said, most Long Beach residents who can receive electricity have their power back. The city's sewer system is running and the water is safe to drink.
That's not to say there's no more cleanup to do; Madore said debris remains. In the wake of the storm, he said city officials are also talking about how to rebuild Long Beach even better, and how to protect it from future storms like Sandy.
Madore's been speaking with fellow Long Beach residents who are also grateful for how far they've come since Sandy struck.
"What they're most thankful about is number one, no one lost their life in Long Beach during Hurricane Sandy," he said. "Number two, we've returned — maybe rediscovered — our sense of community."
—Annmarie Fertoli
---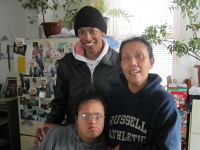 Reina Wong & Brandon McClain, Rockaways
Seventeen-year-old Brandon McClain is from the Rockaways, where he lives with his mother and his older sister in a small apartment in a three-family home. They were the only ones who stayed after the storm, bundling up to weather the cold nights and days.
His mom, Reina Wong, heated the place by boiling water on a gas stove. An immigrant from Suriname, she's been living in the Rockaways for 20 years and said she didn't evacuate because she has no family nearby. On the night of the storm they drove to a friend's apartment in a taller building. But their car got hit by a wave and they had to drag each other through the salty water the rest of the way.
Now Brandon, a senior at Information Technology High School in Long Island City, is working on a documentary about life in the Rockaways after the storm. Using equipment borrowed from his school's video teacher, he's focusing on the disaster relief response in diverse neighborhoods.
"I want to see what people know about what's happening out there," McClain said. "For example, like, Belle Harbor. The last people I interviewed. It seemed that money wasn't a problem, organizations coming in wasn't a problem. They were frustrated at the Red Cross, though."
—Beth Fertig
---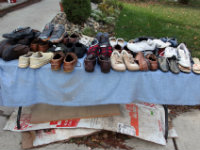 Nola and Chris Woehrle, Lyndhurst, New Jersey
The neighborhood along the Passaic River in Lyndhurst, New Jersey, has flooded three times in the last 13 years.  But nothing prepared the Peabody Avenue residents for Sandy.
"We had all our furniture raised up, we had all our bags packed in the car, we figured we'd get 15 minutes and we'd roll out," Chris Woehrle said.
He was staying with his mother, Nola, in their modest suburban home. "The water came like a tsunami, there was no warning, we looked out and my mom's car was floating halfway down the block. and she managed to get into it and back up through the water," Chris Woehrle said. "It was a huge, huge surge of water unlike anything we'd seen from the last floods,  so it was pretty scary."
The water filled the basement and about two feet of the first floors of each home on the street. A week later,  Nola Woerhle stood in her wrecked living room, the floors and walls torn out, and electricians figuring out how many outlets need replacing. Woerhle has been told her insurance adjuster won't get there until the week after Thanksgiving.
"I'm kinda in my car and I'm going to somebody else's house tonight," Nola Woerhle said. "And I'm just depending on the kindness of my friends and neighbors, so I'm not looking forward to doing this for a month."
—Nancy Solomon
---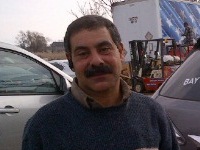 Mike Gerges, Staten Island
When WNYC's Brigid Bergin first saw Mike Gerges, he was at the end of Guyon Road on Staten Island unpacking supplies from the back of a black SUV. It wasn't actually his car. He borrowed it from a dealership in Bay Ridge so he could get around and help.
Gerges had his own Sandy damage. He had to evacuate before the storm and when he returned to his Midland Beach home, his furniture was on the front yard.
He fixed the studs, the wiring, and did the mold removal. He got his power turned back on. Then he moved on to his neighbors' homes.
Gerges plans to continue giving away contracting services at least through the end of the month. He's given his name to local officials and plied me with business cards he wanted me to give anyone I met who needed help. He said, "I tell them, 'Call anytime, 24/7,' me and my guys will be there."
Gerges wishes his fellow contractors would to do the same thing.
"This is not time to be looking for the green dollar," said Gerges. "We need to do what we can so these people can go home."
—Brigid Bergin
---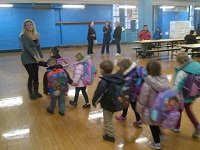 NYC Schools
Sandy shuttered schools for a week for all students — and even longer for some others, like those attending school in buildings that served as emergency shelters.
Other schools suffered damaged roofs, power outages and major flooding. Some could not reopen that first day back on November 5, and those schools had to share space in other school buildings.
"Since it wasn't our school it felt a little bit different," said Jesse Morris, a high school student from Scholars' Academy in the Rockaways. He spent his first day back in class at an elementary school in East New York, Brooklyn.
"But since I saw the same people, I felt a little bit at home," he said.
The vast majority of schools are open. But nearly 8,000 students from 18 schools are still going to class at other sites. The Education Department estimates that some of those schools may not be able to open until January.
—Yasmeen Khan