Post-War Painters
Thursday, November 22, 2012
From fistfights in bars…to inspiration in cold water flats…the post WWII art scene in New York is legendary.  In this edition of Fishko Files, WNYC's Sara Fishko hears tales from postwar painters who were in downtown Manhattan just as Abstract Expressionism was taking hold. (Produced in 2010)
Artist Charles Cajori lived and worked in the Abstract Expressionist community. See some of his work -- from 1961 to present -- below.
Painter Mary Abbott, who also appears in this edition of the Fishko Files, was a member of the downtown Abstract Expressionist art movement, as well.

Abbott in 1952.                                                                                                      Abbott in 2002.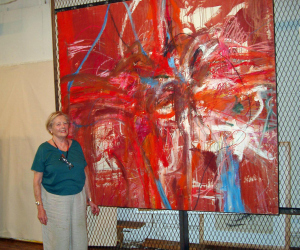 Thank you to the Thomas McCormick Gallery for these images.
WNYC Production Credits...
Executive Producer: Sara Fishko
Associate Producer: Laura Mayer
Mix Engineer: Wayne Shulmister
Managing Editor, WNYC News: Karen Frillmann