Miniature Trains Roll into Grand Central
The 11th annual Holiday Train Show at the New York Transit Museum will pull into Grand Central Terminal just in time for the station's centennial anniversary.
About 30 historical train models will chug through the display of a mini New York City — complete with iconic skyscrapers, such as the Empire State (and King Kong dangling from its side) and Met Life buildings — and eventually surface in the suburbs, which crop up at the far end of the display.
There is a slight twist this year: The display will forgo its traditional Christmas theme in favor of celebrating Grand Central's colorful 100 year history. A revised and elevated model of Grand Central Terminal itself sits proudly at the head of the 25 foot-long display, with more than 12 underground platforms teeming with activity below.
William Finkel works for Lionel, the company that manufactures the model trains used in the display. He said it took dozens of people several months of work to get the entire set running and get the tiniest details right. Lionel employees went to Coney Island Yards to record the actual whistle of the R-30 subway, which ran between Jamaica and Coney Island, and include the sound in the display model. The river in the model is hand-painted, and the Brooklyn Bridge is handcrafted.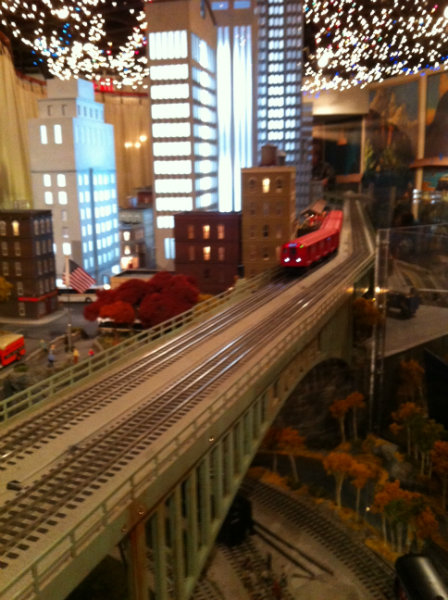 (Photo: About 30 model trains will chug their way through a mini-New York City./Johanna Mayer)
But according to Finkel, it's all worth it.
"All the kids will be here and there'll be face prints all along this Plexiglas, and kids get excited. It's real…real life," Finkel said. "I mean, it's miniature, but compared to video games, there's something that really excites."
The show opens Wednesday and will run through February 10.