HUD Secretary, a New Yorker, Details Approach for Sandy Rebuilding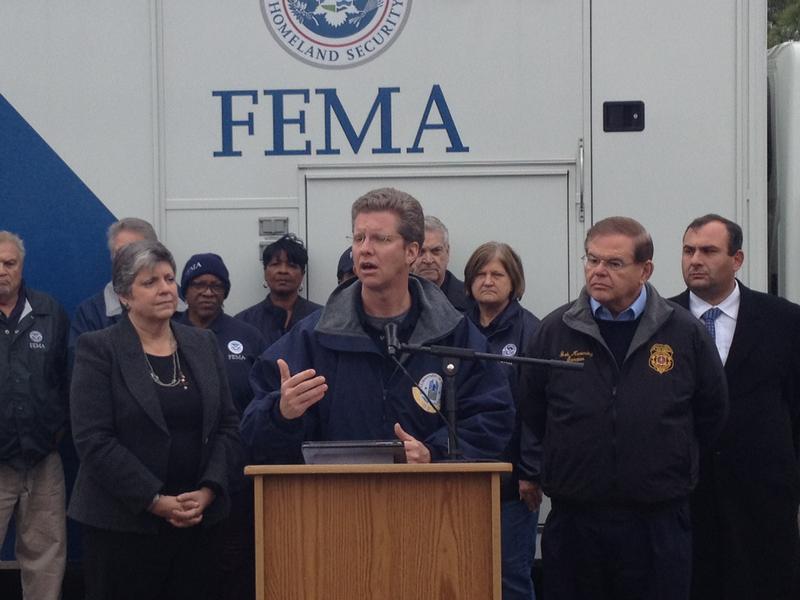 A day after President Barack Obama tapped him to lead the regional planning for rebuilding after Sandy, the Housing and Urban Development Secretary, Shaun Donovan, laid out his approach to the federal government's long-term effort during a visit to a disaster relief center in New Jersey on Friday.
Donovan, a native New Yorker, has a portfolio in Washington that focuses on housing – and that was his emphasis as he described the immediate need of getting residents who need housing assistance registered with FEMA.
For the long-term rebuilding, though, he described an ambitious agenda that would include permanent housing for displaced families, restored coastlines, shored up regional transit and infrastructure investments to prevent a similar disaster from happening again.
And it's all starting soon.
"I would expect you will see in the next few weeks a specific plan and a timeline for how we will go to communities, listen to what they want, listen to their vision, and put together a structure that enables us to work together," Donovan said..
Before Donovan was tapped to lead the federal housing agency at the age of 43, he was New York City's Commissioner of Housing Preservation and Development under Mayor Michael Bloomberg.
He worked in housing nearly his entire career -- first as an architect, in policy with the Clinton administration, and in business at Prudential Mortgage Capital before he joined the Bloomberg administration.
At Harvard, he trained as an architect and got his masters in Public Administration. That has given him a fluency in both design and politics, according to University of Pennsylvania Urban Planning professor Eugenie Birch.
"He had an understanding of the design impacts of housing but also understood how to get it done in terms of how to pay for it," Birch said of his time in New York City. "To be able to combine those two qualities is very, very unusual in a public official."
Birch has worked with HUD during Donovan's tenure on its Partnership for Sustainable Communities, an effort to leverage money across federal agencies to build affordable and environmentally sensitive housing with adequate transportation.
A HUD spokesman said a pilot program that grew out of that effort could become a model for new housing in New York and New Jersey.
Birch also co-edited a book about the government response to Katrina, which she describes as marked by incompetence and poor leadership at the local, state and federal levels. She is heartened that in naming Donovan, the White House appears to have learned from some of those missteps.
"Somebody's got to be the point person who is able to coordinate and direct the resources that are going to be needed," she said. "And that sort of person, one would hope, would have an understanding that it takes many pieces and many, many agencies to rebuild, but would understand that from the very fibers of his being, and that's what we have in Shaun Donovan."
So Donovan has earned respect, and plenty of political connections, in New York. But as he addressed reporters with New Jersey's two senators in Monmouth County, he made sure to mention his local ties.
"This is personal," Donovan said. "I grew up in this region. I was born in New York. I'm married to a girl from New Jersey. I got married here."
"Married up!" New Jersey Sen. Bob Menendez shouted from behind him with a laugh.
It was a joke, but hinted at the persistent regional rivalry between the two states. That's something Donovan is going to have to navigate as real decisions about funding priorities get made.