Rebuilding After Sandy: Small Property Owner Learns Lessons from Disaster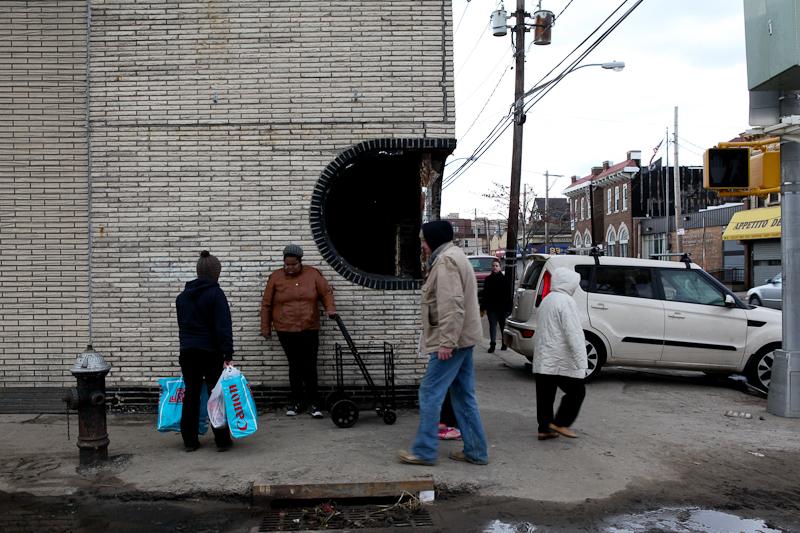 Standing on the muddy porch of his 2-story rental property Ken Swan's cell phone rang. It was the kind of phone call that could've changed his life if it'd come three weeks earlier.
"It's my insurance company offering me flood insurance. Effective 30 days from now," he said.
The Far Rockaway peninsula is a sandy spit that juts out of southern Queens, and was one of the worst hit areas during Hurricane Sandy. The storm surge inundated Swan's four, 2-story apartment building along Rockaway Beach Boulevard at 111th Street. Flood waters filled the basement, and 2 feet of water swept onto the first floors. The buildings are one block from the ocean, a stone's throw  from the boardwalk that is now warped and heaving like a wooden rollercoaster.       
Before the storm, as warnings turned into evacuation orders, the 46-year old Swan shrugged them off. "Storm surge" and "flood prone" were abstract words, things that happened in other places.
"Before the storm I said, it aint' gonna happen," he said. But as news reports of flooding rolled in and his own home nearby at 149th street took on a foot of water, "I was eating my words with salt and pepper."
Swan grew up on Far Rockaway. He worked in construction for years, and in 2008 he invested in five, 2-story buildings, including his own. He figures he rents to over 20 families. It's his primary source of income.
"It's all wiped out, the four apartments are wiped out, the basement, all the boilers," he said.
Swan said after Hurricane Irene he did the calculations and figured he'd have to raise rents $100 a month to cover the costs of flood insurance. Now, he's not taking any chances.
FEMA is covering the cost for his residence, $27,000 for repairs and $4,000 in rental assistance. The Department of Buildings has inspected one of his properties at 111th street so far, and slapped a yellow sticker on it, which means restricted use.
One of Swan's renters is the Hader family. Alan and Christine. Swan says they recently adopted two children and Christine, is pregnant with another. Swan had recently renovated their apartment with brand new cherry cabinets and a granite counter top. 
The family escaped before the storm hit, but left their belongings behind.
Now, the new granite counter is covered in sludge, the cherry cabinets are speckled with sea debris and the crib is full of mud. Despite the mess, you can see the remnants of family life: children's books, stuffed animals and an odd sneaker is strewn on the slippery floors.
"They got nothing," Swan said, surveying the damage. "At the end of the day I still have the apartment."
Swan snaps photos and works with his super and a crew hauling out boilers, sheet rock and junk before mold grows.
It gets dark early now, and the work seems overwhelming.
Suddenly, Swan is reminded of advice his father gave him when he was young. 
"We sat down, he put the TV on and we're watching, he says watch this part. And he shut it off. And I looked at him and go what are you doing? He turned it back on and the show was in a different spot. He said, life goes on. With you, or without you."
Swan considers what this means for him now, a small property owner whose primary source of income has now been completely destroyed.
"Whatever happens now, we just have to go on… you can't stop, you can't sit and cry about it. You gotta pick up your britches and go."
Every year around Thanksgiving, Swan's family goes on vacation to Aruba. He admits he's exhausted and has been working non-stop since the storm and doesn't expect to get much rest there. But he figures there'll be plenty of work when he's back.
And if there's another flood, he'll be ready. He bought the flood insurance.