Last Chance Foods: Use Kabocha for Pumpkin Pie and Kick the Canned Stuff
The crank of a can opener and the wet sound of suction — there's a distinctly "semi-homemade" quality to many pumpkin pie recipes. With Thanksgiving less than a week away, cookbook author Hiroko Shimbo recommends avoiding canned filling and using kabocha squash in pie instead.
"Kabocha has very dense pulp and the flavor is very, very sweet," said Shimbo about the squash, which has thin green skin and deep orange flesh. "So from that point of view, you can make very creamy, sweet pie filling." She added that the flavor of kabocha squash also includes echos of chestnut.
"Butternut squash is not as sweet and [it's] watery for use in pie or soup," said Shimbo. She explained that for soup she cooks the kabocha  two hours in the oven at 400 degrees Fahrenheit. "Cooking preserves, or strengthens, the richness of the squash," she said.
Shimbo shared that recipe for kabocha squash soup (below) from her recently published cookbook, Hiroko's American Kitchen. Roasting the squash whole in the oven also makes the rock hard winter squash much easier to cut into pieces. Shimbo admitted that before she learned that trick, she often did dangerous battle with the tough kabocha and sharp knives.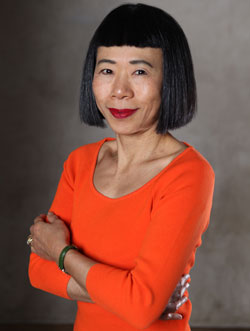 Another advantage kabocha has over other winter squash is that its skin is edible. While Shimbo removes the green skin to preserve the orange color of pie filling and soup, she also often braises it skin-on, in homestyle Japanese dishes like adzuki beans and kabocha stew.
The common belief is that vitamin- and nutrient-rich kabocha helps ward off winter colds. In particular, it provides a valuable source of vitamin A, which can often be hard to find in seasonal winter vegetables.
(Photo: Hiroko Shimbo/Courtesy of Hiroko Shimbo)
We simmer [it until] tender just using the very Japanese dashi, or stock, and a little bit of sugar, and a little bit of soy sauce," said Shimbo.
That may be the traditional Japanese method of preparing kabocha, but the reality is that the Japanese squash is not native to the country at all. "Actually, the Portuguese brought the kabocha squash from Central America," said Shimbo.
Here's what Shimbo said to look for when picking out a kabocha: "It should weigh heavy, which means [the] pulp is just dense, very good condition. And also, the skin should not be fresh, green. It should be slightly dried because... storing the kabocha improves the sweetness."
Below, try her recipe for spiced kabocha soup.

Spiced Kabocha Squash Soup
by Hiroko Shimbo
from Hiroko's American Kitchen

This spicy, slightly sweet, and richly textured soup is a wonderful addition to a Thanksgiving meal, but its warming satisfaction can be enjoyed throughout the fall and winter. Kabocha squash is loaded with nutrients, so much so that in Japan there is a saying: "Eating kabocha on the first day of winter keeps you from catching a cold." Because uncooked kabocha squash can be difficult to cut, I bake the whole squash, wrapped in aluminum foil, in the oven for about 1 1/2 hours, until very tender.

Makes 4 servings
1 medium kabocha squash (2 to 3 pounds); substitute butternut squash

1 medium carrot (4 ounces), peeled and cut into 1-inch pieces

1 small leek, white part only (2 ounces), cut into 1-inch pieces (2/3 cup)

4 cups kelp stock or low-sodium vegetable stock

2 tablespoons ginger juice, from grated 2 thumb-size piece of ginger

1/2 teaspoon ground cinnamon

1/4 teaspoon ground nutmeg

1 1/2 tablespoons medium-aged light brown miso

1/2 teaspoon sea salt, plus more for finishing soup

1/4 cup olive oil

2 tablespoons pumpkin seeds, toasted
Preheat the oven to 400°F.
Rinse the kabocha squash and wrap it in aluminum foil. Put the squash in the oven and bake for 1 1/2 hours. Remove the squash from the oven and carefully remove the foil. Cut the squash in half and remove the seeds with a spoon, removing as little pulp as possible. Scoop out the pulp into a large bowl and measure out 2 1/3 cups of cooked squash. Freeze any extra pulp for later use. Reserve 1/4 cup of the green skin, julienned, for garnish.
Place the carrot, leek, and stock in a medium pot, cover, and place over medium-high heat. Bring to a boil, decrease the heat to medium-low, and simmer for 25 minutes or until the vegetables are tender.
Working in 3 to 4 batches, transfer the broth and cooked vegetables along with the pulp of the squash to a blender or food processor, and puree until smooth. Transfer the first pureed batch to a clean pot and repeat the process. In the last batch, add the ginger juice, cinnamon, nutmeg, miso, salt and olive oil and process.
Before serving gently reheat the soup and divide it into soup bowls. Sprinkle a tiny pinch of salt into each bowl, garnish each bowl with the julienned green squash skin and pumpkin seeds, and serve.