How to Help | Post-Sandy Holidays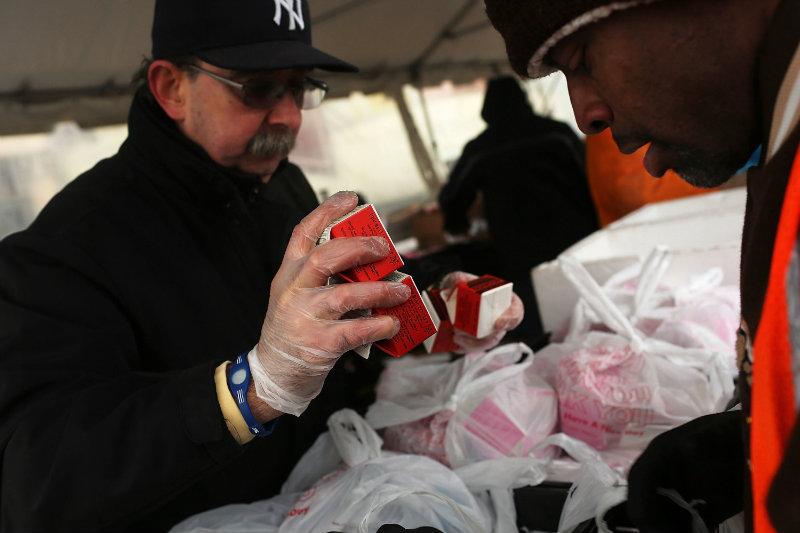 Looking to help a family affected by Hurricane Sandy? We're collecting a list of places to donate, volunteer and receive help for the holidays.
All locations
Be a Secret Santa: Secret Sandy is a gift-giving site for people who want to donate and purchase presents for children in areas affected by Super Storm Sandy. They're also matching children with secret Santas.
Jam out: Proceeds from Matisyahu's newest single "Happy Hanukkah" will be donated to the Robin Hood Foundation and The Jewish Foundations of North America to help victims of Hurricane Sandy from now until the end of Hanukkah, Dec. 16.  
Spare a coat: The Ugly Christmas Sweater Cabaret is hosting a holiday charity show and coat drive on Dec. 4th. And Coat Drive to benefit New York Cares for Hurricane Sandy relief.
Get cultural: Shakespeare with Benefits is hosting Sandy Relief: A Bard-Based Variety Show on Dec. 17th with special guest Olympia Dukakis, with proceeds going to New York Cares.
Cook or share your table: Tablesharing is matching people in need with those willing to provide or host a holiday dinner. Volunteers can specify which among a Christmas, Hanukkah or Kwanza dinner they'd like to donate.
Find a shelter: New York is currently operating seven shelters around the city (as Fortune Magazine notes, the Red Cross is prevented from operating shelters in the five boroughs).  
Eat and be merry:
The Cobble Hill restaurant Strong Place is hosting "Sweet Relief" a benefit dinner with proceeds going to the Rockaway Rescue Alliance. "There will also be a raffle to win a tour of the Sixpoint Brewery," all taking place on Nov. 30th. [h/t Grub Street]
East Village mainstay Hearth is hosting a Sandy benefit dinner featuring celebrity chefs from restaurants all over the city who have pooled together as NYC Food Flood. Dec. 3rd. [h/t Grub Street]
Bon Appetit is hosting a series of benefit meals on Dec. 6th and 7th called Do Your Part Dinners, with food prepared by many of the country's most famous chefs (and more than a few Top Chef alums), for the Mayor's Fund to Advance New York City.
Volunteer/donate: 
The website Hurricane Sandy Adopt a Family 4 Christmas is gathering volunteers around the tri-state area who can donate food, holiday decorations or needed items for Hurricane Sandy family/families/couple or singles to "give them a wonderful holiday."
Operation Sandy Christmas is looking for volunteers in NY and NJ to man Stuff-A-Bus campaigns and toy drives to help the families that will spend their Christmas in shelters. 
The New York Times has an annual charity campaign called the Neediest Cases Fund, which profiles and assists children, families and the elderly in New York, in coordination with a number of charitable agencies. To donate or find out if you are eligible, visit the site here.
Bay Ridge Cares is preparing meals for distribution all throughout the holidays and are in need of volunteers and monetary donations.
Hurricane Sandy Relief Kitchen - a coordinated effort between Two Boots Brooklyn and the Old First Church in Park Slope - is taking donations and volunteers to help distribute food to shelters throughout the holiday season until end of the year.
The Salvation Army of Greater New York is holding an online food drive throughout the holidays.
New Jersey
Volunteer/donate:
Sandy Report is collecting a list of places to volunteer and donate in southern New Jersey for the Christmas holidays.
The Volunteer Center of Bergen County has launched the All Wrapped Up Holiday Giving Program, where volunteers can donate food or money, adopt a family, or donate gifts.
The Salvation Army of Newark is hosting an online food drive through the holidays.
Connecticut
Volunteer/donate:
The Food Bank of Lower Fairfield County, which serves Stamford, Norwalk, Greenwich, Darien and New Canaan, is collecting donated food to distribute to Sandy-affected families and is organizing volunteers.
Newton Patch has collected a list of 10 places to donate toys, holiday meals, and volunteer during the heavy holiday season.
Eat and be Merry:
Oaxaca Kitchen in Westport is hosting a Hurricane Sandy benefit dinner on Nov. 28th.