Episode #3230
World Music
Wednesday, November 14, 2012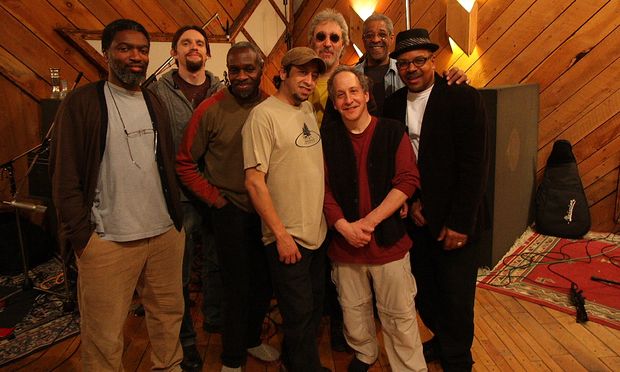 For this New Sounds program, there's an hour of world music.  Listen to tricky rhythms but a great groove in music by the global outfit Adam Rudolph's Moving Pictures, which is made up of jazzers and North African musicians alike, exploring all the world's instruments.  Also, hear world trance dance-fusion music by Christopher Stowens, built around Indian and Pakistani sources.  Plus, "Village Voices" from "Pulse: a Stomp Odyssey," and more.
PROGRAM #3230 World Music (First aired on 7/26/11)    
ARTIST(S)

RECORDING

CUT(S)

SOURCE

Qwii Music Arts' Trust Khoi San Music

Pulse: A STOMP Odyssey

Xlao Tshao [1:23]

 Six Degrees #675036-1084**
sixdegreesrecords.com

Adam Rudolph's Moving Pictures

Both/And

Blues in Orbit [3:47]

META 013
www.metarecords.com

 

Various artists

Pulse: A STOMP odyssey

 Village Voices (Remix by Mr. Bill and Mr. Ben) [2:13]

See above.

Adam Rudolph's Moving Pictures

Both/And

Love's Light  [4:54]

See above.

Christopher Stowens

Here and Now

Sirens [7:55]

Download from iTunes or Emusic.com

DJ Cheb i Sabbah

Shri Durga

Shri Durga [11:13]

Six Degrees Records 657036-1009-2
sixdegreesrecords.com

Musci - Venosta

Messages and Portraits

lullabies...mother sings...father plays [3:28]

ReR #ReRMVCD, distr.
www.rermegacorp.com

A Moving Sound

Silk Road

Si Gu Qin [5:32]

MTM-71 Due out on Motema Records, Sept. 13 , 2011
www.motema.com
www.amovingsound.com

Christopher Stowens

Here and Now

People Will Talk [10:05]

See above.

Airs 11/21, at 8PM on Q2 Music
In the eleventh of these special City Circus programs, hear a 1982 concert performance of duo piano music by Erik Satie along with Cage's "Credo in Us" for piano & percussion. Both are from the massive day-long festival, Wall-to-Wall John Cage, recorded at Symphony Space. Also, there's keyboard music by David Borden for the Mother Mallard Portable Masterpiece Company based on the four letters of Cage's name, and more.