More Commuting Options Open for Far Rockaway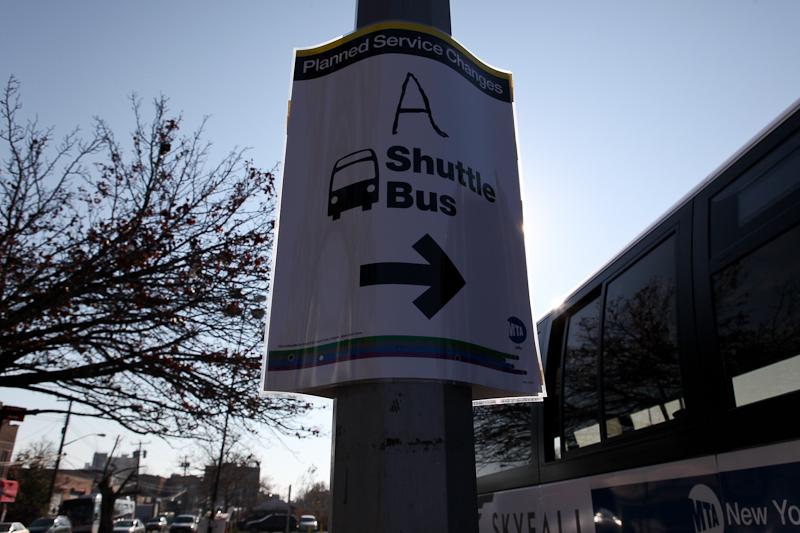 Hurricane Sandy filled the roads on the Far Rockaway peninsula with sand, debris and downed power lines. As roads became cleared, the MTA began operating local buses during daylight hours, until recently when more lighting has become available and they've been able to run later buses. And while subway service was restored to most of the city, the A train, the only subway in the area, remains too damaged to reopen.
This has meant residents have been finding creative ways to get around. For some, that means taking Dollar vans to local buses to subway stations. But starting Sunday, the MTA began operating an express shuttle bus from Mott Avenue to the Howard Beach station. And Monday morning a ferry service will run from Beach 108th Street and Beach Channel Drive from 5:45 a.m. to Pier 11 on Wall Street and East 34th Street. The last ferry will depart at 8:45 p.m.
Mike Defara, 46, took the new shuttle Sunday afternoon. He was heading back to his security job in Harlem, after just returning from his night shift. His time is already tight, but with delays in service, his 1.5 hour commute has doubled to nearly three hours. And when he gets home at night, his area is still pitch black.
"You don't know whether you're going to get home alive or not," he said. "People who get off at 12 and get out here at the Rockaways after midnight, how are they going to get home?"
The MTA said recently there are enough lights at night to have late local bus service. But many residents complained that there are no late buses.
In Far Rockaway, once you get down to the peninsula, not far from Mott Ave., there are no traffic lights. Traffic guards direct traffic. And with all the relief efforts, the traffic gets pretty bad. There are LIPA trucks, various other power crews, Red Cross, National Guard and local food trucks all snarling traffic.
And the new shuttle bus is heading down roads that don't usually see MTA buses.
"It's pretty tight," bus operator Vince Stone said. "But the motorists have been helpful, you tap the horn, they know what's going on," he said, swerving around an immobile car.
Far Rockaway residents like Kabar Smith, 41, is getting reacquainted with the MTA since the storm. He usually gets around by car, but is taking buses and subways now. He gives the MTA a 7 out of 10. "But LIPA," he said. "They need to fire all the bigwigs."