Mayo Clinic: My Attempt to Make My Own Mayonnaise
November 10, 2012 —
I'm spoiled.  I live about six blocks away from Empire Mayonnaise, the artisanal mayo shop that sells little pots of mayonnaise in flavors like lime pickle (my favorite), bacon and black truffle.  
But at $6 to $8 a pop for a 4 ounce jar, it's pricey. So, with a nudge from New York Times food writer Melissa Clark, I decided to make my own.
The nudge came when I ran into Clark at a fundraiser for Hurricane Sandy victims hosted by the Lower East Side appetizing institution Russ & Daughters.  
"Have you been to Empire Mayo?" I asked her.  (Doh. Of course she has.)
She waved her hand like she was batting at cigarette smoke.  "I make my own!"  (Doh. Of course she does.)  "It's so easy. It takes minutes."
I suddenly felt a little foolish for buying those teeny, pricey pots of emulsified egg yolk. I suppose I could have gone against type and just walked into my local grocery store for a big jar of Hellman's©.  But I decided to fully embrace the stereotype of my borough and my times and make mayo myself.
I made a mess of it.  
I followed Times food blogger Mark Bittman's directions for making mayo in a food processor, letting the oil drizzle slowly into the whirring egg yolk/garlic/salt mixture through a little hole in the white plastic food "pusher" of my device.  I had noticed this hole in the past, but always thought it had something to do with the manufacturing process of the pusher itself. I didn't realize it had a purpose.  Seven minutes later, I was still waiting for fluffy, creamy mayo to appear.  I had a greenish-yellow puddle of oil with bits of white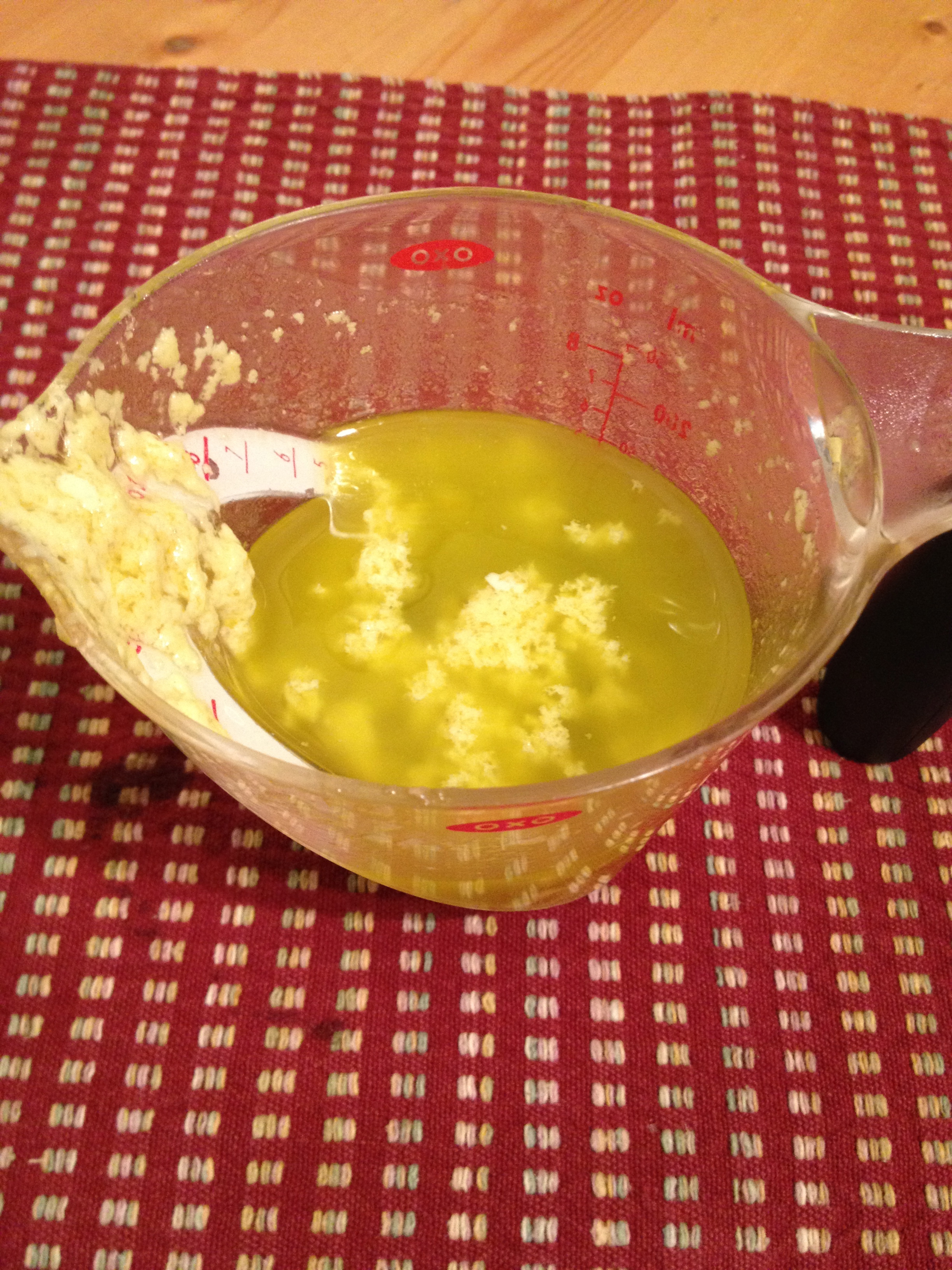 trings suffused throughout.  Hmmm, something didn't bind.
I tweeted at Clarke:  [next, I'll be growing a beard, making my own beer and raising capital for a goat cheese cooperative on Kickstarter.]  "What did I do wrong?"
"It got too warm. In a food processor the mayo should never take more than 2 minutes - otherwise it will over heat."  
She forwarded a link to a site on how to fix broken mayonnaise.  I was to take another egg yolk and slowly beat the broken mayo into it.  I was to do this the old-fashiononed way, by hand, with a whisk.  
I dreaded the effort. Clark has become so adept at whisking, she can froth up a sturdy mayonnaise in 58 seconds.  I took about 10 minutes to fix my mayo.
But I fixed it! It looks luscious and creamy, and smells of garlic and a hint of lemon.  I did it.  I made my own mayo.  It took about an hour out of my day, including online research and tweeting for help.  Maybe that $6 jar from Empire is worth it, after all.