Day Laborers Play a Role in Sandy's Aftermath
A dozen day laborers gathered on a recent evening at an immigrant day worker center in Staten Island's Port Richmond neighborhood. Some have already started doing clean-up and repairing people's homes in Sandy's wake. Others expected to do so in the coming weeks and months. They were at the center to take part in a training session.
"We want to make sure they know how to be safe doing the type of work," said Gonzalo Mercado, the center's executive director. "There is a lot of pollution and problems with safety, especially after disaster happens."
These day laborers are mostly illegal immigrants. They're not authorized to work in the United States, but they have long been part of the city's fabric. On Staten Island, they helped build many of the homes that Sandy destroyed, and they'll help re-build them.  Mercado says his center been receiving calls from homeowners and businesses who want to hire.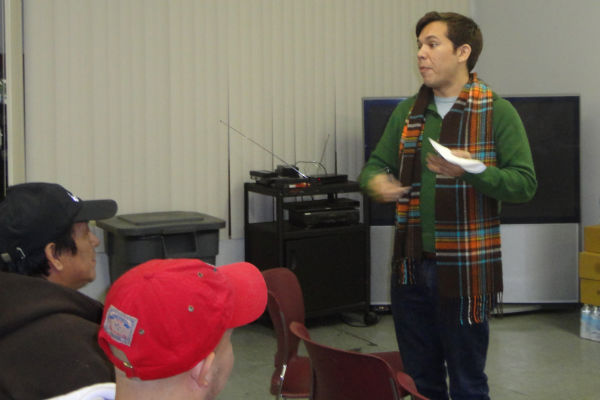 The center can match employers with around 40 day laborers who usually come to this center. But before these men go out to the streets to remove garbage that piled up, Mercado invited Jacqueline Petricevic, an investigator from the Department of Labor to talk to them.

"We enforce minimum wage, which is $7.25," she said. "Overtime, anything over 40 hours they must pay you time and a half."

Petricevic reminded the men that, despite the fact they're here illegally, they're entitled to protections once hired. And if employers skirted the rules, she urged them to turn to her Department without fear of being penalized.

"We don't care about your status whatever your status is," Petricevic said. "Sometimes you'll go out there and they'll say we're immigration, and, you know, we're not."

After 9/11 and Katrina day laborers had an important role in recovery efforts. But some were not paid or, like the first responders, became ill after working without safety equipment.

The main federal agency charged with the enforcement of safety and health legislation, the Occupational Safety and Health Administration, or OSHA, was also on hand. Jorge Alzate, a compliance officer for OSHA, went down the list of warnings about downed power lines and trees, and the danger of stepping into electrified water.

One of the men who carefully listened was Edgar Angeles Alpizar, 34. He clung to a pole when water surged into his South Beach neighborhood. He stayed like that for half an hour before finding a way to a neighbor's home. This week he was back to work, fixing other people's homes damaged by Sandy.

"We're doing temporary work repairing roofs," he said. "The wind carried away a part of the roof."

Alpizar has been doing construction work since 1999, when he crossed the border from Mexico. A measuring tape hung out of the pocket of his worn-out jeans. He has been staying with friends since his home has been damaged, He was grateful for this job that he hopes will allow him to earn enough to rent a new apartment in a week or two.

"Thank God I have a job for a few days," he said.

Another day laborer, Fabian Hernandez, 27, has been doing clean-up work on the island since last week. His employers did not provide a reflective jacket.

"I was working in the street," Hernandez said. "It was kind of dangerous."

He said the training reminded him that he should think more about his own safety.