For the Displaced, A Respite in a Roadside Motel Without a View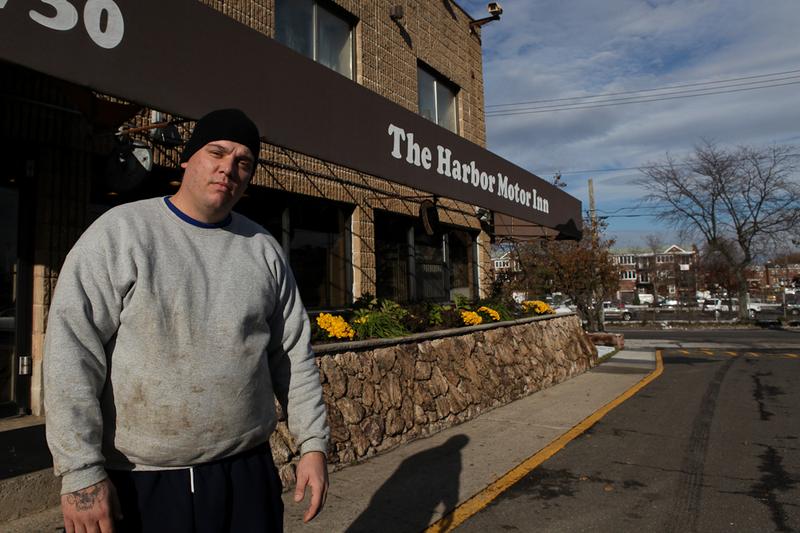 Frank Hall is a tough guy.
The 36-year old Coney Island native is a bouncer and says he's been stabbed 15 times and has a scar across his face from a gunshot wound.
On the night Hurricane Sandy struck—he boarded up the windows of his ground floor apartment at the gated community Sea Gate in Coney Island, and waited it out with his wife. 
"The ceiling must be eight feet high, the water came up seven feet," Hall said. "So as the water came in, I just put her on my shoulder and dragged her out, with two cats in my hand."
From Coney Island to Breezy Point tens of thousands homes are without power and either flooded or uninhabitable. That means many residents have relocated. And many hotels in Brooklyn are booked full.
Hall and his wife escaped with the clothes on their backs. They've been staying with friends and family. And after seven days of waiting for a hotel, a room at the Harbor Motor Inn finally became available this week.
The motel is off the Shore Parkway near Gravesend Bay, but there are no bayside views. It's Spartan: Bed. Desk. Beige phone. Bathroom. No cable. No room service. But for $100 a night, it's a welcome escape for residents that have been sleeping in cold or devastated homes.
Anne Vigliarolo is the manager of the motel. She has a yellow legal pad filled with a list of names of people waiting for rooms. She's stopped taking new guests on Thursday. She has 10 people on her waiting list now and said it's first come, first served – no exceptions.
"Just because your house burned down, and this one has no electricity, who am I to judge? But this one has no electricity and they have a child, they're just as bad off as the other one," she said as her office phone continued to ring unanswered.
Nearby hotels are all booked.
A Comfort Inn with a flooded first floor has a closed sign, but one man said he'd been staying there for a few days. There are only two hotels in Brooklyn that accept FEMA vouchers and they're booked until next week. There are no hotels in Queens according to FEMA's website.
Frank Hall isn't as upset about losing his Chevy Blazer, PlayStation and flat screen TVs as he is about losing family memories preserved on lost memory cards and in videos.
His family has received some donations from their 15-year old daughter's school. Hall is on social security and says his funds are running low, and he's not sure how much longer he can afford to stay in the hotel.
 "I'm just trying to stay strong for her," he said about his wife. "I don't show her too much emotion. I tell her to take it easy, take a walk. Then when she's not around, I go through it myself, I don't know where to start. Once your money's gone, where we going to go?"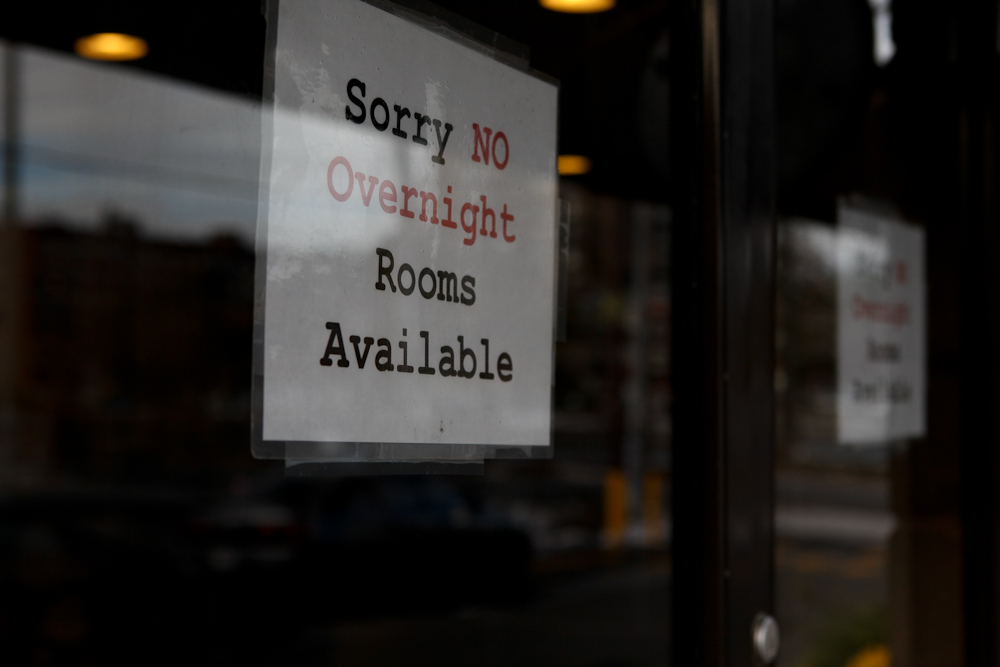 There are no rooms available at the Harbor Motor Inn (Stephen Nessen/WNYC)