New York Welcomes the Big Buck Hunter World Championships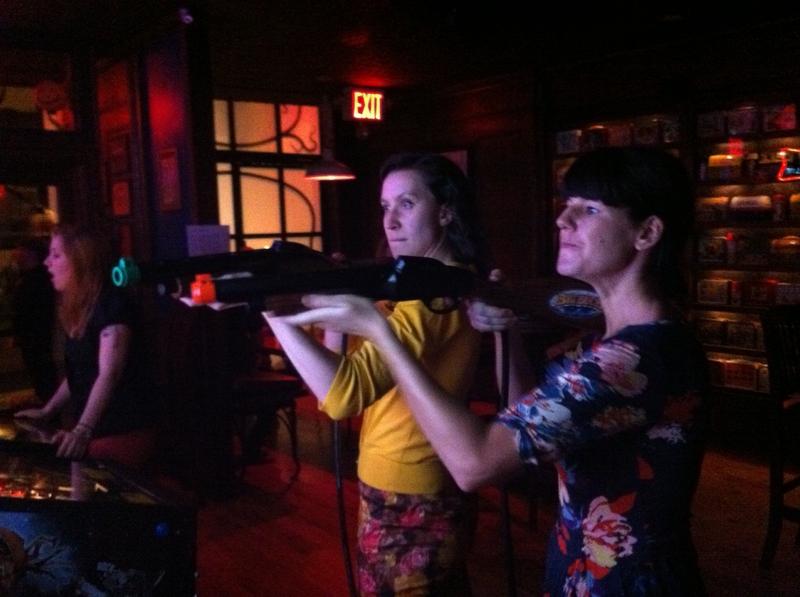 At the Ace Bar in Manhattan's East Village, Jesse Parmentier and Mary Burke stare down the sites of their rifles at a field full of deer. Then, they start shooting. 
Jesse picks off a handful of deer in a matter of seconds, but Mary hits a doe, which ends her turn. "Yeah," she sighs, "they get in the way."
The guns are plastic and the deer are only a few inches high. And you're only supposed to shoot the males in Big Buck Hunter, a popular arcade game squirreled away in corners of dark bars next to classics like Ms. Pac Man or Galaga.
"You might also see Golden Tee," Jesse says, referring to an arcade golf video game that has you spin a big white ball to swing the club.
Since its debut in 2000, there have been 11 versions of the Big Buck Hunter. It's become popular enough that there's a world championship taking place in New York City this weekend. Ace Bar is one of five places in New York City with the latest edition of the game, so Mary and Jesse come here to practice.
"I'm the one who started playing first," Jesse remembers. "I went to Bleecker Street Bar and I saw the game in the corner of the room. I was like, what is that? Just looking at it all night. We finally got to play. It's been love ever since."
Jesse is a freelance patternmaker who went to college upstate but now lives in Queens. Mary also works in fashion as a production manager. Jesse turned Mary on to the game, and it's been their thing since 2007.
This won't be the first time they've gone to the championship. Jesse came in fourth place in the ladies' tournament in 2011. Mary came in 12th. They were two of the top 15 female players in the country last year. That's out of all the players on all the Big Buck Hunter games at all the bars in the United States. You have to be one of the top 32 players just to qualify.
With a $5,000 top prize, Big Buck Hunter could mean big money for Jesse and Mary. Which isn't something the game's creator, George Petro, could've guessed when he made it. This may come as a shock, but Big Buck Hunter wasn't initially designed to snare fashion designers in New York City.
"We figured if we made a hunting game that guys who liked to hunt would be able to play it all year round," Petro says. "Putting it into bars is probably a good place to find people."
Petro's been making games for almost 30 years. His company PlayMechanix is based in the Midwest, where you'd expect a game like Big Buck Hunter to take hold. But it's become ubiquitous across the country. There were regional qualifiers for this weekend's world championship, now in its fifth year. The success of the game and the tournament was surprising even for its creator.
"The first tournament, we had no idea, honestly. We had no idea what was going to happen, if people would show up or participate in it...and they loved it."
One has to ask Petro the obvious question. "Oh no," he laughs, "I'm not a hunter. I'm more of a video gamer. Though we do have people on our staff who hunt."
What about Mary and Jesse?
"We've never been hunting," Mary explains. "We've done skeet shooting and we've done targets with rifles at a range, but I have zero interest in actually hitting an animal. That means you have to wait around for it, then there's blood involved, then what do you do with it once you hit? I don't want that."
Petro wanted to design a game that had all the exciting parts of hunting without all the boring parts. That also means leaving out the gross parts and the dangerous parts. And real hunting requires you to wake up early and climb into a tree stand before the crack of dawn; all you have to do to play Big Buck Hunter is show up at a bar.
There's greater variety in the game, too. Big Buck Hunter isn't all about deer. You also go after moose, small rodents, trophy animals like bears, and bighorn sheep, which are Jesse's favorite to shoot. The franchise has grown more playful with time; in Big Buck Hunter HD, the latest incarnation of the game, there are bonus stages that have you shooting fireworks displays.
But the goal remains the same: Shoot as much of the stuff you're supposed to shoot as possible, always trying to get more than your opponent. Mary and Jesse will try to do that on Friday.
Mary's ranked 20th in the ladies' tournament this year, and Jesse got in with the wildcard qualifiers. Despite being ranked higher than her friend, Mary thinks Jesse's got the better shot to win.
"No matter how well I play, she is an assassin," Mary says. "I can't beat her, ever."
But there's no bad blood or competitive animosity. Jesse and Mary say they don't ever really get mad at each other–each is her own toughest critic. The game's really just an excuse to hang out with each other.
"We never played against each other during the competition last year and hopefully we won't this year either cause that would be awful," Jesse says.
"I don't think we'd know what to do," Mary agrees.