Last Chance Foods: Post-Sandy Farm Report
Farmers are a tough bunch, and when it comes to Superstorm Sandy, many are counting themselves as lucky, too.
While Sandy brought damage to greenhouses in New Jersey and flooding to fields in Long Island, many farmers are reporting that the damage is minor in comparison to what was wrought last year by Tropical Storm Irene.
Michael Hurwitz, director of New York City's green markets, is in touch with about 240 food purveyors who supply the city's farmers markets. He said among the organization's farmers, it sounds like Bodhitree Farm in Jobstown, New Jersey, was hit the hardest. Most of the farm's greenhouses were damaged or destroyed. There was a similar story at Norwich Meadows Farm in Norwich, New York. They lost seven greenhouses.
But Hurwitz said that most farmers are making repairs, cleaning up, and trying to get back to business.
"You know, you gotta love these farmers," Hurwitz said. "I walk up to Bill Maxwell (of Maxwell's Farm in Changewater, N.J.) and say, 'How'd you make out?' And he said, 'We're doing good. We just lost the roof of our barn and had some damage to one of our greenhouses, but other than that, we're pretty fine.'"

It's the fish purveyors who are not yet back at the farmers market, said Hurwitz. "Unfortunately, they're all based in Long Island, where there is limited power, limited gas, limited supplies, so there's no processing facilities open to them if they were able to go out and fish."
Farms on Long Island are also starting the recovery process. Tom Wickham of Wickham's Fruit Farm in Cutchogue said that the high tide brought by Superstorm Sandy caused the salt water to breach the dykes surrounding his land. A tree growing on top of the dyke fell and ripped a large hole in the fortification.
"Not since the 1940s, since we put up those dykes, have I seen a tide this high," said Wickham. "And I suspect that this is a thing that we're going to have to look at in the future. I doubt if this is going to be the last time that we see those kinds of historic tides."
Saltwater flooded about 20 acres of Wickham's Fruit Farm, killing plants and trees, and raising the salinity of the soil. Wickham explained that rain will help bring that salinity down, but that he'd also continue irrigating through the winter to speed up the process.
"We lost acres and acres of strawberries, thousands of peach and apple trees, and the list just goes on and on," he said. "And we're not alone. All farms on Eastern Long Island that approach the bay, the Sound, and the creeks, the inlets have had some degree or another of salt water flooding."
He cited Latham's Fruit Farm in Orient, Long Island, and said that the majority of their land was flooded.
Widow's Hole Oyster Co. in Greenport, Long Island, fared better simply because of the nature of their product. Mike Osinski said he moved most of his oyster stock out to deeper water before the storm, but did experience some equipment damage and downed trees.
At Stokes Farm in Old Tappan, New Jersey, Ron Binaghi Jr. said that they began preparing for the storm four days in advance. Everything was put away or tied down. In the end, he counted himself lucky — the farm only lost power for about 20 minutes. Unfortunately, the majority of his town experience a power outage that lasted about a week.
Stokes Farm wasn't flooded as it's further inland, but storm winds blew the roofs off of two greenhouses. It's not the end of the world, Binaghi said, just $4,000 or $5,000 worth of plastic. And while four large trees also toppled over, they didn't hit anything. Nothing they can't handle, he added.
"As far as North Jersey goes, in my opinion, yes, it was a very big inconvenience and a real pain in the neck, but I think, when I watch TV, I realize we don't have any problems," said Binaghi.
Even snow delivered by last night's Nor'easter was manageable. "Anything underneath snow is never lower than 32 degrees, so snow is a great insulator," explained Binaghi. "If it gets really, really cold — like in the low 20s right now — the thyme and sage and rosemary will be protected by the snow."
All that means that Stokes Farm was back at the Lincoln Center green market by noon Thursday. As for other area green markets, for the most part it's business as usual. The biggest change is that Union Square green market has been relocated to accommodate the utility workers currently using the park as a staging site. For the moment, the Union Square market — which accounts for about 40 percent of the city's income from green markets — is located at Madison Square Park.
Check here for an updated schedule of the city's green markets and to learn more about GrowNYC's "Donate-a-Bag"  relief effort.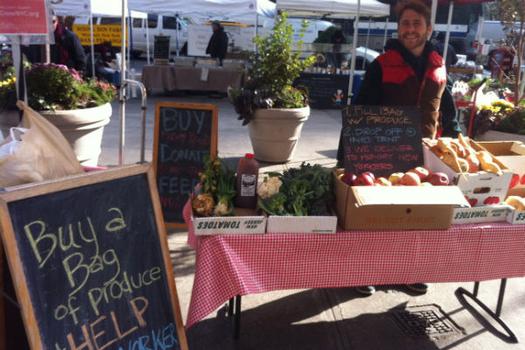 of