Specialized NYPD Unit Works in Unexpected Ways Post-Sandy
Some residents in areas hard hit by Sandy say they've been left on their own to cope with the severe damage inflicted by the storm — supplies are limited and help has been slow to reach them. It may seem uncharacteristic, but the New York Police Department's Emergency Service Unit has been doing more than its usual tactical support or rescues.
ESU's 350 officers are the NYPD's version of a swat team. But since Sandy, some have been working behind the scenes to help some of the hardest hit.
On corners such as Oceanside and Lincoln in Breezy Point,  ESU officers have been knee deep in murky floodwaters, using city pumps to remove floodwaters.
Inspector Robert Lukach, executive officer of the Emergency Service Unit, said teams have been working 12-hour shifts and making house calls trying to help homeowners.  On Monday afternoon, he stopped outside a house where officers were trying to pump out 4 feet of water in a basement.
"You have to be very cautious when you're pumping things out, and then we flood someone else's basement," Lukach said. He pointed to where officers dug a trench before pumping to channel the water away from other homes.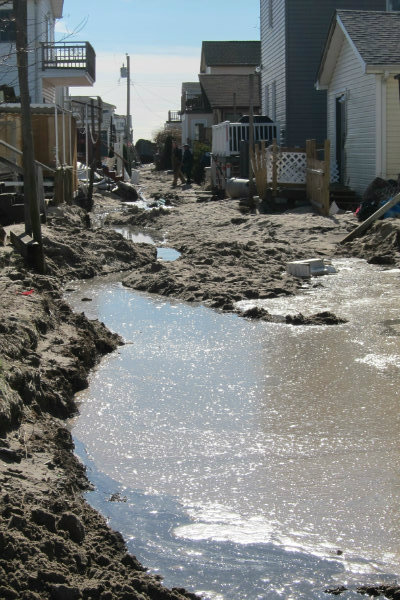 (Photo: Ditches have been dug by ESU members to channel flood waters away from homes .Kathleen Horan/WNYC)
Lukach said another concern is that many of these basements have been contaminated with raw sewage from busted septic tanks. At the end of a shift officers are urged to stop by a decontamination trailer on the edge of town to change their clothes and get their boots washed so they don't carry anything back home.
Everyone was working against time to get as much work done as possible ahead of the nor'easter. He said he was concerned the water left unchecked could contribute to more flooding and the need for emergency evacuations. Last Monday and Tuesday during the height of Sandy, an NYPD spokesman said officers were called on to make hundreds of rescues throughout the city.
Breezy Point resident Vincent Kennedy, who's also a retired NYPD officer himself, said he doesn't have to worry about a water-logged basement. But much of the rest of his home is flooded and unlivable.
"My biggest concern is trying to get back to normal and  some semblance of normality and get back to our way of life but that's not going to happen for quite awhile. I'm going to have to go somewhere and spend whatever amount of time till it's safe to come back," he explained.
In the meantime Inspector Lukach said ESU officers plan to continue to be "hands on" until places like Breezy Point can start to rebuild.
(Photo: Some Breezy Point neighborhoods are identified by signs like this one this one for Olive Walk. Many residents might currently disagree with the sentiment below the name that declares "Life is Good."/ Kathleen Horan/WNYC)