President Obama Wins Second Term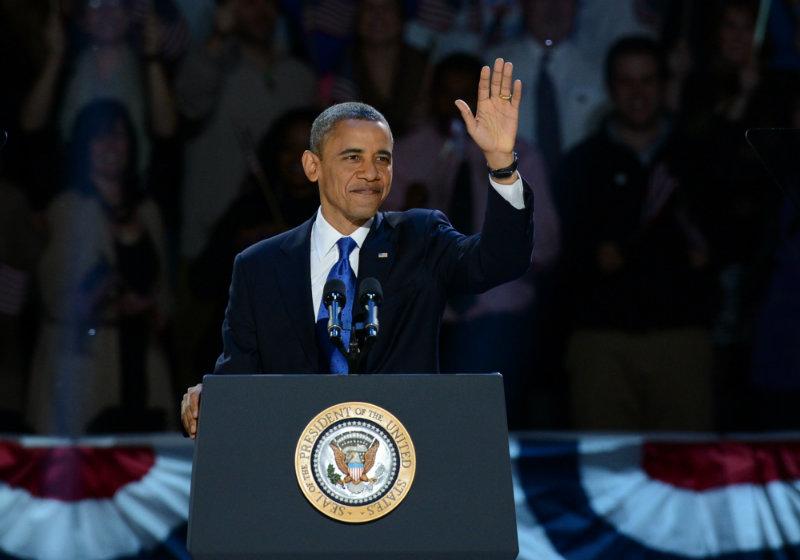 Barack Obama has won re-election to a second term as president, beating back a fierce challenge from Republican Mitt Romney. Obama prevailed despite a weak economy and high unemployment. And, in victory, he confidently promised better days ahead.
Obama spoke to thousands of cheering supporters in his hometown of Chicago, praising Romney and declaring his optimism for the next four years. "While our road has been hard, though our journey has been long, we have picked ourselves up, we have fought our way back and we know in our hearts that for the United States of America, the best is yet to come," he said.
The president rolled to a second term with more than 300 electoral votes. The president's laserlike focus on the battleground states allowed him to run up a 303-206 margin in the competition for the 270 electoral votes needed to win the White House, the count that mattered most. Remarkably, given the sour economy, he lost only two states that he captured in 2008, Indiana and North Carolina. Obama captured Ohio, Wisconsin, Iowa, Virginia, New Hampshire, Colorado and Nevada, seven of the nine states where the rivals and their allies poured nearly $1 billion into dueling television commercials.
In his victory speech, Obama said, "Whether I earned your vote or not, I have listened to you. I have learned from you. And you've made me a better president."
Obama says he wants to meet with Republican rival Mitt Romney to discuss how they can work together. He says they may have "battled fiercely, but it's only because we love this country deeply."
Romney unsuccessfully campaigned on the theme that his business background gave him the experience needed to guide the nation out of tough economic times.
Romney made a brief, graceful concession speech before a disappointed crowd in Boston. He summoned all Americans to pray for Obama and urged the night's political winners to put partisan bickering aside and "reach across the aisle" to tackle the nation's problems.
A subdued Romney  said he "left everything on the field." Romney offered thanks to running mate Paul Ryan, who he called the best choice he ever made beside his wife Ann.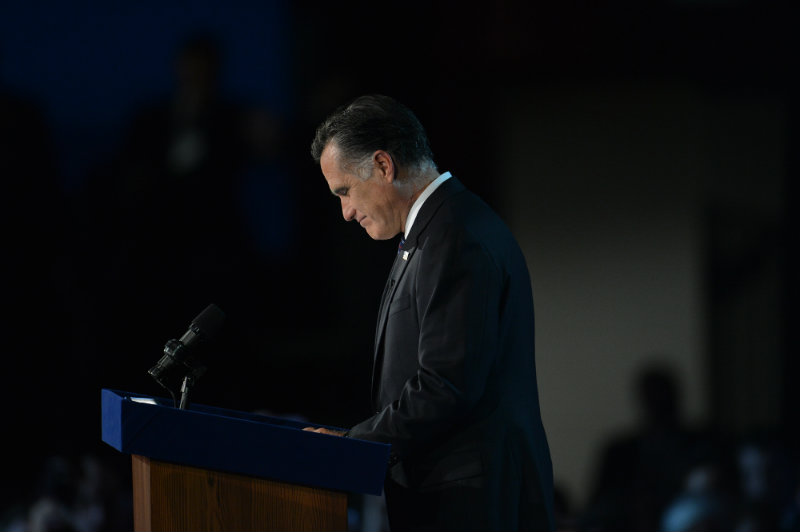 (Photo: Romney speaks to supporters after conceding the race to President Barack Obama. STAN HONDA/AFP/Getty Images)
The former Massachusetts governor called on all Americans to work to rebuild the nation and on job creators to invest and to hire workers. He said Democrats should put the "people above politics."
Obama will again be dealing with a divided Congress. Democrats maintained control of the Senate and Republicans control of the House.
"Tonight you voted for action, not politics as usual," Obama said. He pledged to work with leaders of both parties to help the nation complete its recovery from the worst recession since the Great Depression.
House Speaker John Boehner issued a statement of his own, noting that while Obama won, so, too, did his House Republicans "If there is a mandate, it is a mandate for both parties to find common ground and take steps together to help our economy grow and create jobs, which is critical to solving our debt," he said.
Among the most pressing matters facing government is the so-called fiscal cliff of tax hikes and spending cuts scheduled to hit in January. Economists have warned that if they aren't averted, the nation could face another recession.