In Arverne, Neighbors Help When Government Doesn't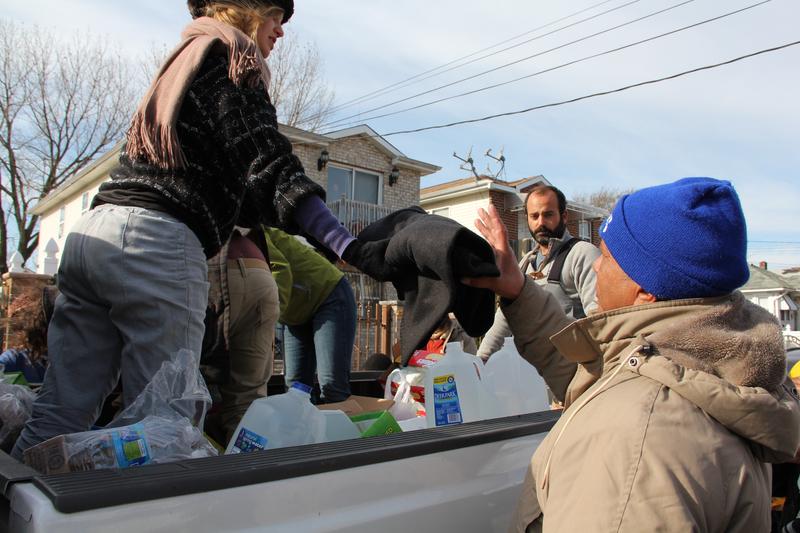 Arverne, a quiet, predominantly black neighborhood just east of Rockaway Beach in Queens, hasn't seen much help in wake of Sandy. The mud and straw that was stirred up by the floods has dried into dust covering the streets and sidewalks. Aluminum siding has been peeled off the sides of some of the houses, and cars have been strewn around the street by the floodwaters. Debris and water-logged furniture are piled on the side of the road. 
Despite it all, the residents say they've seen little help from the government or large aid agencies, like the Red Cross.
 "I haven't seen any officials out here. None. No help," said Margie Mulligan, who lives on a street that runs along the bay. "The block is helping each other that's what we're doing. But as far as the city or any officials — no. Nothing. Not at all."
She says the need in the neighborhood is great and the neighborhood feels forgotten.
"We need food. We need clothes, people lost everything. People have nowhere to sleep. No food to eat, no clothes to cover their butt, everything," she said. "Literally everything. We're helping each other. Everybody's coming in donating, everybody but the state, the city."
One of Mulligan's neighbors, Chris Parachini, has been collecting donations at Roberta's, a restaurant in Bushwick that he co-owns, loading them up into his white pick-up truck, and driving up and down the streets of Arverne, asking people if they need anything. The bed of his truck is full of diapers, batteries, blankets, bottles of bleach, large trash bags, rubber gloves, canned food and candy to give to kids.
When he parks, people come out of their houses, asking for the basics. Parachini's friends, who ride in the back of the pick-up, hands out the donated goods. If people have a way to heat up food, they're given cans of soup. Others are taking granola bars.
Dawn Graves, who was collecting supplies from Parachini, says that they're cold every night and the Long Island Power Authority, which has jurisdiction over the Rockaways, "hasn't showed their face. Yesterday, they just showed and looked at a lamp post. That's not good enough. We're just as good as the people in Long Island. And we were the number one disaster. I'm very dissatisfied."
On another block, a man collecting supplies with his wife, son and baby daughter says Parachini's truck is the first they've seen since Monday, when another donation truck dropped off clothes.