In the Rockaways, Elderly Residents Spent Another Cold Night in Queens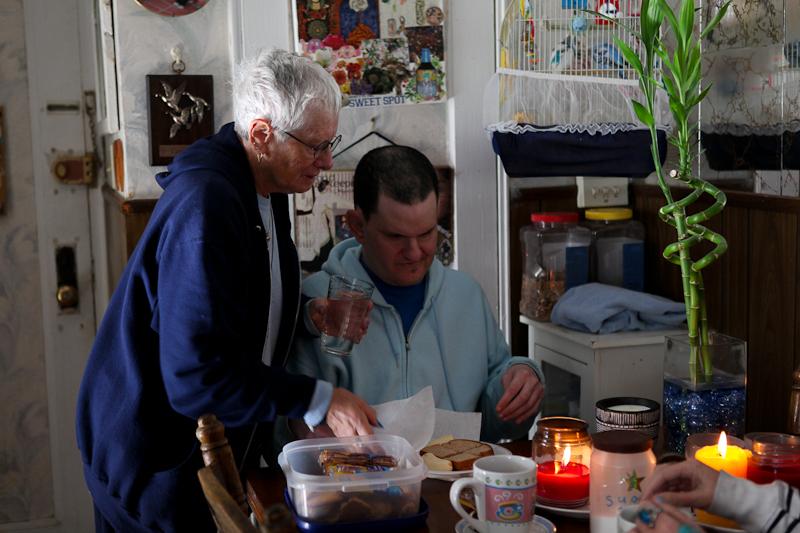 A week after Sandy many elderly residents in Far Rockaway are still without power. Mayor Michael Bloomberg was met with anger when he toured the area over the weekend. Some supplies are trickling in, but elderly residents are cold and worried about the freezing nighttime temperatures.
Water droplets roll down the colorful wallpaper in Arlene Weissberg's first floor apartment at the Wave Crest Garden apartments in Far Rockaway, Queens. Safety experts all warn against continuously boiling hot water on the stove, but when you're cold and scared, the warmth is a comfort.
"We're in a hole, and it's dark and it's cold and it's freezing cold. And it's so scary at night," Weissberg said Monday morning.
Her parakeets chirp anxiously, and pop radio streams out of her son's bedroom. Scott Weissberg is large, 45-years old and mentally retarded. Usually, he's in an AHRC program during the day, but since the storm, he's been home. Without TV to calm him down, the radio is all that works, and batteries are running low.
Weissberg's husband died three years ago, and her friend Star Lindstrom stops by everyday to visit. "It's a hard thing when you're alone in the house, we're like prisoners. At least in jail they tell you things, what's going on. They know their sentence, we don't know ours," Weissberg said.
On Beach Channel Drive, a few miles away, members of the National Guard handed out orange NYC marathon capes lined with fleece, blankets, boxes of MREs, water, packaged junk food and other supplies to residents lining up down the block. Members of Occupy Wall Street movement set up a make shift station and handed out trash bags full of clothes, supplies and food.
At nearby JASA Senior Citizen Housing, two buildings out of five were running on generators for about 12 hours a day, workers there said. One worker there said of the 1,500 low to moderate income tenants, 500-600 remained. JASA couldn't be reached for comment.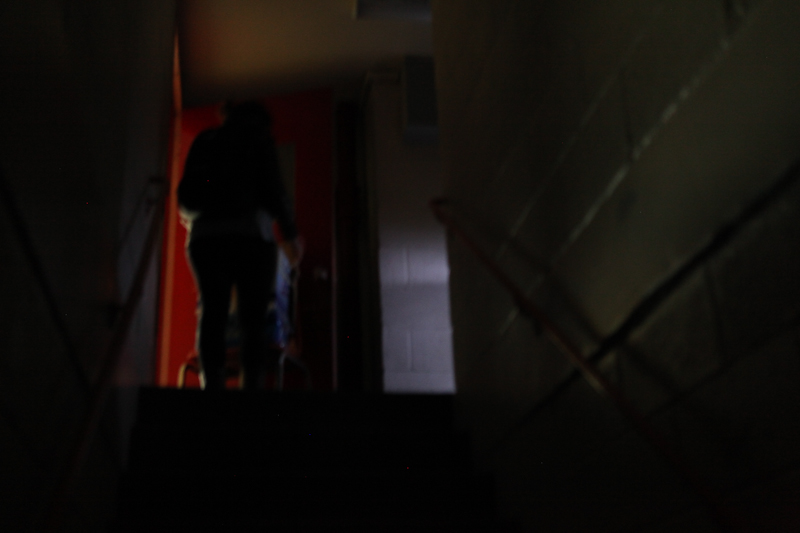 (Photo: Darkened hallways at the JASA senior center in Far Rockaway, which is still without power on Nov. 5, 2012 after Hurricane Sandy.Stephen Nessen/WNYC)
Two Emergency Medical Service workers marched up 17 darkened stories of the JASA Israel building Monday to take one elderly man to the hospital. On his widow sill was day-old chicken soup, several rolls of toilet paper and two radios.
A few minutes later, a crew of nearly a dozen workers from various agencies, FEMA, the FDNY EMS and the Virginia Beach Urban Search and Rescue team arrived to take another man to the hospital. An officer said he was on a list of residents that were in need of immediate medical care.
Crews from LIPA were also in the area. Its website said it hopes to have 90 percent of power restored by Wednesday.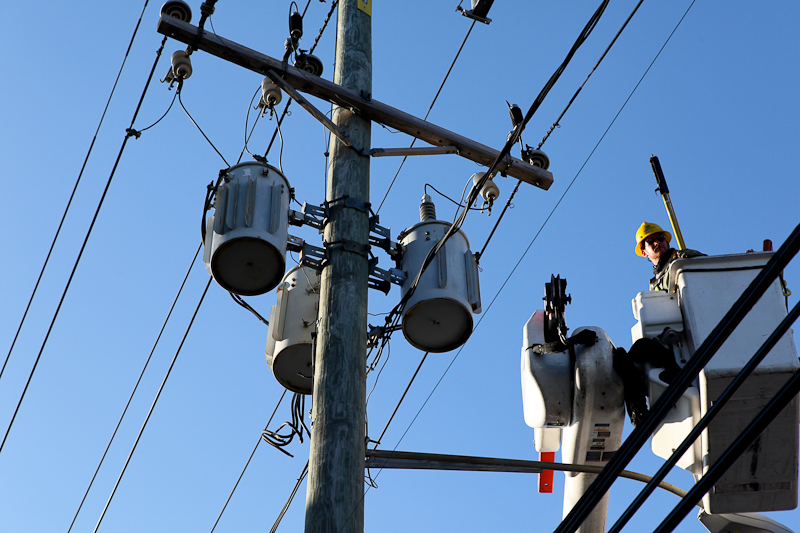 (Photo: LIPA workers in Far Rockaway trying to restore power after Sandy. Stephen Nessen/WNYC)