Snapshot | Red Hook After Sandy
As power returned to much of the region, many of the residents of Red Hook, Brooklyn, remained in the dark Friday without heat or hot water.
WNYC's Amy Pearl visited this hard hit area of Brooklyn to see how residents are coping in the aftermath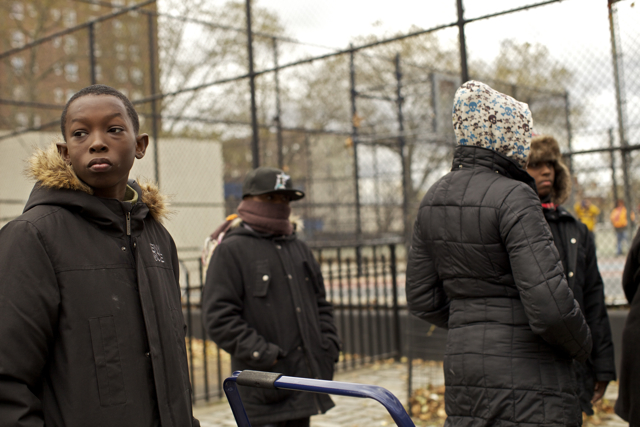 Michale, 10, waiting on line for food for his family in Red Hook. "My mom is with my brother. We have no power. We need school, I guess it will start next week."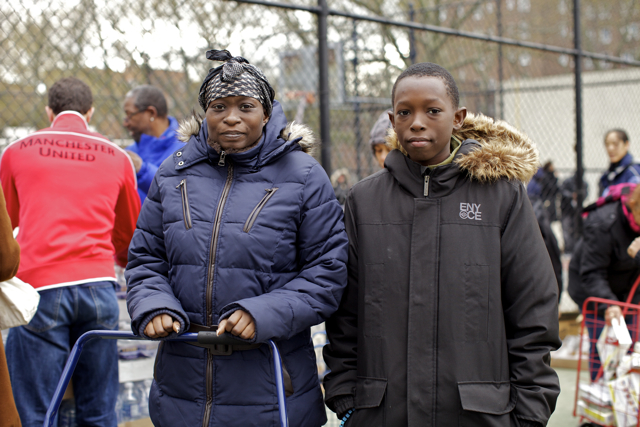 Here's Michael with his mom after picking up food at a distribution center at Cofey Park in Red Hook on Friday. "This is very helpful," his mom said.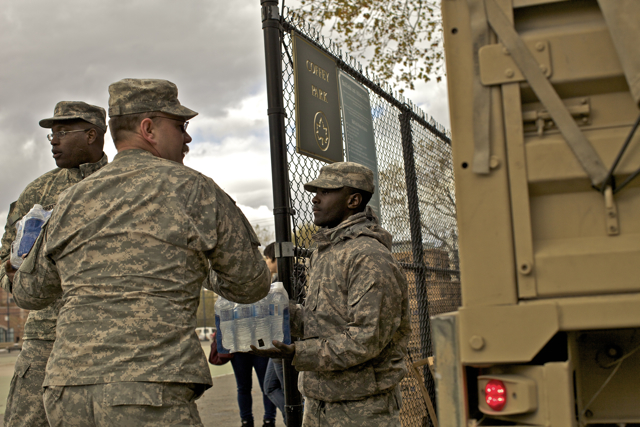 Members of the National Guard unload food and water at Cofey Park in Red Hook.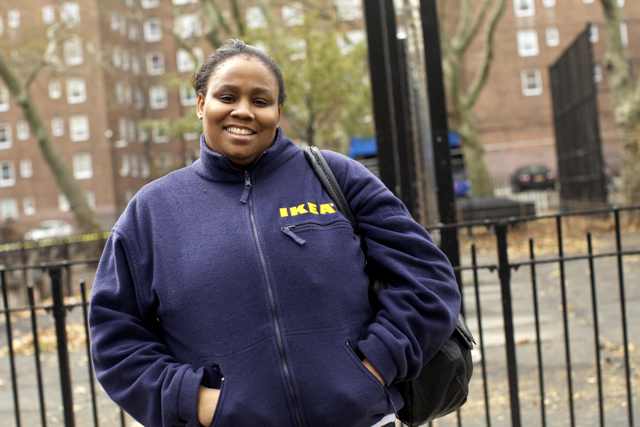 Claresa Ward waited for food and water being distributed in Red Hook. Ward works at Ikea and they are putting her and her three kids up in a hotel "for as long as I need."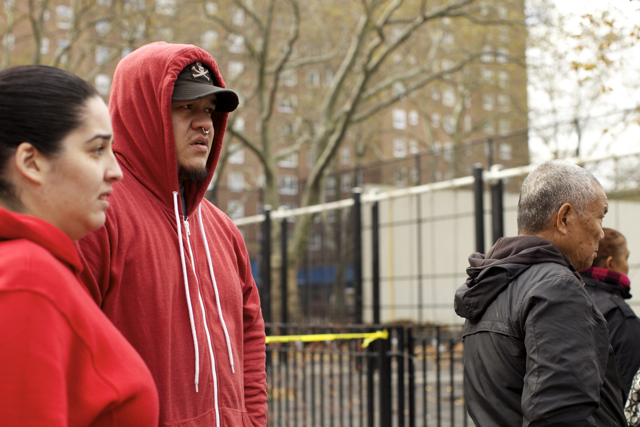 Peter Molino in Red Hook: "I live- lived in the basement on Pioneer St. but I'm staying at my girlfriend's sister's now. I'm here to pick up some food to get through the day. I work on commission, I'm a tattoo artist and where I work has no power so that means no work for me. I thought I put things high enough, but when I came back to look, the water line was above my head. My girlfriend just got off the phone with the FEMA guy. We applied Tuesday and he was supposed to come today by 11. He said he is coming but he gave up on the train and he is walking here from Marcy [Projects]."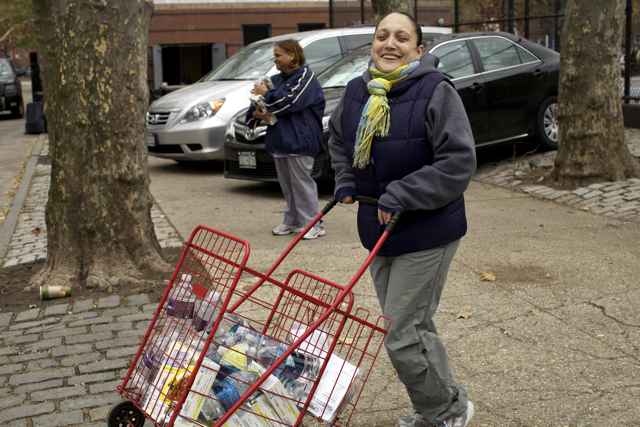 Shirley Melendez lives on Columbia St. and tried to wait out the storm. "I live on Columbia. When I saw the water coming up it scared the hoops out of me! We have no heat, no power. When I got to my mom's at the Wycoff Projects, it felt like the Hyatt with that hot shower! I have a generator and I want to stay here but I don't know where to get gas," she said.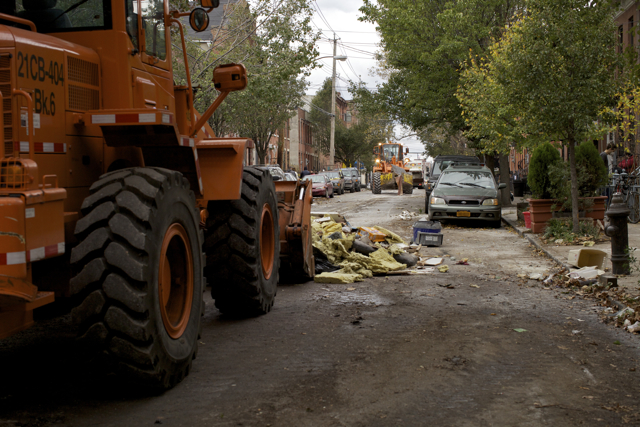 A Dept. of Sanitation vehicle moves debris near Cofey Park in Red Hook, Brooklyn.
Workers at Fairway on the waterfront in Red Hook continue to clear away spoiled food and ruined equipment.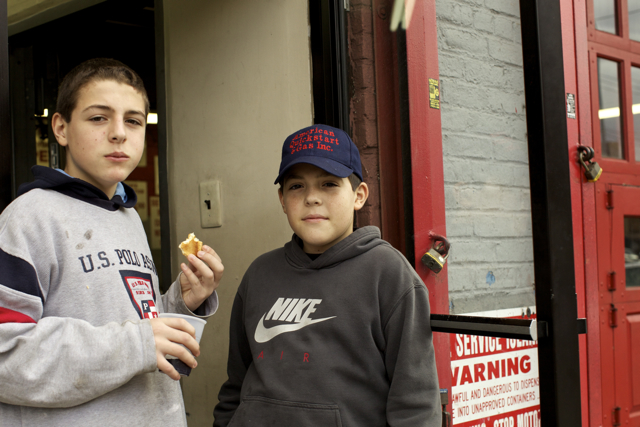 Phil, 13 and Ant, 10, at the American Quick Stop in Red Hook. Phil: "We have no gas, just diesel. We hope to get a gas delivery on Monday or Tuesday. We live in Staten Island but our house is okay."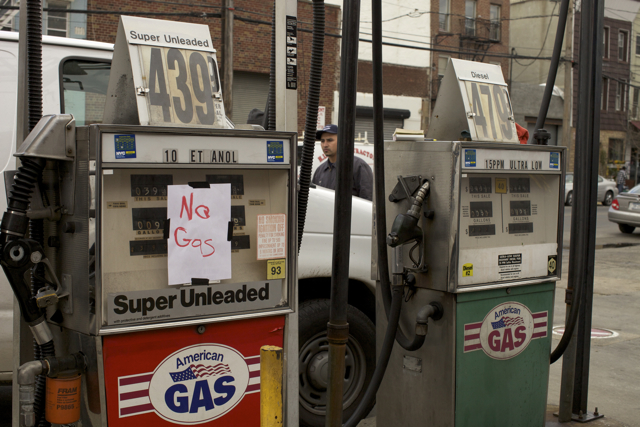 No gas (just diesel) at the American Quick Stop on Van Brunt in Red Hook.
Ricardo and Shane work in the kitchen at The Good Fork in Red Hook. Shane said, "We moved all our food out ahead of time so we are lucky. We just have to clean up. I biked in from Crown Heights. A bike is the best way to get around right now. Neighbors have been coming by all day, asking if they can help clean up."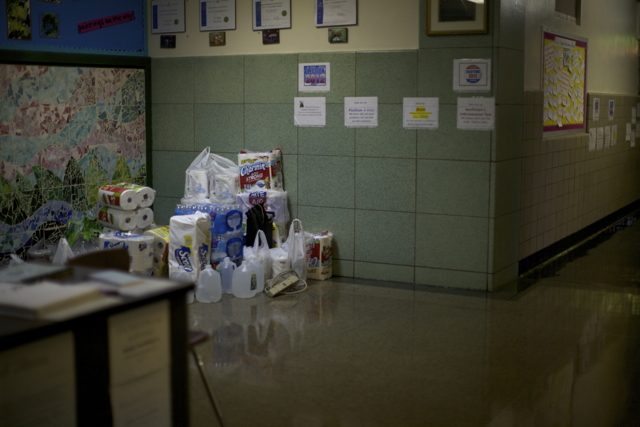 Donations for the Red Hook Houses which are without power and running water, begin to pile up at PS 32, on Hoyt Street. The relief is being organized by a parent group at the school.
How to help in Red Hook
Red Hook Recovers is connecting volunteers and givers in the Brooklyn neighborhood.
The Red Hook Initiative is collecting toilet paper, water, candles, food, flashlights, cell phone chargers, batteries, paper towels, and paper for printers.