Amid Growing Criticism, NYC Marathon is Canceled
The ING New York City Marathon has been canceled amid growing criticism from those who felt the city should focus its efforts on cleanup and rebuilding in the wake of Sandy.
New York Road Runner CEO Mary Wittenberg made the announcement Friday, hours after Mayor Michael Bloomberg defended the decision to go forward with the annual event that generates about $340 million for the city.
"Given the level of pain and suffering, it's not the right thing to do," Wittenberg said, near tears when talking about two toddlers who died in the storm.
She said no one expected the race "to play out this way," and that she had high hopes that the marathon would be an opportunity to honor the city, dedicating the run to those suffering, and to help the city move on.
The supplies stocked for the marathon — blankets, generators, water and food — will be deployed to areas of the city in need.
Many New Yorkers and local politicians, especially in storm-ravaged Staten Island, were angry the marathon was scheduled to go on.
And by early Friday, Bloomberg put out a joint statement with the NYRR canceling the 26.2 mile race that had been run every year since 1970.
Deputy Mayor Howard Wolfson described the marathon as one of the best days in the life in the city — a time of unity, happiness and celebration. But this year, it became "divisive," he said.
"And candidly, that controversy grew and that division grew over the course of the week," he said, "and those of us that love this city and those of us who love this race recognized it wasn't the marathon if it wasn't a unifying event."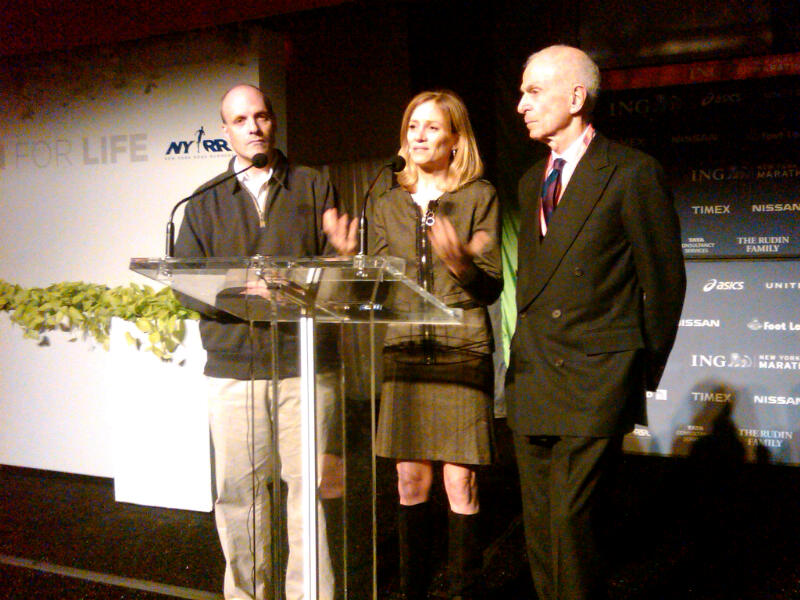 (Photo: (Left to Right) Deputy Mayor Howard Wolfson, NYRR CEO Mary Wittenberg and NYRR Chairman George Hirsch officially anounce the cancelation of the 2012 ING NYC Marathon. Caitlyn Kim/WNYC)
Wittenberg and Wolfson said they had debated modifying the course or shortening it. There was also talk about postponement, but the "totality of what it takes to do this event and the people who committed to it were here this weekend," Wittenberg said.
There was also talk about turning the marathon into a 10-mile run.
"We did not think that made sense," Wolfson said. "The marathon is a five- borough race that unifies everybody in every borough and a 10-mile race in a portion of the races is not the marathon. We thought it was better to cancel and have a great marathon next year."
Wittenberg said she was also concerned that people angry about the marathon would take it out on runners.
People signed up for this year's marathon will get guaranteed entry next year.
Wittenberg told runners that she was "really sorry," but believed that runners who had spent months training and traveled from near and far could turn on the TV and understand why the decision was made.