Storm Challenges Compounding for Newark Residents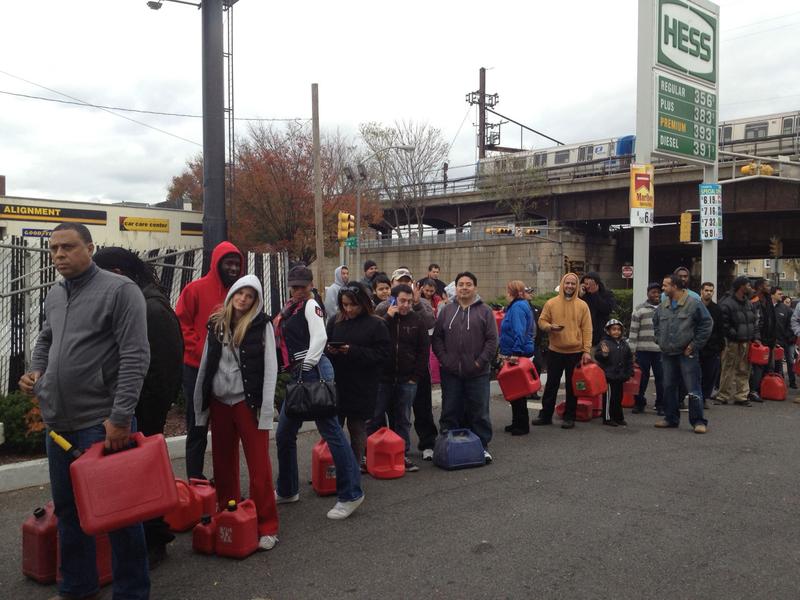 This week's storm knocked out power for 95 percent of Newark residents. It's coming back now, neighborhood by neighborhood. But as the week wears on, residents are realizing electricity is just part of the challenges they now have to contend with.
"Lines of cars angling for a spot at a gas station stretched block after block, well before the gas station was in view. Police directed the traffic in and out of the pumps. Dozens more people who waited for hours on foot to fill bright orange tubs.
"Today I came for my father. Yesterday, I was with my stepfather," said Natasha Olivera. She stood in line with five gas cans for the second day in a row – and she doesn't even have a driver's license. "I think it's like the end of the world. People today don't live without a car, they don't live without light. So before they were living. Now, they're not living anymore.
In Newark, gas shortages are an equal opportunity inconvenience, for residents with power back like Olivera and those still without, like in her dad's nicer neighborhood. "And he don't have light over there, and I live in the hood and I have light. I mean, think about it!" she said with a laugh.
The Hess station where she waited is just outside Newark's Ironbound neighborhood, one of the parts of the city still powerless on Thursday.
A few blocks down, I met Rico Flores, who was gingerly polishing his black SUV. He can't report to work as a crane operator in the city, and all that's left to do is to clean out his refrigerator.
"I just go out every day to eat. That's the best we can do. There's nothing else we can do.  But the guy here, he cooks some good chicken," he said, pointing me to Marlene's, the Peruvian restaurant on the block. We walked in together to find three customers, two kids home from school inside, and owner Jose Marquez is finishing a plate of chicken and rice.
At first, the open sign on the door seemed like a bright spot in the neighborhood. Instead, I hear how the days without power are compounding the initial damage from the storm.  
Marquez said he couldn't serve any more customers until the power was restored. He had run out of ingredients, and his generator was out of fuel. "I got no more food. And no gas too."
He was out of gas, even though he went on a gas pilgrimage the day before. He drove so far to get it, his tank was three-quarters full when he got home, but he had enough to power the generator.
During the night, though, his carbon monoxide detector went off.
"I said to my kid, let's go outside to go sleep in the car," and they tumbled out into the street in the middle of the night in search of safe air. That's when Marquez realized his Volkswagon Passat, the one filled with gas, was not where he had parked it on the street. "When I get my flashlight and I look, the lock of the car was in the street." It had been stolen.
Mayor Cory Booker's spokesman said that crime has actually been low over the last several days, and Marquez said it's not uncommon for cars to be stolen in his neighborhood. But at least he was awoken by a carbon monoxide detector.
That's wasn't the case across town the same night. 19 year-olds Mudewa Benson and Kendra Brown died from a poorly ventilated generator in a public housing unit. Toya Warren lives across the courtyard from the brick townhouse, which was quiet on Thursday. She knew one of the young women.
"It's shocking to everyone. Nobody would've ever expect this would happen. It's sad," Warren said.
Hours after the teenagers' bodies were removed from the complex, the power there came back on.