Power, Transit Problems Drive Lines at the Pumps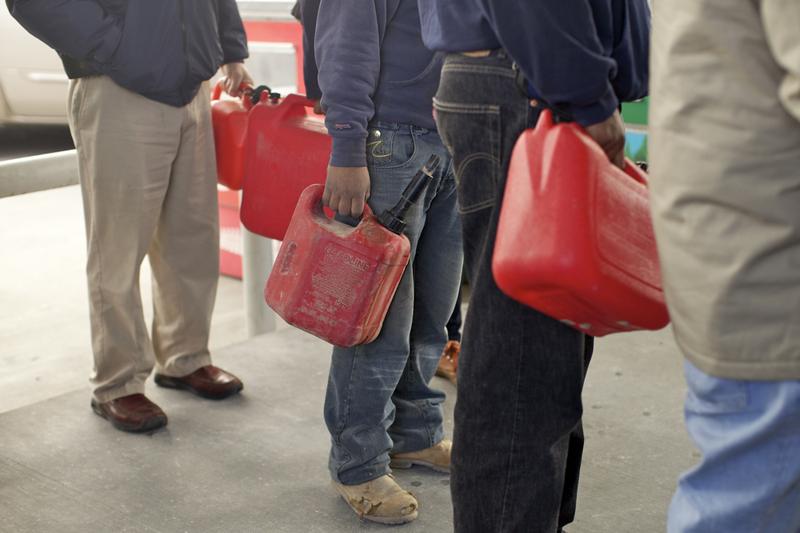 Around the metropolitan area, drivers are lining up at gas stations for hours on end to fill up. More people are traveling by car because of limited mass transit and many are buying gas to fuel generators after losing power. 
New Jersey Public Radio's Nancy Solomon says she didn't see a single station open as she drove around towns like Orange, Maplewood and Union on Thursday.
"The primary problem seems to be power," she said. "Some gas stations are out of gas, so they can't pump the gas, so everything is connected to everything."
In Morristown, New Jersey,  WNYC's Bob Hennelly saw just as many people standing in line for generator fuel as drivers idling in hopes of filling up their tanks.
"One island is for individuals walk-up business, if you will. Cash and carry," he explained. "There's a whole new protocol for how to stand in those lines. So you'll see people in their suburban finery holding ten gallon gasoline containers and some of them two and three at a time and at the same time there will be another island with a line, a queue of cars."
No matter which line you're in, it was taking about two and a half hours to get to the front. And that seemed to be the case around the region.
WNYC's Janet Babin was at a Hess station in Park Slope, Brooklyn, where she says hundreds of cars are lined up for blocks, many coming from outside the neighborhood.
"One person told me she came in from Hoboken, another person was there for Staten Island. Other people came in from Queens. People are coming from all over, to Brooklyn, to get gasoline," she said.
But coming to Brooklyn didn't ensure a victory in the battle to get to the pump on the first try. Elana Snow of Hoboken started her search in Williamsburg.
"I went to three or four different gas stations there, and one the line was too long and people were backing up the opposite way down the street so you couldn't get to the gas station," she said.
She finally ended up at that Hess in Park Slope, where a handful of police officers were doing their best to manage the chaos of traffic around the station. WNYC's Amy Pearl was there too.
"I tried to ask the gas station operator if she was expecting another shipment of gas anytime soon, and at first she was very unable to talk and very stressed out because she wasn't able to accept cash transactions because her system was down," Pearl recalled. "But she, working on the phone with somebody was able to get that back up, and a little cheer went up along the line 'She's taking cash. Come back. Oh, you got off the line. Come back. She's taking cash!'"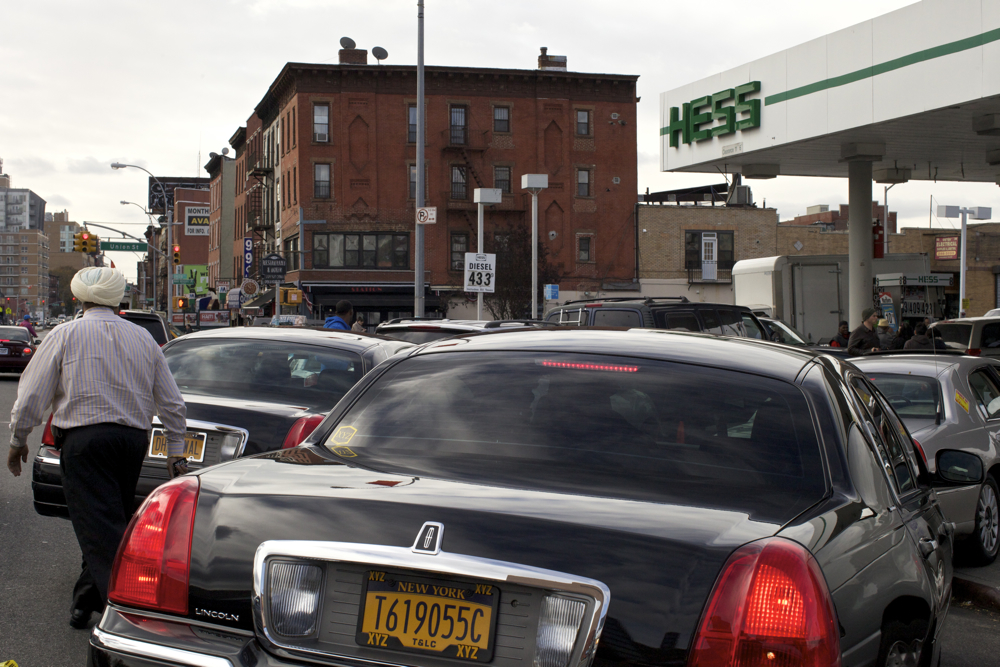 (Photo: The line for gas spread in all directions at the Hess station on Union St. and 4th Ave. Amy Pearl/WNYC)
On Long Island, gas attendant Omar Qurushi says he's never seen anything like this rush for gas.
"I remember when the gas prices went to $4 for the first time, people used to go crazy. You know, when we had some sales and that type of stuff," he said, "but not like this, not all, because you know especially Long Island, people are running generators…everybody just wants a little bit of gas, two gallons, to run their generators for power."
Elected officials have taken note of the shortage. 
Senator Charles Schumer says the gas crisis will end in a day or two because New York Harbor and the ports have now opened after being shut down for safety reasons.
"These boats, ships, tankers will be able to go through, they'll be able to land. They'll be able to unload their gasoline loads onto trucks which will go to the gas stations that people need," he said.
But it the crisis won't be completely over until the power is back on, so some stations have power to actually pump the gas.  It could be days in some areas like Lower Manhattan, and perhaps as long as 10 days in other areas.
AAA issued a list of stations in New Jersey and Long Island reporting that they had gas as of early Thursday afternoon.  Check  with the station, however, before heading out.