Tasina Berkey, 17, lives with her mom, Lorraine Crespo, in a one-bedroom apartment in the New Dorp section of Staten Island.  They live in an evacuation zone, just three blocks from the beach, but like most of their neighbors, Tasina and Lorraine decided to stay.  They thought they'd be safe because they'd never had flooding before. But as the tide came in on Monday night, Lorraine tried to use towels to keep the water from seeping through the front door.
Looking out the kitchen window of her apartment, Tasina used a neighbor's toy to help gauge the water level. "[I was] using a hula hoop outside as my meter to see how high the water was gonna rise," she recalled. "I was starting to freak out, like, 'Mom, what if it rises up to our necks.'"
Her mother was using a much larger item to gauge the water: a school bus parked in their driveway. "I was walking around the apartment, trying not to bug out. I turned into a robot, " Crespo said.
She wouldn't stay again if flooding were predicted, but she does think had she left, they would have lost everything. By staying, at least they were able to save some things.
"When I was sitting in the sink, I saw my parent's wedding album float by," Tasina said. "We're trying to dry out all the pictures. My mom tried to save her CDs and we're hoping that a heater we have will dry out and work again. But we have to get rid of the couch my mom sleeps on and my bed too."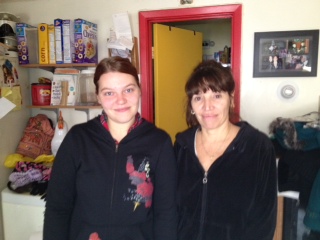 (Photo: Tasina Berkey (left) and her mother, Lorraine Crespo have spent the last few days cleaning out their apartment after it flooded.)
Tasina says she'll leave water front property to other people. "I wouldn't ever live near water again, no way. I want to live on the 23rd floor or an apartment somewhere, I'm not going through this again," she said.
Her mother says she wants to leave, "but can't afford anything with 2-bedrooms. So we just need to keep cleaning and try to figure out a way to replace all of our furniture." They're hoping to hear back from FEMA soon.
In the meantime, the family continues cleaning out the layers of mud and sewage, trying to salvage as much as they can. They'll be sleeping at a neighbor's until the power comes on.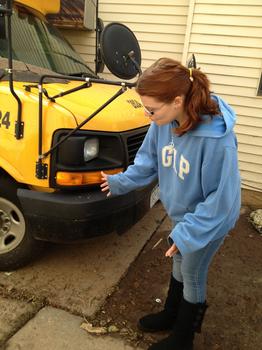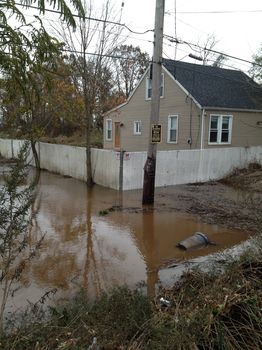 of