SchoolBook
Diary of a Brooklyn Preschooler's Return to School, Post-Sandy
The Board of Education has cancelled classes at New York City public schools for the rest of the week, but some independent schools have decided to open its doors today for a full day of class. My daughter goes to one of them. After 3 days of cabin fever, she was excited to head back to school to see her friends -- and escape her parents. Here's a photo essay of her journey back to school.
8:30 a.m. Park Slope: First unique detail of the commute to school: the ride is free! The subway doors are wide open and my preschooler ventures in effortlessly.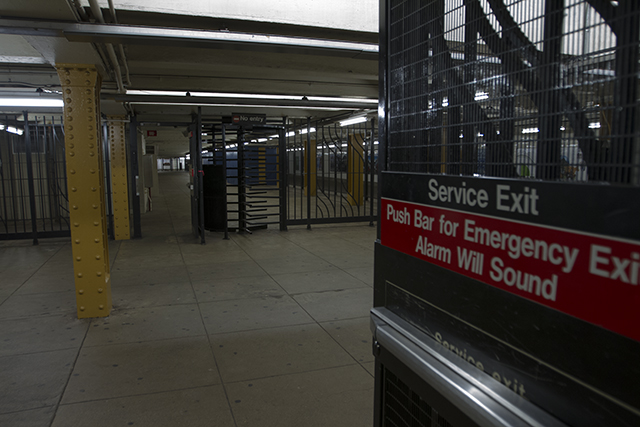 It's peak rush hour and the platform is usually packed with commuters. Today, it's nearly empty.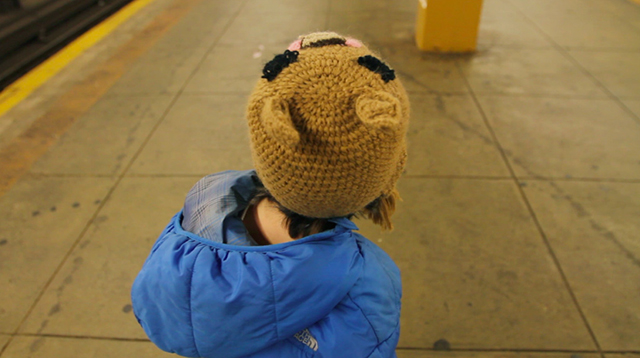 After a mere 5 minute wait, we're on the F, bound for the Jay Street-Metro Tech station. Usually, we have to push our way on the train—and almost always, no one offers my kid a seat. Today, she gets a nice spot, with extra legroom!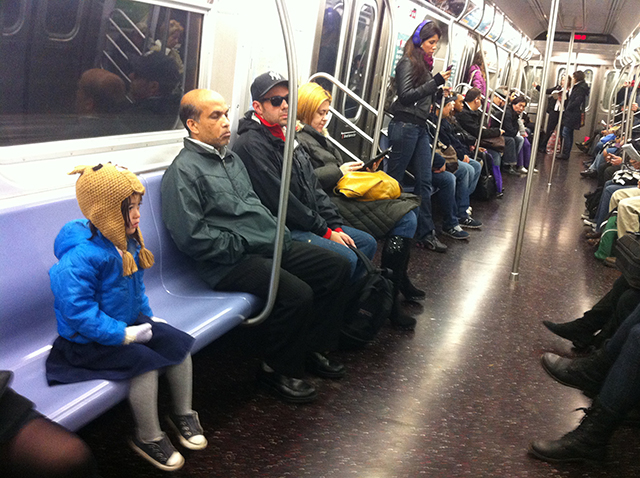 The F comes to a stop right before we roll into the Bergen Street station. Usually this is where she gets to check out some fashionably-dressed "worker people." Today, no one.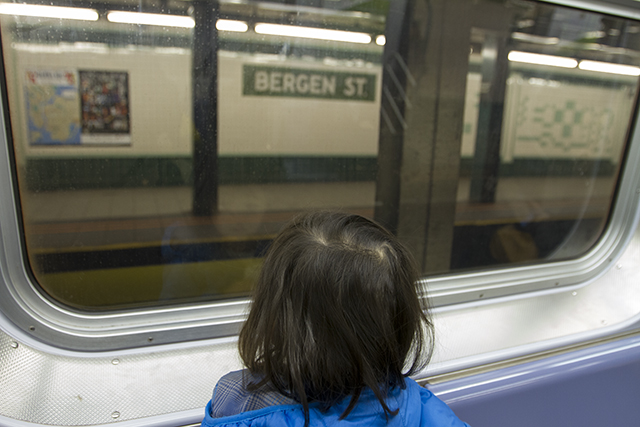 We arrive at the Jay Street-Metro Tech station. We hit the street to find a madhouse. Service for the northbound F terminates at Jay Street today. So everyone here is waiting to get on a shuttle bus to take them into Manhattan.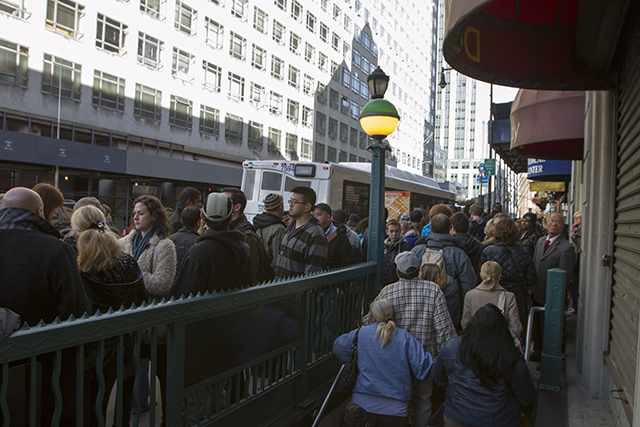 MTA employee Joe Fairley tells us that the wait to get onto a shuttle bus into Manhattan is more than 2.5 hours. "Then, you're looking at another hour on the bus to get to wherever you need to get to."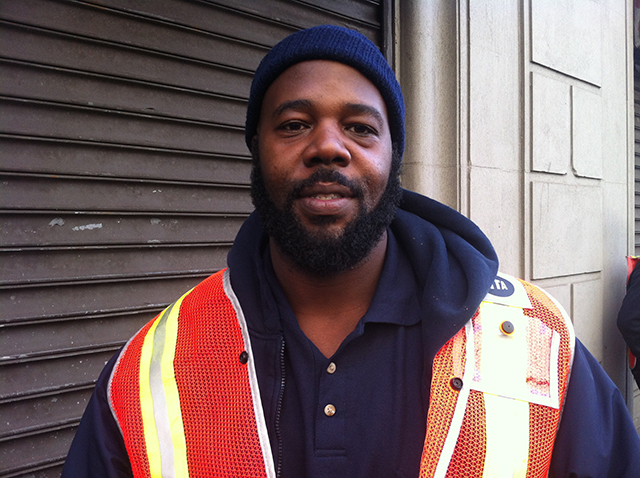 My daughter asks a great question: "Where are they all going?"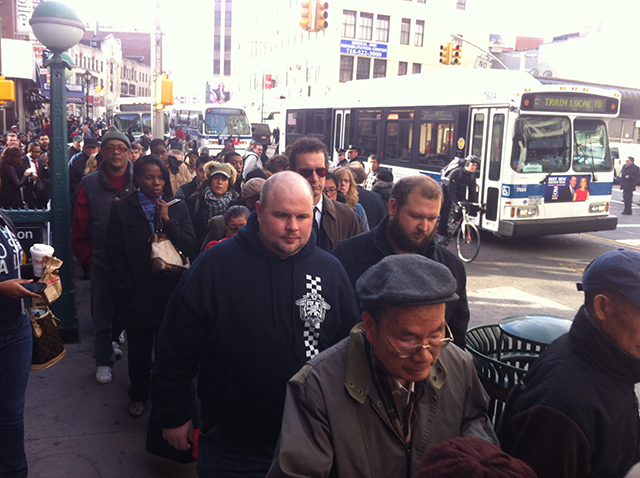 We're in downtown Brooklyn and it's buzzing with activity. After days of cabin fever, my daughter seems invigorated. We stop to look at the headlines for the day.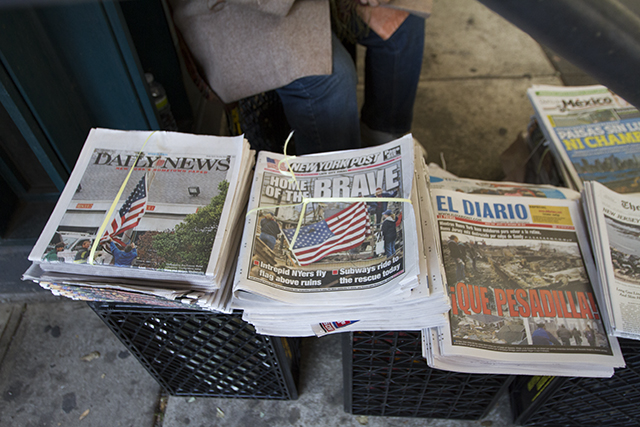 Our commute only 5 minutes longer than usual, we arrive at her school just in time!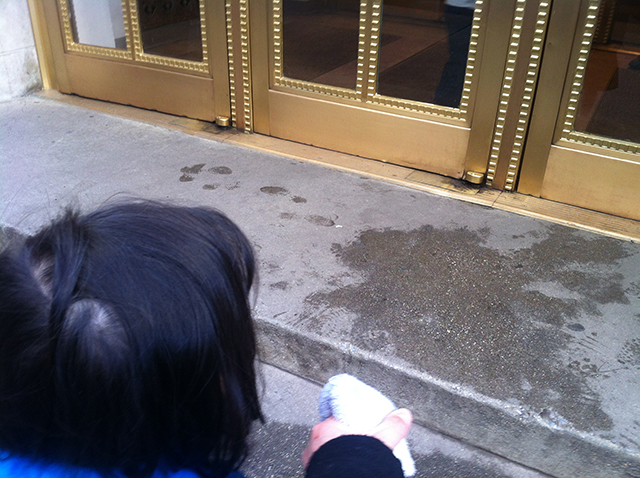 She bounds up to her classroom and finds half of her classmates made it in. Her teacher says she took a 6:30am bus all the way from central Brooklyn to get to school today.