The First Neighbors Return to Devastated Breezy Point
They just wanted to check out one more house, one more neighbor. Walter and Annette Connolly were delaying the inevitable.
"Oh God, this is beyond human comprehension," Walter said, putting his hands to his mouth as he surveyed the smoldering rubble at Breezy Point in Rockaway, Queens.
"This is our community," Annette said, her voice choking.
The Connollys have lived at Breezy Point for 36 years. Walter, a Vietnam War Veteran and amateur woodworker designed his home on the back of a napkin one night at a bar. He laid the maple wood floors himself.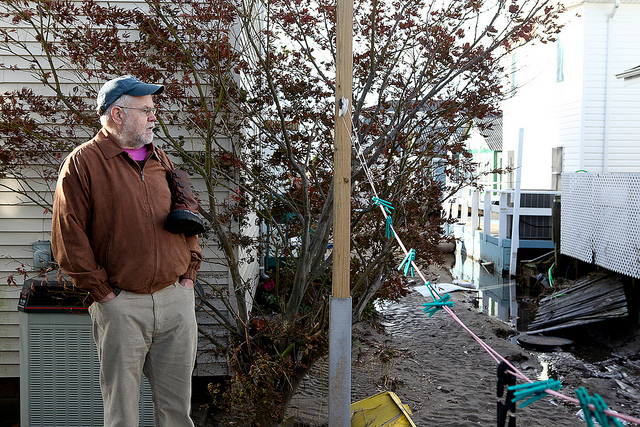 (Photo: Walter Connolloy at his home on Breezy Point after Hurricane Sandy. Stephen Nessen/WNYC)
Breezy Point was one of the hardest hit areas during Hurricane Sandy. Around 11 p.m. Monday night a fire broke out and quickly spread, destroying nearly 100 homes. Because of the storm surge, firefighters were unable to get close enough to extinguish the fire. This was particularly frustrating because many firefighters live at Breezy Point and had to watch helplessly has fire ravaged the small community.
"This is all that was left of my grandmother's home," a neighbor said to the Connollys, thrusting a mostly-intact Corning Ware casserole dish at them. They all have a chuckle.
The familiar sandy streets and low slung beach bungalows on a sand spit at Jamaica Bay were reduced to smoldering blackened rubble.
The Connollys walk past Congressman Bob Turner's house, which is only identifiable by bits of a white railing that didn't burn.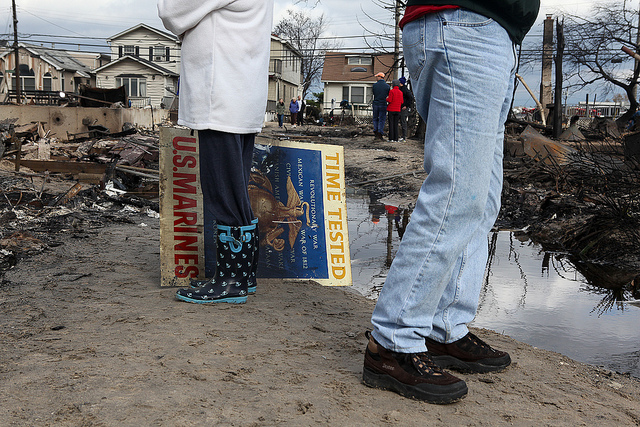 (Photo: Residents recovering a lost sign at Breezy Point, Far Rockaway after Hurricane Sandy. Stephen Nessen/WNYC)
In an odd twist of fate, the wooden street signs that Walter built three years ago to replace the signs that had been vandalized are still standing.
"Walter here's your sign," Annette yells. "We were amazed on Facebook, people have this up," she said, before snapping a photo of her own as if to prove it again.
But it's time for the Connollys to see their own home now.
They make their way to their clapboard house on Jamaica Way, passing charred homes on their left, and relatively unscathed homes on the right.
Their home is on the right side of the road.
Annette climbs the stairs, Walter stays outside. The floors are wet, but not soaking. Furniture has drifted around the room and landed in odd places. Annette is worried about her cooking pots. Finally, Walter trudges in.
"Floors will have to go, that's for sure," he said, trying to sound upbeat. "It's in better condition than I thought, but the longer we wait, the worse it'll get, with standing water."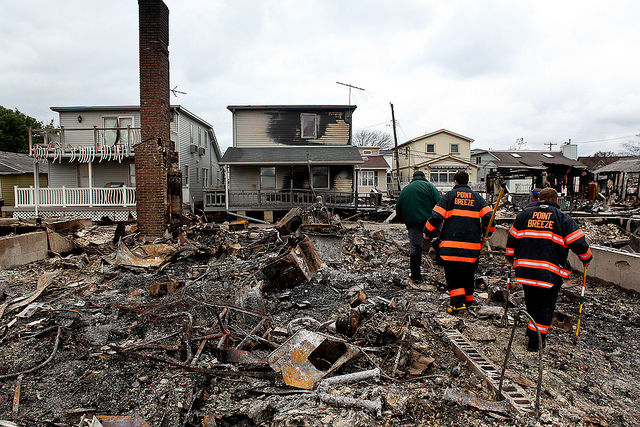 (Photo: Residents returning to destroyed home at Breezy Point, in Rockaway. Stephen Nessen/WNYC)
The Connollys are grateful. The china is still on the shelves. The second floor bedroom is completely dry. The roof is intact.
Walter tosses a piece of garbage down the stairs to see how deep the water is in the basement. It's deep, and the splash comes faster than he anticipated. They don't spend much time dwelling on their flood damage.
"It's the neighbors, to imagine what they lost," Walter said, already thinking about who to visit next.
"This is a party community, we'll throw a party and a dance," Annette said.
They grab a change of clothes, and shut the door, heading out to embrace their neighbors, and share some tears.
"I guess we're the first posse coming in," Annette said. "We know how to rally them up."