Look at a New York City evacuation map and you'll notice something about many of the red areas along the water's edge: they correspond to areas that the Bloomberg administration hopes will catch on as new residential neighborhoods.
The red areas denote Zone A, which means residents are supposed to evacuate if there's a threat of a tropical storm approaching the city. It include's Manhattan's West Side, Greenpoint-Williamsburg, Hunter's Point and Coney Island.
Why is the city trying to encourage development in areas that, especially after Sandy, seem so vulnerable?
"It's a very profound question because one of the things that has given the city a lot of rebirth and energy has been the redevelopment of the waterfront," said William Solecki, a geography professor at Hunter College and co-chairman of the New York City Panel on Climate Change. "It's that delicate balance between development and access to the water and limiting exposure."
Solecki says one solution is to design buildings to withstand occasional flooding: sub-basements that are entirely sealed to the outside, high windows on the first floor, or architectural strategy adapted from Florida that treats the first floor as a fairly expendable "blow-out zone" that could be washed out without causing serious damage.
Solecki says he's not entirely convinced design is the answer, but says Sandy provides a test-case.
About 375,000 people live in Zone A and they were supposed to evacuate on Sunday, in advance of the storm. Many did not. Most live in areas that have long been settled like the Rockaways.
But over the past decade, the Bloomberg administration has moved quickly to rezone industrial areas. Once built up, another 5,400 apartments in Williamsburg-Greenpoint, 4,500 in Coney Island, and roughly 5,000 on Manhattan's West Side will have been added to Zone A over the next few decades, perhaps accounting for another 30,000 or 40,000 people.
The city's taken various approaches to making those new developments heartier, such as requiring new construction to meet rigorous flood-proof standards, or raising new developments above storm surge levels by adding landfill.
A former Bloomberg administration official, Vishaan Chakrabarti, was involved in some of those rezoning efforts when he was Manhattan Director at the Department of City Planning. Now at of the Center for Urban Real Estate at Columbia University, he's increasingly skeptical that design measures by themselves will solve the problem and that eventually the city may want to explore building a sea wall, like in the Netherlands, that would rise to keep storm surges from inundating New York City.
"What are we going to do? Retreat from the water's edge?" he asked. "We have Battery Park City, which has a larger population than many towns in other parts of the country. We have the New York Stock Exchange. We have Wall Street. We have all sorts of housing in Zone A, and there's no way this could get pulled back to Zone B, and Zone B will eventually be in danger."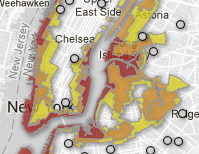 One long time opponent of developing the waterfront, Marcy Benstock, sees such logic as folly. The executive director of the Clean Air Campaign and its Open Rivers Project. Benstock looks at the city's flood map, sees a lot of white — all those areas that lie outside of the red, orange and yellow zones that show which residents should evacuate, depending on the increasing severity of the storm. (The red edge is just for tropical storms and category 1 hurricanes, the orange for category 2, the yellow is for categories 3 and 4) And it's there, she says, in those white spaces, where New York should be developing.
Along the water, she suggests, putting affordable parks that may flood, but would be easily and cheaply repaired.
"Let the waterways act as waterways," she said. "If you want to work against nature you can create multi-billion dollar problems for yourselves."