Area Hospitals Lean On One Another in Storm's Aftermath
Wednesday, October 31, 2012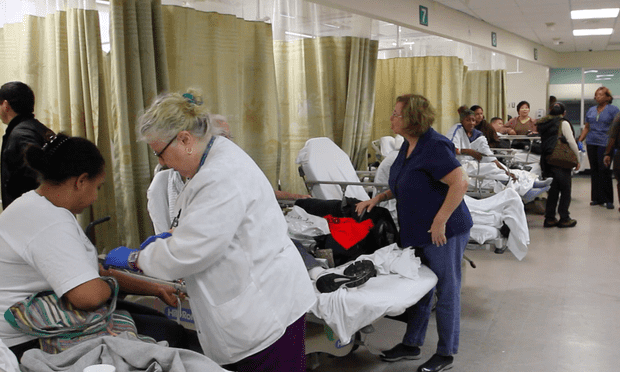 (Jennifer Hsu/WNYC)
After days operating on a backup generator, Bellevue Hospital is "pulling the plug," according to one official. About 500 patients, including about 50 prisoners from city jails, are being evacuated.
A spokesman for Bellevue Hospital said it decided to shut down because it was already running a minimal operation, and with no end to the power outage in sight, officials were afraid the backup generator might break down, too.
Roughly a third of the patients were discharged and two-thirds are being transferred to other hospitals.
Mount Sinai took 10 psychiatry patients from Bellevue. It had accepted 64 patients from NYU Langone Medical Center on Monday.
Some Bellevue patients will go to Maimonides Hospital in central Brooklyn, which is bracing for the added patients. This comes after they already received dozens of patients who had to be evacuated from Coney Island Hospital, which is still in the process of shutting down.
At Maimonides Hospital on Wednesday, about 50 patients admitted there are waiting for rooms because it's so full. Many are just staying in the E.R. or waiting rooms.
And patients who can be discharged are staying put, as they have no place else to go or, if they do, can't get transportation.
Mayor Michael Bloomberg said 17 nursing homes and hospitals had to be evacuated due to Sandy.
And it's not just hospital and nursing homes. Doctor Ron Englert works for a medical group which has closed four of its six city clinics in Manhattan due to power outages and the dangling crane in Midtown. But the company's doctors are still their treating patients virtually  — over email with patients sending in pictures of their rashes and ailments.
"Often we can give them some reassurance by email and we can decrease the level of anxiety and that will often decrease their visits to emergency rooms," Englert said. "And just getting that reassurance from their doctor is definitely going to be better for the patients and probably for our medical system."
Dr. Englert has treated a patient with flood related skin rashes and a case of conjunctivitis. For the flood-related rash, he told his patient: "Skin is a great protective barrier against any of the pollutants or chemicals that might be in the water, luckily we have skin and we have great immune systems that can help protect us against disease."
Stephen Nessen contributed reporting
Video by Jennifer Hsu
More in:
Fred Mogul, Reporter, WNYC News

Fred Mogul has been covering healthcare and medicine for WNYC since 2002.