Shot NYPD Officer Gets Bedside Promotion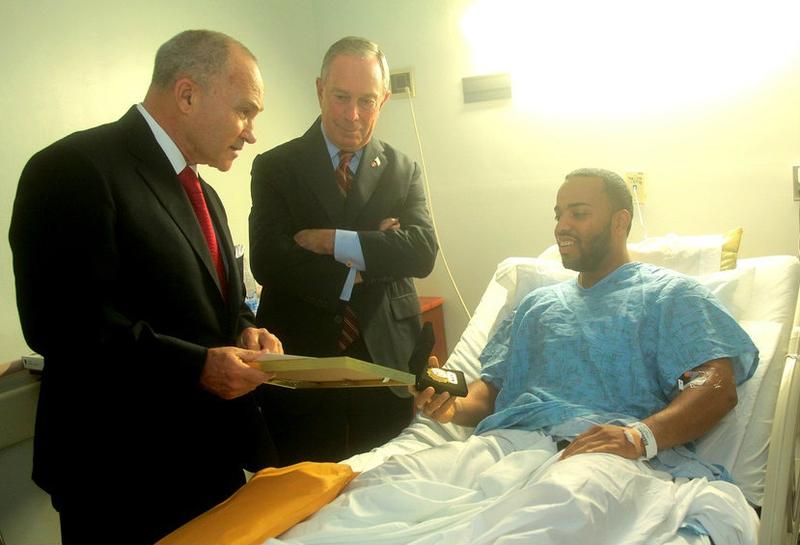 Before going to the NYPD's promotion ceremony on Friday, Mayor Michael Bloomberg and Police Commissioner Ray Kelly stopped by Bronx Lebanon Hospital to promote the off-duty police officer who was shot by a suspect in a Bronx robbery earlier this week.
Ivan Marcano was promoted to Detective.
Kelly said they knew that Marcano wouldn't be able to come to the promotion ceremony, so "we thought it would be a pleasant surprise for him for both of us to go to the hospital," and promote him.
Marcano, who is expected to make a full recovery, was shot in the chest after he tried to stop a robbery. The suspects fled initially on foot and Marcano's girlfriend was in the process of driving him to the hospital when they encountered the gunmen again. Marcano got out of the car and shot one of the suspects.
"In a remarkable display of marksmanship and calm under fire, Officer Marcano did all of this while using his left hand to apply pressure to the gunshot wound to his chest and using his right to shoot one-handed," Kelly said.
One of the two other suspects was apprehended Thursday night, while the other surrendered Friday morning and is in police custody, according to Kelly.
Marcano is expected to be released from the hospital Friday.