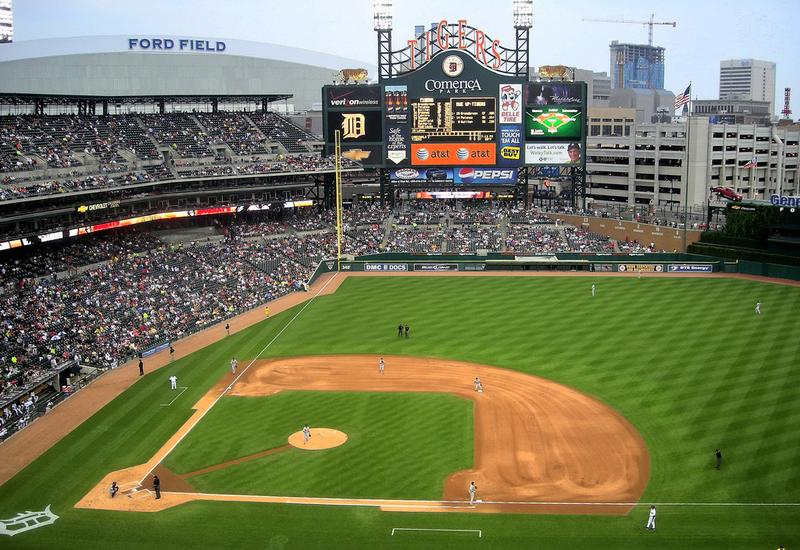 The eyes of America are once again on Detroit, and not for the auto industry or the jobs numbers, but for good old fashioned baseball in the biggest baseball event of the year: the World Series.
Beginning tonight, Detroit will be facing off against the San Francisco Giants. It's the 11th time the Tigers are making it to the series, since their founding in 1894. And if they're lucky, it could be the fifth time they actually win it.
Quinn Klinefelter is senior news editor at WDET. And like everyone else in Detroit, he has his eyes on the Tigers on this, the first night of the World Series. 
"There's just a ton of excitement," Klinefelter says, "because the city, you know, has had some pretty tough times, some pretty rocky economic times." And not only is this a feel good story but, he says, there is also something about baseball that reminds everyone of better times. "There's a real sense of this history around the city, and it really helps quite a lot of people have a bit of a lighter step."
The World Series is predicted to bring as much as $26 million to Detroit, but when Quinn Klinefelter spoke with the Tigers' manager Jim Leyland, he said the games are bringing something even better than dollars to the city.
"I think what it does for the spirit of the people is probably more important." Leyland said. "It's easier for them to get up and go to work, I think it's easier for them to come home and have something to do, to watch a ball game, or come to the game. It's probably easier for the kids to go to school, you know, the school's probably got some Tigers stuff around. So it's a good atmosphere it's created I think, a positive atmosphere, and we all need that, as much as we can get it."
There can be too much of a good thing, though. Detroit has a history of wrecking the city when its sports teams win. "It's been something that's not just on the minds of media people, it's on the minds of people, in the city. They don't want to present that image," Klinefelter says. "If the Tigers can pull this off, and actually win the World Series, there will be a lot of celebration, but there may not be a lot of bad commotion perhaps."