Foreign Policy Experts Weigh in: What to Expect in the Final Presidential Debate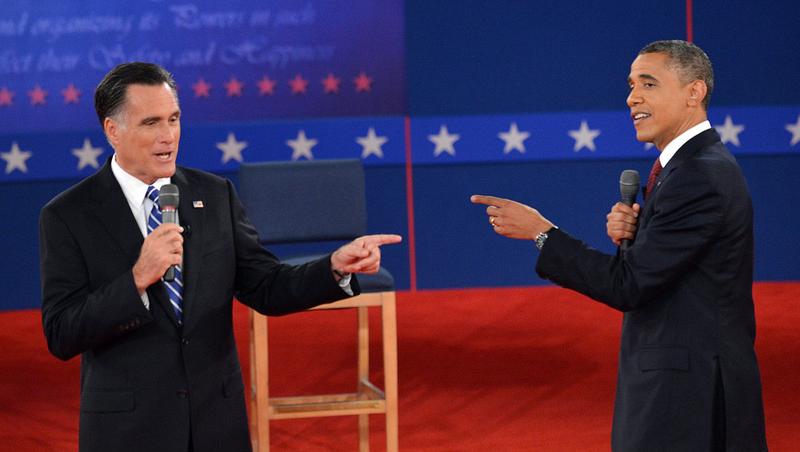 President Barack Obama and Republican challenger Mitt Romney will tackle foreign policy issues in Monday's third and final presidential debate – meaning a nuclear Iran, the future of Syria, negotiations between Israel and the Palestinians and China's relationship to the United States are all fair game.
Among the millions of Americans expected to watch are local foreign policy experts who acknowledge the challenge facing the candidates - and the voters - when it comes to making sense of the complex issues facing the U.S. and its relationship with the rest of the world.
An issue like Iran's pursuit of nuclear weapons is likely to be on Monday's agenda, after the New York Times reported this weekend that the U.S. and Iran are resuming talks over that country's nuclear program. The White House and the Iranian Foreign Ministry have dismissed the report.
Toby C. Jones, director of the Center of Middle Eastern Studies at Rutger's University, is not expecting either candidate to clarify their approach to Iran at the debate, but hopes diplomacy is on the table.
"Frankly, we need to find a way to breakthrough what's been a generational impasse," said Jones. "I don't expect that either candidate will be able to say candidly that that's what they'd like to achieve. But it sure would be nice if one of them or both of them could talk about it in concrete terms."
Jones will be listening for how the candidates define America's strategic objectives – whether it's the promotion of democracy, the protection of oil or something else.
The U.S. –led War on Terror against al-Qaeda was part of a foreign policy strategy born of the September 11th attacks. The terror threat came up again last week when officials arrested a 21-year-old Bangladeshi man for allegedly attempting to blow up the Federal Reserve Bank in Lower Manhattan.
Abraham Wagner, who focuses on national security, intelligence and terrorism at Columbia's School of International and Public Affairs, said the threat has changed since in the decade since those attacks, and he wants to hear the candidates show they understand that.
"Terrorist threats are there," said Wagner, who has studied the evolving threat from cyberterrorism, issues related to electronic surveillance, and nuclear proliferation."Clearly the notion that al-Qaeda's on the run, it's over, these are different days -- it's complete nonsense."
Ultimately, all the experts want the candidates to get past the rhetoric and down to specifics.
Thanassis Cambanis, a fellow with the left-leaning Century Foundation and an adjunct professor at Columbia's School for Public Affairs, said he wants details from both candidates.
From Romney, "I'll be looking to hear him articulate an actual vision for what he'd like to accomplish and how in terms of projecting American power."
From Obama, Cambanis said he'd like an appraisal of the administration's policy failings.
"It's a pipe dream to expect a sitting president running for reelection to say we didn't really do a good job with the Arab Spring or we made a mistake upping the ante in Afghanistan," Cambanis said.
"But if I were really scoring and assessing these candidates on their foreign policy, that's something I'd really like to hear because that would give me some kind of faith that he's going to learn and improve on the things that haven't worked."