What if Facebook likes and Twitter posts could give investors clues about market trends? The idea may not be as farfetched as it sounds.
Sentiment analysis is a fairly new field of research that looks at social media and news sites to predict how assets such as stocks, bonds and currencies will perform.
Some players are already folding sentiment analysis into the algorithms they use to pick investments.
"Typically, our clients are hedge funds and institutional money managers that would look at interpreting this data in different strategies," said Rich Brown, the head of financial analytics at Thomson Reuters, one of the largest providers of sentiment analysis.
From his window above Times Square, Brown can see across the Hudson River to New Jersey, where Thomson Reuters' supercomputers regularly scan 4.5 million news and social media sites in an effort to glean actionable information about companies by putting a value on the words around them.
To demonstrate how this works, Brown picked a tweet that read "Google and publishers reach deal on book scanning."
"So one of the things here, reaching a deal is actually seen as a positive phrase, it's associated with Google, that could actually be very good news on this particular company," Brown said.
Later, Brown picked phrases that a computer might capture and interpret as negatives, like "disappointment" and "jerks."
When aggregated in large numbers, these context words start to tell a story about what the world thinks is happening with different companies or assets.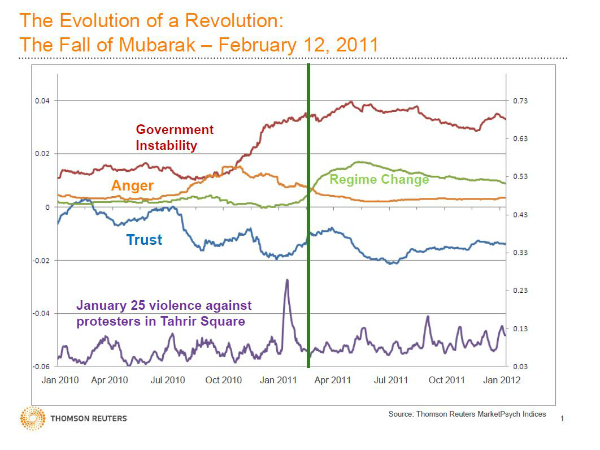 (Thomson Reuters tracked the changing public mood during that Egypt's revolution by measuring sentiments expressed in the news and on social media around the world. Courtesy of Thomson Reuters)
Thomson Reuters declined to say how much its clients pay for this service, and it's not clear how many companies are using this information. But the field is a growing area of scholarly interest.
One recent study found a strong correlation between Facebook "likes" for major corporations and those companies' stock market performance.
"My theory was, it's like in high school. Does being really popular help you win friends, help you enhance your performance? And it turns out that yeah, popularity does seem to help brands," said Arthur J. O'Connor, the Pace University Ph.D. student whose study, "The Power of Popularity: An Empircal Study of Fan Counts and Consumer Brand Stock Prices," appeared in the Social Science Computer Review.
Still, sentiment analysis has not yet broken into the mainstream.  
James Liew, an adjunct at NYU Stern School of Business, who also has a small hedge fund, studies sentiment analysis but isn't yet using it to make trading decisions.
"A lot of the research that's coming out right now is funded by the sentiment providers. So they're trying to sell this data, and so the research tends to be a little bit on the biased side," Liew said.
It's entirely possible someone is getting rich off of your tweets and Facebook posts, Liew said. But you probably won't hear about it. Because when people on Wall Street are making tons of money, they don't tend to tweet it.