Kyrillos, 'Christie Friend,' Challenges Menendez for Senate Seat
Sen. Bob Menendez (D-NJ) is waging a spirited campaign for re-election, despite holding an 18-point lead in the polls. He has more money and more name recognition than Republican challenger Joe Kyrillos. But Kyrillos has his ace in the hole.
At a union hall in Maplewood, N.J., recently, Menendez fired up a group of rank-and-file workers that spanned traditional trades people with newly organized supermarket workers.
"We're not letting Romney and Ryan and my opponent privatize Medicare, privatize Social Security and put all of those seniors at risk," Menendez shouted to the cheering crowd.
The Cuban-American incumbent from Union City, N.J., served in the House of Representatives for 13 years and has been in the U.S. Senate for one term. Menendez is in the progressive wing of the Democratic Party, supporting same sex marriage, environmental protection and higher taxes for the wealthy.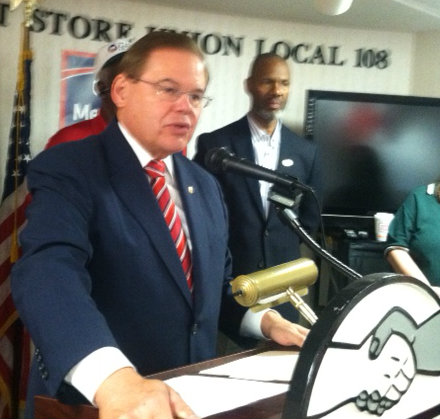 (Photo: Senator Bob Menendez speaks to union crowd. Nancy Solomon/WNYC)
Not known for fiery speeches, Menendez appears to have shed his wonky image, pumping up the union crowd with a rousing speech.
A few miles away and days later, it's a very different scene on the campaign trail with Joe Kyrillos. At a Republican Women for Kyrillos event in West Orange, a well-dressed crowd eats dinner and hears an endorsement from former Governor Christine Todd Whitman, who says Kyrillos is a pragmatist.
"He's someone who's shown what he wants to do is get solutions to issues," Whitman said. "Is he a Republican? Yes. Does that mean he only adheres to a Republican ideology? No."
Kyrillos has been in the state legislature since 1988. In the past year he voted for expansion of charter schools and pension and benefits cuts to public employees.
He voted against a millionaire's tax, New Jersey's participation in the regional greenhouse gas limits and same sex marriage.
At campaign appearances, he sticks to broad themes.
"We've got 23 million Americans out of work or underemployed and we've got massive debt our children are  going to be saddled with," Kyrillos said. "The guys in Washington are offering more of the same."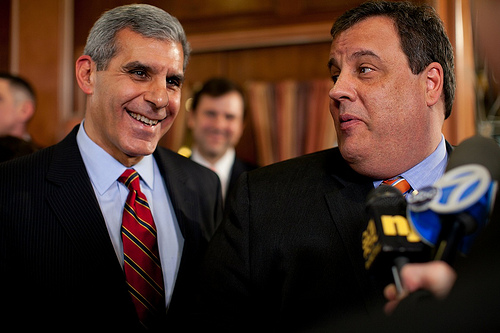 Kyrillos has struggled to get media attention, but Gov. Christie joined him at the Princetonian Diner last week, which drew a large crowd of reporters and photographers. Kyrillos says he's grateful for the attention the governor brings
(Photo: Kyrillos gets some campaign help from friend Gov. Christie. /Courtesy of the Kyrillos Campaign)
"I'm so proud of it. It's part of my title, Kyrillos-comma-Christie friend. I love it," Kyrillos said. "It's great and that's what we're telling everybody all over New Jersey."