Explainer: Is Oil Production Really Down 14 Percent?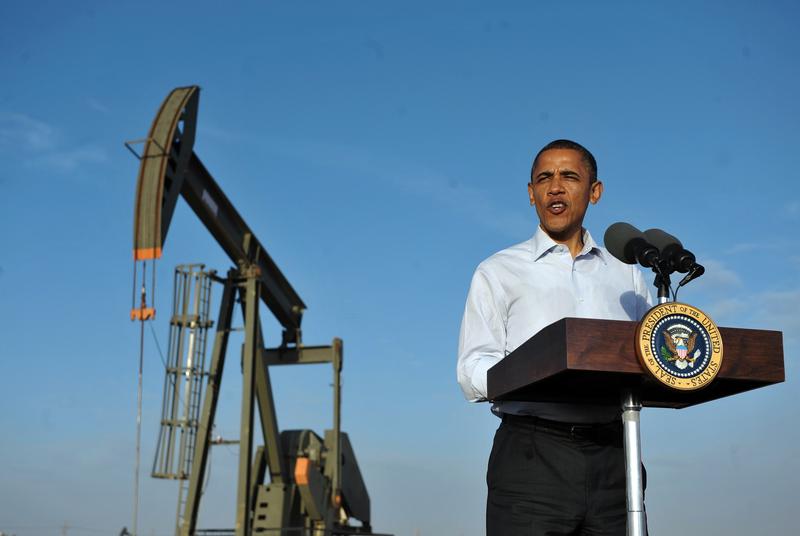 Mitt Romney went on the offensive in Tuesday night's presidential debate when it came to the question of gas prices and oil production, charging President Obama with obstructing domestic energy development and citing a 14 percent decrease in oil production on federal lands. But the Republican challenger arrives at this criticism by cherry-picking a figure that ignores crucial context.
"Oil production is down 14 percent this year on federal land, and gas production was down nine percent," Romney said early in the town hall debate. "Why? Because the president cut in half the number of licenses and permits for drilling on federal lands, and in federal waters."
First off, when Romney says "this year," he means 2011. Second, it ignores the fact that the preceding year saw the highest level of domestic oil production since 2003, according to the Energy Information Administration: 739 million barrels were produced in 2010 between onshore and offshore federal lands, as well as Indian lands.
So that 14 percent decline that Romney mentions is from a peak, which is important to consider. And if you really want to split hairs, 14 percent is the drop in production from offshore federal lands only – including onshore and Indian lands, the decline is really about 12.5 percent.
As we reported earlier this year, part of that drop can be attributed to a six-month moratorium on new drilling and a slowdown in permit-issuing following the 2010 Deepwater Horizon oil spill. From October 2010 to July 2011, permit waiting times were twice as long as the 5-year historical average.
The 14 (or rather 12.5) percent decline is just a sliver of the story that ignores a major disaster, as well as the fact that more oil has been produced from federal and Indian lands in the first three years of the Obama administration than in the last three years of the Bush administration: 2.027 billion barrels compared to 1.786 billion.
The LA Times tackles the question of whether Obama halved the number of licenses and permits for drilling on federal lands.
According to the Bureau of Land Management, in fiscal year 2011, 2,188 leases were issued for energy development on federal lands.  Four years earlier, in fiscal year 2007, 3499 leases were issued. So, not quite a 50% drop, but a drop nonetheless.

However, the biggest drop-off came in fiscal year 2008, to 2,416 leases. The fiscal year for the federal government starts Oct. 1, 2007, so that decline began under the Bush administration.
Of course, all of this ignores just how much a sitting president's policies directly affect domestic oil production. As PolitiFact writes in its "Half True" evaluation of Romney's statement Tuesday night, "It's not at all clear that the president in charge when the oil is taken out of the ground deserves full credit or blame; years of prior policies on exploration and drilling had an impact."
Here's where Romney's right: there has been a dip in natural gas production, about 10 percent from 2010 to 2011. But that's not a phenomenon unique to the Obama administration. "Total natural gas sales of production from Federal and Indian lands have decreased each year since FY 2003," the same EIA report finds.