Decades Late, FDR Memorial Park Dedicated on Roosevelt Island
Four Freedoms Park, a memorial envisioned decades ago to honor the memory of President Franklin D. Roosevelt, was dedicated Wednesday by Mayor Michael Bloomberg, New York Governor Andrew Cuomo and former President Bill Clinton.
The invited audience included Roosevelts and the children of the park's architect, Louis Kahn.
Kahn's design, now a physical reality, includes a half-ton bronze bust of Roosevelt at the Southern tip of Roosevelt Island, and affords, as Clinton noted, views across the East River to the United Nations, an institution for which Roosevelt laid much groundwork.
The park takes its name from four freedoms Roosevelt described in his 1941 State of the Union address: freedom of speech and expression, freedom of worship, freedom from want and freedom from fear.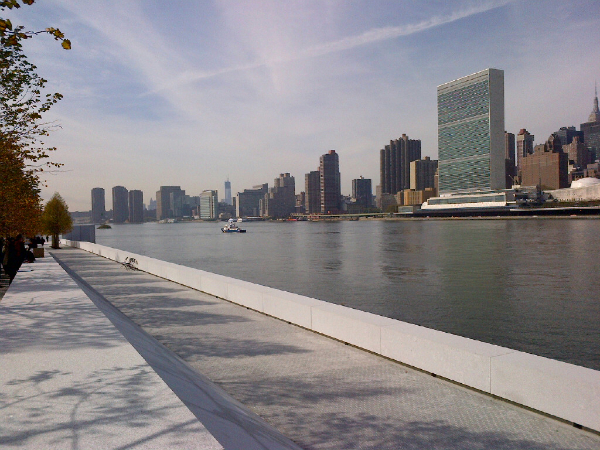 (Photo: Kahn's design affords views across the East River to the United Nations, an institution for which Roosevelt laid much groundwork. Ilya Marritz/WNYC)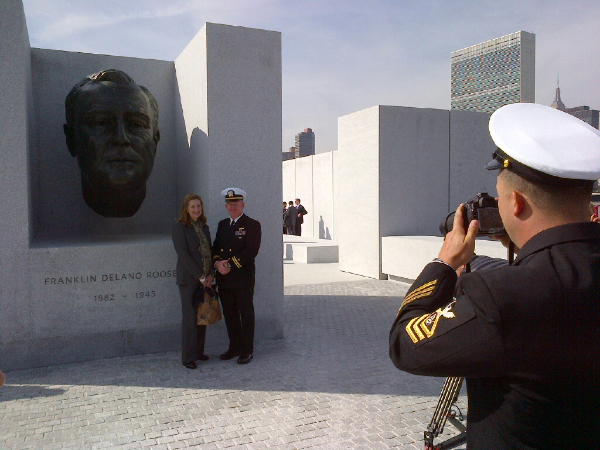 (Photo: Kahn's design, now a physical reality, includes a half-ton bronze bust of Roosevelt at the Southern tip of Roosevelt Island. Ilya Marritz/WNYC)