Long's Hurdle: The Gillibrand - D'Amato Connection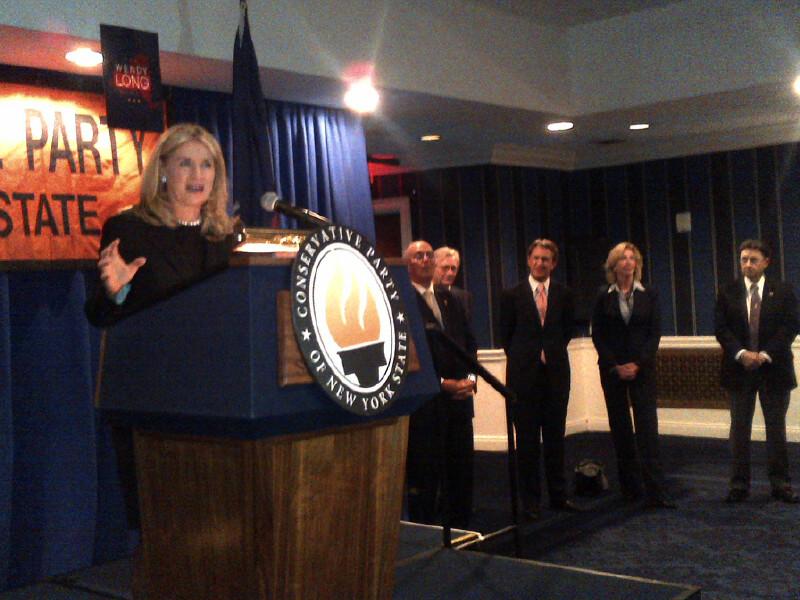 Trailing in the polls, with a fraction of the money of national powerhouse fundraiser and U.S. Senator Kirsten Gillibrand, Republican Wendy Long is struggling to gain traction.   And some Republicans say there's a reason the Republicans are fielding such a weak, underfunded candidate in New York. They say former U.S. Senator Alfonse D'Amato's ties to Gillibrand have discouraged GOP donors and supporters.  It's a charge Gillibrand doesn't exactly deny.
At the Yonkers Republican Party dinner last month, candidates sipped cocktails and rubbed elbows with party loyalists like 70-year-old Linda Talbot. This petite woman has been working on Republican campaigns for decades. But she drew a blank when asked about the Long campaign.
"I haven't heard anything about her," said Talbot. "I didn't even know who she was."
Long has been attending dinners like these across the state. She gives speeches to introduce herself to prospective voters. On this night, she warms up by joking about the definition of a Democrat. Long's punchline:
"It's a person suffering from an overwhelming conviction to believe what is not true."
Long's a Dartmouth grad, lawyer, mother of two, practicing Catholic, New Hampshire native turned Manhattan transplant. She worked for two U.S. Senators and clerked for Supreme Court Justice Clarence Thomas, who Long said taught her a lot of what she knows about the US Constitution.
Then she explained her view of the future, one where fiscal calamity strikes if Democrats are re-elected.
"It's not just an election, it's an emergency," warned Long.
But so far, Republicans aren't listening. Polls show Gillibrand with a 40 point lead over Long. According to the last available filing, Gillibrand has more than $10 million dollars in the bank. By contrast, Long's bank account is in the five figures. Her campaign office in Rochester didn't even have lawn signs. (Photo: Long's "Victory Office in Rochester, N.Y. where the only signs were for congressional candidate Maggie Brooks. Brigid Bergin/WNYC)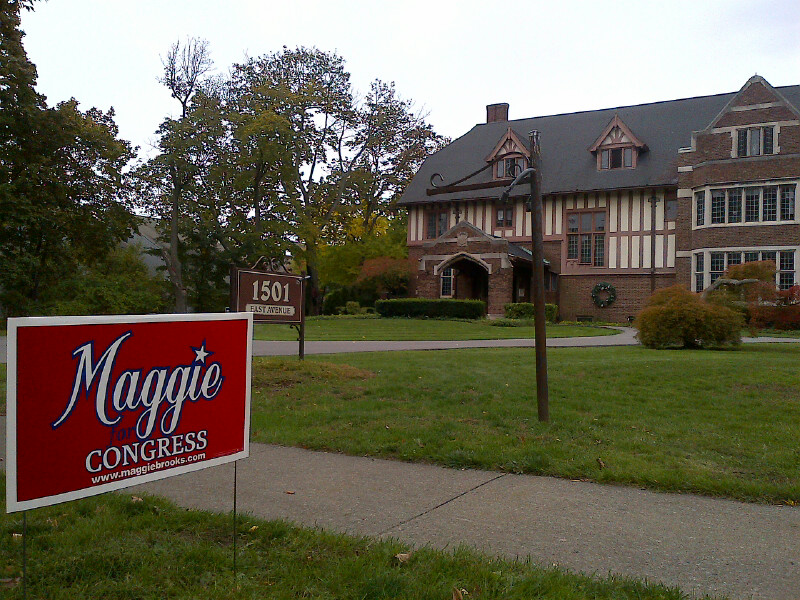 Long had momentum earlier this year, securing the Conservative party nomination in the spring and winning a three-way Republican primary in June. She beat Rep. Bob Turner (R – Brooklyn / Queens) and Nassau County Comptroller George Maragos, with over fifty percent of the vote.
But her campaign in the general election hasn't gained traction.   At a cocktail party for Long, GOP nominee for Governor Carl Paladino says he knows why: it's the "the treachery of the RINO's in New York State right now."
"RINOS" are Republicans in name only and Paladino charges former Senator Alfonse D'Amato is chief among them.  "D'Amato is working behind the scenes, supposedly a very strong, well-intentioned Republican. He's not a Republican anymore, he's a lobbyist. He's about money," Paladino said.
Paladino was known as a bit of a loose canon by his party -- but D'Amato is a lobbyist, and he his close to Gillibrand.
D'Amato runs a firm called Park Strategies and hasn't held elected office since 1999. But when he was the Republican Senator, Gillibrand interned in his office. D'Amato was there the day Gillibrand was appointed to replace former U.S. Senator Hillary Clinton in 2009, standing center-stage.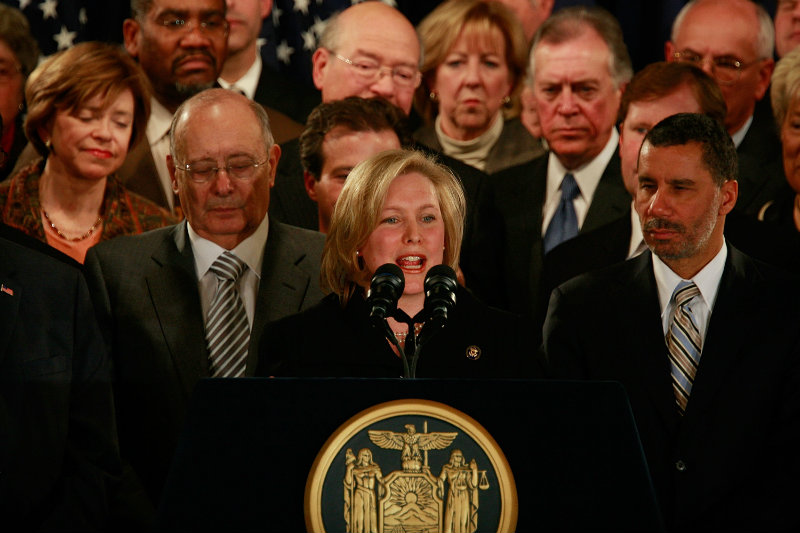 In 2010, former Westchester Congressman Joe Dioguardi took on Gillibrand in a special election to finish the last two years of former Senator, now-Secretary of State Hillary Clinton's term. In the general election, he ended up with only 35 percent of the vote.
Dioguardi said D'Amato never backed him.
"You'll find no check from Al D'Amato for Joe Dioguardi in that race. So I just wanted to say, these are the games that are played," said Dioguardi.
Powerful Long Island Congressman Peter King, a Republican, said D'Amato still plays an influential role in the party.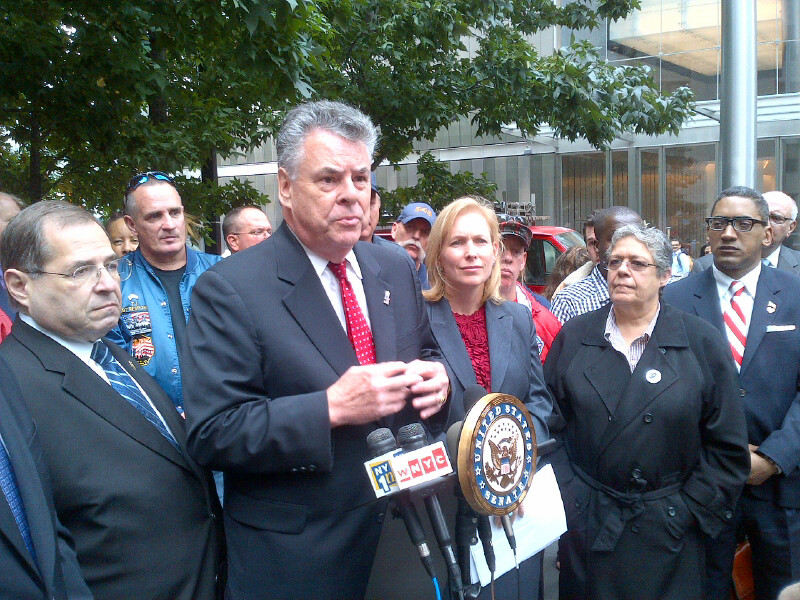 "Al D'Amato is definitely a player," said King. "Everybody knows him. He can raise funds and he's a player."
King acknowledged that his son Sean King works for D'Amato's lobby firm.
"I was going to put that as a disclaimer at the end," King said in an interview at a press event at the World Trade Center site earlier this week.
(Photo: Rep. Peter King at press event organized by Sen. Gillibrand, right, at World Trade Center site. Brigid Bergin/WNYC)
Senator Gillibrand -- who organized that event -- downplayed D'Amato's role in her current campaign when asked if he's still a supporter.
"I don't know. You'd have to ask him. But I suspect he is," said Gillibrand.
When asked if he's come out or done any fundraising, she's says no – but stops and corrects herself.
"Oh, he's been to something. But he's not an active participant in the campaign."
D'Amato didn't respond to our questions.
Gillibrand has raised more than 13 million dollars this election cycle, much if it from lawyers, Wall Street, and people in real estate. Those are the kinds of donors who support New York Senators – including, at one time, Al D'Amato.
With her tiny bank amount, Long relies heavily on volunteer support.
At the end of that dinner in Yonkers, two volunteers followed her to the door. The duo run the local chapter of the teen Republicans in Westchester County and they offered to distribute some campaign "lit."
Long's campaign manager handed the two a stack of brochures, and she left for another event.