Before Debate, Economic Anxieties and Little Party Loyalty on Long Island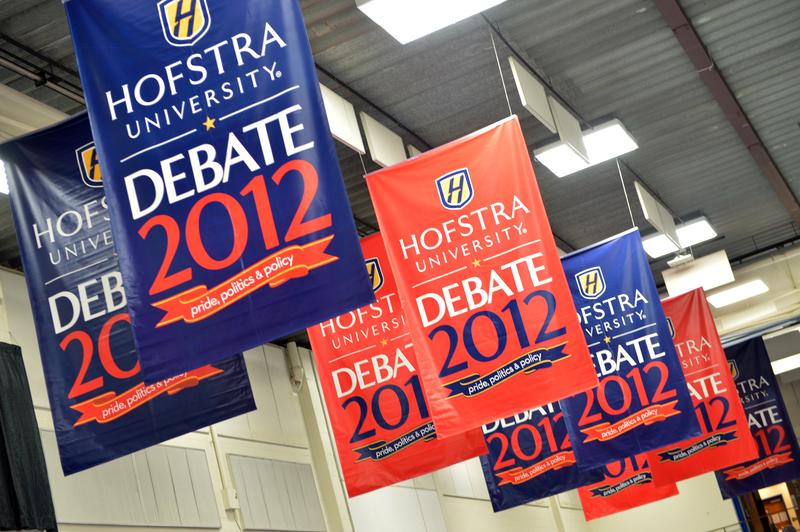 At tonight's town hall debate in Hempstead on Long Island, Gallup carefully cast an audience of 80 undecided voters. On the streets of Nassau County this week, there was little indecision among Long Island voters.
Most reported they'd selected their man—but their party registration had little to do with it.
Republican voter Eric Ader said he's going with President Obama.
"I am disappointed in Obama in some of the ways he's addressed small businesses," said Ader, a anesthesiologist from East Meadow. "But I believe right now that he still deserves a little more time to clean up the mess that was left for him."
The last Republican to get Ader's vote was President George H. W. Bush in 1992, which is also the last year Long Island's Nassau and Suffolk counties went Republican in a presidential race. Since 1996, Democratic presidential candidates have won both.
That political transition is apparent talking to area voters.
"I voted Republican my entire life," said Tom Broderick of East Willeston said outside a Garden City shopping center. "The issue I have is I just cannot trust Romney. He refuses to give any statistics. 'I'm going to create 12 million jobs.' Sounds wonderful. How? 'I'm not going to raise taxes on anyone.' Baloney."
Broderick and his wife Joan both supported George W. Bush, but gravitated toward Barack Obama four years ago because they didn't like Sarah Palin. The Democrats are getting their vote again this year.
"We feel that the Democratic ticket is something that senior citizens would benefit more by," Joan Broderick added. "Because of the Medicare issue. We don't want to go to vouchers."
Plenty of Long Island voters said they sympathized with Republican economic arguments this year, but they felt left out of what they described as a shrinking Republican tent.  
Frank Vitale, an NYPD police detective of Garden City voted for Republican John McCain four years ago, decided during the Republican primary process that he couldn't back Romney.
"His national party has become far more exclusive than inclusive," Vitale said. "You can't possibly move a country as diverse as ours ahead by excluding different groups, by playing to very, very narrow issues."
Obama supporters also had their complaints, particularly about the president's ability to fight back against Republican opposition.
"Am I happy with him? Not totally," said Carole Kreisman, a Democrat from West Hempstead. "I think he's not aggressive enough, or maybe he doesn't play the game enough. He certainly wasn't aggressive enough with Congress. He's too polite."
"Even if he looks like the big, black angry guy, it doesn't matter," said Natasha St. Pierre, who moved from Queens to Long Island three years ago. "I kind of feel like he wants to be 'We are the World,' but sometimes it's not like that. Sometimes you just have to be the boss. You just have to be the boss."
St. Pierre declined to say which candidate she's supporting, but unemployment remains her biggest concern. She recently had a child and had to leave her freelance television production work behind, and she worries about her job prospects. "I fear and dread when it's time to go back to work."
Nassau County's unemployment rate stands at 7.4 percent, below both the national and statewide averages. But economic anxieties dominate Long Island voters' concerns.
"I see what's happening business-wise. I see six businesses a day, 30 a week," said Tom, a state auditor from New Hyde Park who declined to give his last name. "I know when an economy is turning and when it's not. People are just hanging on right now. They're just hanging on."
A self-described conservative, he's backing Romney. "It's more negative toward Obama than positive to Romney."
Romney will also likely get the vote of Democrat Marilyn Herne of Levittown, just over the boundary from Democratic Congresswoman Carolyn McCarthy's district into Republican Rep. Peter King's district.
"I'm not happy with either candidate truthfully. I don't know," Herne said as she left the Levittown post office.
At 65 years old, Herne is out of work after the medical billing company where she worked closed.
"I've never been on unemployment my entire life," she said. "I don't like what Obama has done to the economy and the country, but I don't like what Romney is saying. It doesn't sound like he's going to make it any better."
"He is not for the middle class, which is what I was—or am."
For now, Herne said she's leaning towards Romney, though she said she'd really like to vote for Hillary Clinton or Michelle Obama.
She feels more certain about what's next for her and her husband. After sending out stacks of resumes and getting nowhere, they're going to leave Long Island when he retires.
"I have to get out of New York in order to survive."