Dr. Susan Gonella is like many doctors: she'll see about 10 patients each day, prescribing them medicine or referring them to specialists. But unlike most doctors, she won't ever shake her patients' hands, or take their blood pressure. Instead, she "sees" her patients almost entirely over email, from her Manhattan home base — or wherever else she has iPhone reception.
She works for a Williamsburg-based company called Sherpaa, which is looking to remake how we think about our healthcare system. On the one hand, Sherpaa counsels employers — like Tumblr — on how to save money on health insurance, usually recommending switching employees to a high-deductible plan, which is cheaper for the company. But then comes the innovative part: Sherpaa also makes doctors available to those employees 24 hours a day, 7 days a week, free of charge — but only over email or by phone — in effect using digital connectivity to streamline care.  
"It's estimated that about 70 percent of ER visits don't need to happen," said Dr. Jay Parkinson, the CEO of Sherpaa. "People just don't know what to do when they're in a bind. So if you give them guidance and fast track them into the proper resource, whether  that's an ER or an urgent care center, things just happen faster,  better, and cheaper."
It's all part of the growing effort to make healthcare more efficient by making it more digital. Some call this new industry "M-Health" or mobile health, others call it Health IT. But whatever you call it, it's booming — with venture capital investment tripling over the last three years, according to The MoneyTree report and the National Venture Capital Association.
Sherpaa just raised $1.85 million in venture capital to expand its business.
Some say city's banking heft combined with the fact that several major pharmaceutical companies are located in the region, helps make New York City the burgeoning capitol of Health IT. That's attracting interest from investors to Blueprint Health in Soho. The company is what's called an "accelerator" for M-Health startups. Every few months, they pick a handful of would-be CEOs with a big idea for how to make your doctor's visit more user friendly, and cheaper; then they bring those CEOs to their Soho loft and spend weeks training them on how to field test their products and pitch their ideas to potential investors.
In early October, all that work culminated in what's called a "Demo Day." Hundreds of venture capitalists squeezed into the company's loft office and listened to what amounted to a kind of "TED Talk" about each newborn company.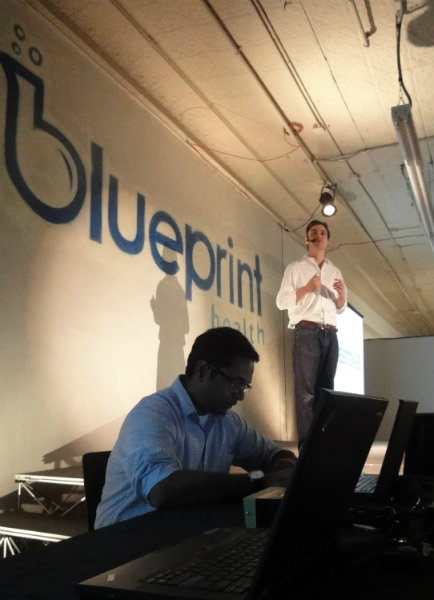 (Photo: Jarrett Bauer prepares to present his company to hundreds of venture capitalists on Demo Day. Mary Harris/WNYC)
There's one company making a smart pill bottle, which would text you if you forgot to take your medication. There's another company looking to put tablets into the hands of heart failure patients to remind them to take pills and give diet and exercise tips, as well as offer 24-hour access to a nurse via video chat, in an effort to help hospitals avoid costly re-admissions.
And then there's Victor Wang. He's looking to raise $300,000 for his company, GeriJoy, which is developing an app for the elderly, especially those with dementia. It is essentially a digital pet, a dog named Buddy. But this dog is more than just a toy. He can show family pictures, even have a conversation through trained workers standing by to chat.
Wang wants to make Buddy into a kind of stealth caregiver. "When Buddy says 'My ears are itchy, can you please scratch them?' There's a response time to that, and if we're measuring there's a consistently longer and longer response time, we can actually help to diagnose that this person's mental health is deteriorating," Wang explained.
While technology may have impacted the pocketbooks of companies and patients, it's not clear how large or small of an impact it has made when it comes to people's health.  
"I don't place a lot of emphasis on health being digital, having a health app in your pocket - I think it's kind of nonsense," said Jay Parkinson, CEO of Sherpaa. "I do believe that using all the forms of communication we use nowadays in our daily lives to interact with health professionals, who can help you in real time, is a huge advantage."
Dr. Gonella says she's hopeful that making herself available will mean more people getting better care. "People will utilize you, people who wouldn't go to the doctor, wouldn't get this thing that's been bothering them checked out, or this thing they've noticed on their skin looked at. You're bringing people closer to the medical community."