Local Businesses Assess Impact of Barclays Arena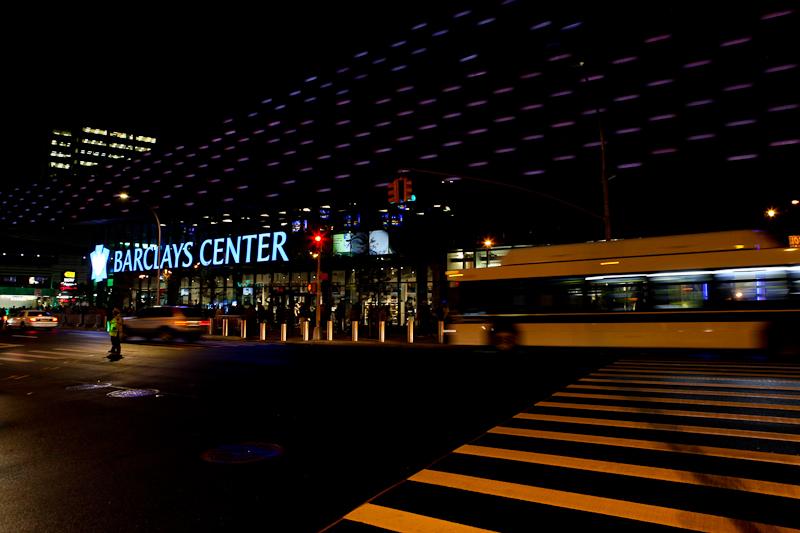 Devotees of Barbra Streisand seem to like falafel. Jay-Z heads generally eat and drink late into the night. Neither seem to have much interest in cupcakes or whimsical, irreverent Brooklyn-themed T-shirts, according to a recent survey of local businesses in the area.
It's been over three weeks since the Barclays Center opened in Brooklyn and businesses have had a chance to take stock of what happens when the area surges with 19,000 concert goers.
At Kulushkat Gourmet Falalfel on Dean Street, located across from the arena, owner Yagil Kadosh said the Thursday night Barbra Streisand concert was his best night so far. "I had to explain last night, a lot less times what a falafel was," Kadosh said. "It seems that for the Jay-Z night the dive bars were packed, and [when Streisand performed] it was more like the smaller sit-down neighborhood restaurants that were packed."
At the decade-old bar Mo's on Lafayette Avenue, a few blocks from the arena, owner Calvin Clark said he's seen a 10 to 20 percent uptick in business since the arena opened. The Jay-Z shows brought in a reliable late-night crowd. But he was surprised when the Streisand show did too.
"What I didn't factor in is we have the employees coming from there, so last night we had 40 employees, we're a small place," Clark said. "That is pay dirt because we don't always have to be advertising and every time an event happens…the employees are always there."
But at Cake Ambiance, a small bakery facing the arena, owner Jude Nwabuoku said it's still too hard to say if there's been any impact. "We expected better. Hopefully it gets better," he said. Nwabuoku said he did sell a cake to a restaurant inside the arena, but hasn't seen a major surge in customers.
Neither has the non-eatery businesses in the area. Located next door to Cake Ambiance is a funky T-shirt shop, Brooklyn Rock, which sells apparel and mugs with phrases like "Mom and Dad went to Brooklyn, and all I got was this lousy condo," and "My crazy aunt lives in Brooklyn." The shop has been open about as long as the Barclays Center and owner Seth Braunstein said he's noticed most people that visit Barclays go straight from the subway to the arena, not venturing up Dean Street for window shopping.
"God willing, people will have a reason to come here because basically you have cake shop and chess shop," he said.  "When people decide they don't have to just hang out at the plaza and they can actually walk around the neighborhood I think we'll do even better."
There will be a reason for people to be at the arena Monday. The Brooklyn Nets play their inaugural game, a pre-season match against the Washington Wizards.