Last Chance Foods: In the Cornfield
A little dry weather can go a long way, according to Kurt Alstede of Alstede Farms in Chester, N.J. While crops in the Midwest were blasted with severe drought conditions this year, farms like Alstede's fared much better in the Northeast's moderately dry summer.
"Dry weather makes for much better quality crops," Alstede explained. "There's less disease pressure, sugar content is higher and less diluted, so people enjoy a much more flavorful fruit or vegetable during a dry weather period."
That applies to sweet corn, too, which is wrapping up its season right now. Alstede, who grows more than 500 acres of organic fruits and vegetables about an hour outside of New York City, has about 45 acres of corn, and he allows customers to pick their own. His crop also serves as a corn maze designed as a tribute to Lou Gehrig, who Alstede says continues to be a great role model.
Harvest time for sweet corn is particularly important, he added. Corn is only at its peak of sweetness for about five days before the kernels become bloated with water. Because of that, Alstede plants different varieties at various times to ensure a steady supply. He also explained that each stalk usually only produces one marketable ear of corn.
Some ears don't even make it to the market table because they are first snatched for a rigorous (if not altogether scientific) test for sweetness. "Our tests are very simple: we eat it," he said. "And we eat it raw, interestingly. People think, 'oh, you can't eat sweet corn raw.' Well, of course you can. In fact, it's very good.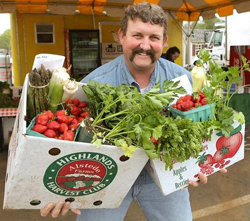 (Photo: Kurt Alstede with Alstede Farm CSA shares./Courtesy of Alstede Farms)
It's important that those ears aren't harboring big fat worms, of course. To avoid that, Alstede Farms use an integrated pest management system that closely monitors insect population, and apply organic pesticides only when necessary.
The biggest challenge to growing organically is the application of nutrients to the soil, Alstede added. His corn fields are alternately covered with manure, leaf mulch and cover crops of red clover. Organic fertilizer is significantly more expensive than conventional fertilizer, and that's why organic fruits and vegetables tend to be more expensive, he explained.
Alstede's staff harvests corn as early as possible in the morning, when temperatures are at their lowest. "A lot of our staff will eat an entire ear raw in the morning just as a little pick me up when they're done harvesting," he said. "If you've never tried it, I would encourage you to do it."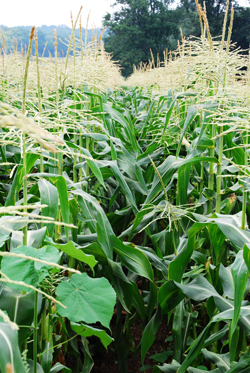 For the ears that aren't immediately eaten, Alstede recommended refrigerating corn to preserve freshness. While he admits that the corn will keep best if you leave the husk on, he is not as adamant as food writer Betty Fussell about discouraging his customers from peeling the husks back to check for worms.
(Photo: Pick-your-own corn at Alstede Farms/Courtesy of Alstede Farms)
He's got a very pragmatic reasons for that. "If people want to peel back their ears of corn, my feeling is, let me them peel back their ears of corn," he said. "If the cost of doing that is three or four ears per bushel, a bushel is 50 ears, then so be it. I'll price the crop appropriately, knowing that I'm going to lose four ears out of 50 each day, and everyone's going to be happy."
While fresh, raw corn makes for a good snack, you can also try Alstede Farms' recipe for Basil Tomato Creamed Corn, below.
Basil Tomato Creamed Corn
3-4 ears corn 
3/4 cup heavy cream
6-8  slices pancetta, diced
3/4 cup peeled and seeded chopped tomato
3 minced shallots
1/2 cup finely sliced chopped green onions
1 clove of garlic minced
1/3 cup dry vermouth
2 T Parmesan cheese, grated
1 T minced basil
Salt and pepper to taste
Cut the corn off the corncob, set aside.  Cut each corncob in half.

In a small sauce pan, bring the corn cob and the cream to a gentle simmer.  Reduce heat and simmer for about ten minutes.
In a large sauté pan, brown the pancetta, drain set aside
Drain all but one Tablespoon of the bacon fat.
Add tomatoes, shallot, onions and garlic, cook over medium heat for about five minutes.
Strain the cream-cob mixture, set aside.  Discard the corn cobs.
Add the corn to the green onion and cook for another five minutes.
Add the vermouth and cook for another two to three minutes.
Add the cream mixture and stir until thick. Do not allow the mixture to boil. Lower the heat and add cheese and pancetta. Season with salt and pepper. Sprinkle with chopped fresh basil and serve.