60-Second Stir Fry: Dora Hinds and David Vigil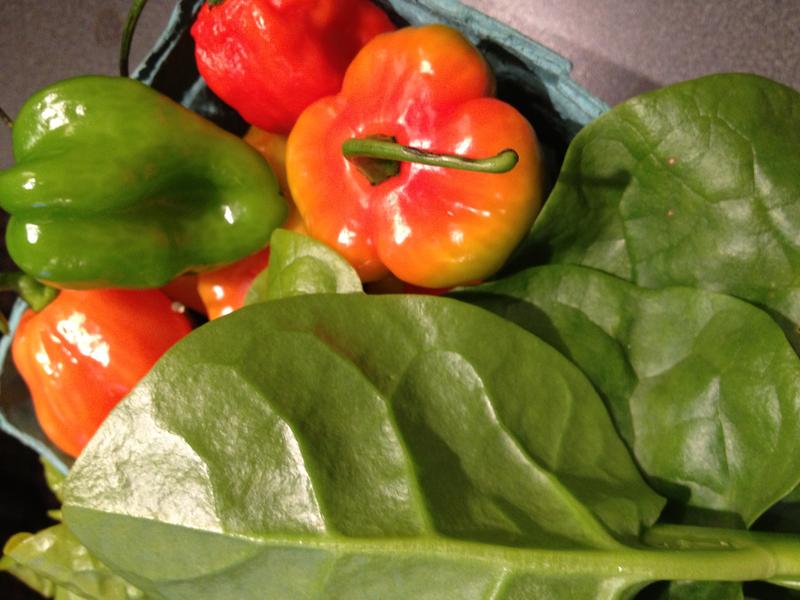 October 19, 2012 —
Dora Hinds of East New York Farms recommends stir-frying Malabar spinach in the braising liquid of a roast, 15 minutes before taking the meat out of the oven, so I knew she was not going to wilt under the pressures of my 60-Second Stir Fry.
Hinds grows Malabar spinach and other goodies in her big, sunny backyard. She brings extras to the "share table" at East New York Farms, where farm manager David Vigil has planted Malabar spinach, hot peppers and other veggie staples of the Caribbean.
Studio 4 acted as the share table this week.  Hinds and Vigil came with a little green paper basket stuffed full of different kinds of hot peppers and some glossy, green Malabar spinach leaves. Yay, farm swag!
Hinds is a native of Guyana, and right off the bat, I asked what was the best reason to visit the South American country.
"The interior," she said. "The birds, the reptiles, the trees ... we're now in the process of marketing for that."
I hit Vigil with a question about the best reason to farm in East New York. "Variety," he said. Well, New York City has that to offer, in spades. Vigil, a California native, came to New York City in 2004 and currently lives in Crown Heights, Brooklyn. He's surprised he's stayed as long as he has. He had originally planned to keep letting his stone roll so it wouldn't gather any moss ... or Malabar spinach vines.
I almost trip up Hinds with a question about her least favorite gardening chore. She takes her time answering, making me wonder if she loves doing all the grunt work necessary to make vegetables thrive in a Brooklyn backyard, or hates it all, and couldn't decide which part of the whole process was the worst.  
I'm thinking she loves it. You should have seen how she smiled in the studio, talking about her backyard patch.