Baby Walrus Arrives at NY Aquarium
A baby walrus from Alaska has arrived at the Wildlife Conservation Society's New York Aquarium.
The 15-week-old, 234-pound mammal was one of two orphaned walrus calves rescued from the ocean off Alaska in July.
The Alaska SeaLife Center initially cared for the two, but the U.S. Fish and Wildlife Service recommended that the walruses, Mitik and Pakak, be sent to the New York Aquarium and the Indianapolis Zoo respectively.
New York Aquarium staff escorted Mitik on an overnight flight to Newark, N.J. He arrived in Brooklyn early Thursday.
Mitik was badly dehydrated when he was found. He's getting better, but aquarium staff will stay with him around the clock and hand feed him for a while.
"Mitik has been showing signs of improvement thanks to the dedication and expertise of the Alaska SeaLife Center team, New York Aquarium staff on-site, and the Indianapolis Zoo staff all working together," said Jon Forrest Dohlin, Wildlife Conservation Society vice president and New York Aquarium director. "He is not out of the woods yet, but we are hopeful he will make a full recovery."
The New York Aquarium in Coney Island is one of only a few institutions in the country that exhibit walruses.
It has two other walruses: 30-year-old Nuka and 17-year-old Kulu.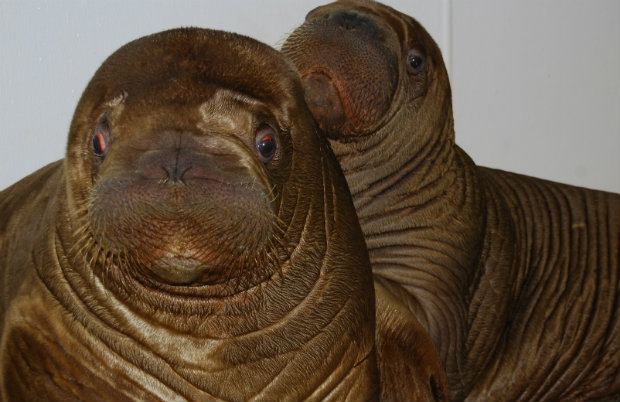 Mitik is expected to join the exhibit next spring. Martha Hiatt, New York Aquarium Animal Department Supervisor in charge of Training and Enrichment, had been in Alaska working with the calves. She observed that, despite any health issues, Mitik is active and enjoys interacting with people.
(Photo: Mitik and Pakak, orphaned walrus calves, were found at sea about a week apart./Shauna Gallagher of the Indianapolis Zoo)
With the Associated Press