Obama's Momentum in New Hampshire Cools after Debate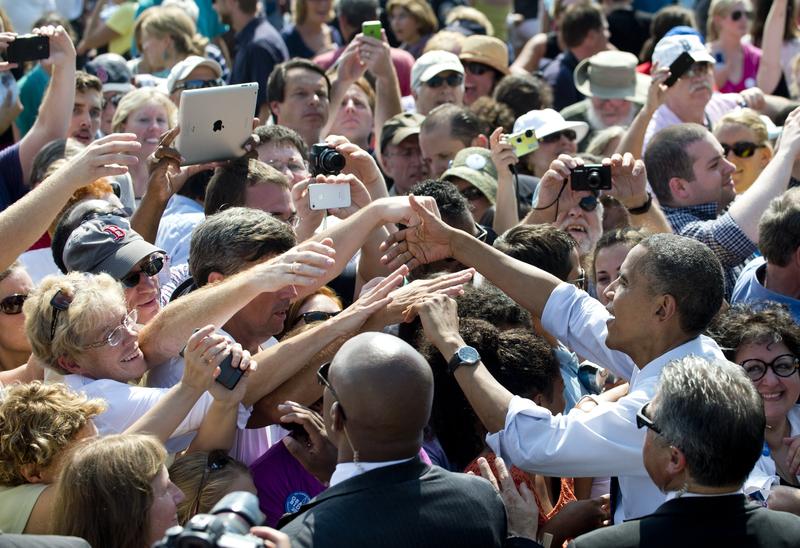 New Hampshire could be politically pivotal again with its four electoral votes in a close election for president. The state's famously engaged voters watched the first presidential debate – and it made a difference. Going into their first meeting, President Barack Obama had opened up a 15-point lead in polls over Republican Mitt Romney, but that advantage has narrowed down to six points in the last week.
Romney's improved fortunes come not just from pulling from Obama, but from shoring up his supporters. His support in New Hampshire had dropped to its lowest point of the campaign among likely voters, but now has rebounded somewhat.  
Among his Republican base, New Hampshire voters dismissed the idea that Romney had transformed his policy positions to broaden his appeal. The Mitt Romney on the debate stage was the Romney they've known all along, New Hampshire Republicans told me.
"He looked like the same ol' Romney that was Governor of Massachusetts. I think he did a good job," said Nancy Byko, a Republican school bus driver from Manchester who moved north from Massachusetts about ten years ago. "I think he had Obama off guard."
"I don't think Mitt Romney's been to the right all along," added Nita Beale, a Republican from Bedford, New Hampshire. She supported Rick Santorum in the primary, but said she's now for anyone who can get Obama out of office.
"We're right next door to Massachusetts, and we've lived here for over 20 years. I kinda think being neighbors, we knew what was going on," Nita Beale said. "I think he's towed the middle all along."
But not all the Republicans I met are sticking with Mitt Romney.
Dennis Picard, a union firefighter from New Boston, said he won't vote for Romney because of his labor policy and support for right-to-work laws. Picard voted for John McCain four years ago, and never thought he'd become an Obama supporter. But watching the fights over collective bargaining in New Hampshire and other states have made labor positions his top priority – though his endorsement of Obama sounded a bit begrudging.
"I mean, what other choice do I have?" Picard told me. "I don't want to support the Republican Party. I been born and raised Republican, but I'm not for his principles as far as what he wants to do for right to work and just union bashing."

The real voters up for grabs in New Hampshire, though, are unaffiliated independent voters. They make up the largest share of the electorate in New Hampshire, and while New Hampshire political consultants generally consider only about a third of them are truly centrist, with the rest tending to lean Democratic or Republican.
Obama won independents in New Hampshire by twenty points in 2008. He currently has an edge among independents, though it has also shrunk a little after the debate.
These voters can be fickle. New Hampshire is the only state rejected George W. Bush in 2004 after he won the state in 2000, and state voters kicked out both Democratic members of Congress in 2010 after backing Obama in 2008.
Kathleen Langlois, an independent voter from Dunbarton, told me she typically leans Republican, and thought she voted for McCain but couldn't remember for sure. This year, she said she doesn't like anyone who is running, but she has decided she wants a new president.  

"I've decided but it's basically a vote against Obama, is what it is. I'm going for Romney," Langlois said. "But I'm going to give him 4 years, if he doesn't do something, he'll be gone too as far as I'm concerned."