In Colorado, Campaigns Talk Economy while Voters Talk Abortion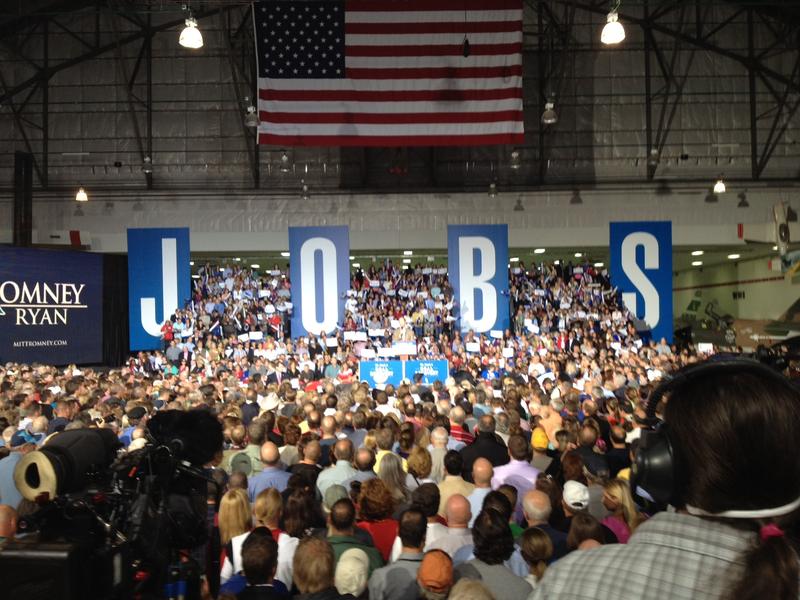 Leading up to today's first presidential debate, Colorado voters are getting barraged with campaign advertising. Most of it focuses on numbers – the unemployment rate, the size of the debt, and that now-notorious 47 percent.  
But voters about talking about something else entirely: Abortion.
Colorado voters tell pollsters that jobs and balancing the budget are their top issues. But in conversations with voters this week in the key swing suburban counties outside Denver, many brought up abortion and women's health without being prompted.
"The biggest issue, and no one will admit it, is women's rights on abortion," said George Cohan, a 69 year-old independent voter from Centennial, Colorado. He was laid off and forced into retirement when he lost his job as a manufacturing engineer, but still, he said his biggest concern this election year is abortion. "It was the issue that was the biggest thing in 2008, the Republicans didn't get the message, and it's the biggest thing this year too."
Exit polls in 2008 didn't ask Colorado voters about abortion, but you certainly see some interesting dynamics in this year's polls. President Obama leads among Colorado by six points, Romney has a similar edge among men. 
But on the issue of abortion specifically, a Denver Post poll last month showed the difficult line Romney has to walk. Colorado is home to Focus on the Family, the evangelical organizing powerhouse, and the Denver area is dotted with prominent megachurches. Ten percent of Colorado voters say abortion should be illegal in all cases, and they're overwhelmingly backing Romney.
The Republican coalition in Colorado also includes voters with a libertarian streak, who are uncomfortable with government intervention in personal issues. Half of Colorado voters say abortion should be legal. Two-thirds of voters who say abortion should be legal are voting for Obama, but almost quarter are voting for Romney.
Romney attracted both wings of the party out to a Denver rally on Monday night.  
"I think government needs to stay out of more of the social issues of the American people and do the job that they were supposed to do under the Constitution, which is to take care of our borders," said Deborah Holland, Republican-leaning independent from Littleton in Jefferson County, Colorado. She owns a small business, and this year, she said her biggest concerns are business regulations and the size of the federal debt. "People used to have pride and they don't anymore. It's like, give me what you can give me, and I don't want that for my grandkids."
But Vicky Collins of Aurora said it was Romney's pro-life stance that brought her out to cheer on the Republican nominee. "He wants to close down Planned Parenthood. I think that's huge because a nation that kills its unborn is a nation that has lost its soul," she said.
Romney has said that funding for Planned Parenthood is among the cuts he wants to make in the federal budget. 
For Rachel Berg of Golden, CO. that is among the reasons she will vote for Obama this year, she said during an interview on the city's Main Street. It will be the first time Berg has voted in a presidential election. She said a recent divorce has made her much more focused on the implications of policy on her life.
"It does make me angry what Romney isn't for Planned Parenthood and things like that," she said. "Those things are very important to me."
Berg mentioned other reasons for supporting Obama — the federal student loans her kids depend on, a sense that he understands the middle class, among them — so abortion rights were just part of her decision.
The real danger for Romney is the possibility of alienating libertarian-leaning voters who otherwise would stay within the Republican tent, like Jennifer Baldwin, an aesthetician in swing Arapaho County outside Denver.
She was raised Republican and didn't vote four years ago. But this year, she's planning to vote for libertarian candidate Gary Johnson, who is currently polling around three percent in Colorado. Baldwin said she left the GOP specifically because of its positions on women's health and social issues.
"Being in the hospital once and having them make choices for me, based on legal policy and government policy, I just felt like was far beyond what they needed to do, when a lot of things were very personal and makes you feel like a bad person or whatever for your choices," she told me. "I just don't like, it's all black or white. It isn't like that. The world doesn't work like that."