One Year Later, Pvt. Danny Chen Remembered
It's been one year since Private Danny Chen of Manhattan was found dead in a guard tower in Kandahar Province, Afghanistan, from what military officials called a self-inflicted gun shot wound.
On Tuesday, Pvt. Chen's parents and members of the Organization of Chinese Americans will attend a vigil in Union Square at 5:30 p.m. to remember the young soldier who was bullied by members of his unit. Chen faced racist language and was subjected to humiliating treatment, according to the charge sheets against Chen's fellow soldiers.
Five of the eight members of his platoon have been charged and sentenced in military court. The harshest sentence was handed to Specialist Ryan Offut, 32, who received a reduction in rank, six months in a military prison and a discharge for "bad conduct." The most serious charge of negligent homicide was dropped by the government in exchange for a guilty plea.
In June, Senator Kirsten Gillibrand, a member of the Senate Armed Services Committee, introduced two pieces of legislation: one that creates a database to track hazing incidents and another that promotes diversity in the military.
The night before the one-year anniversary, Sen. Gillibrand and Senator Barbara Boxer sent a letter to the Department of Defense, urging them to add an anti-hazing statute to military criminal law. "We appreciate efforts by the Department of Defense to take steps to address this serious issue through training and awareness programs, as well as through improved reporting mechanisms," the letter noted.
Chen was born and raised in Manhattan by his parents, non-English speaking Chinese immigrants. They've attended most of the courts-martial in Fort Bragg, North Carolina. His mother testified at one. Chen's father wears his son's military hat. His mother has a button on her purse with Chen in uniform and the words: "JUSTICE FOR PVT. DANNY CHEN."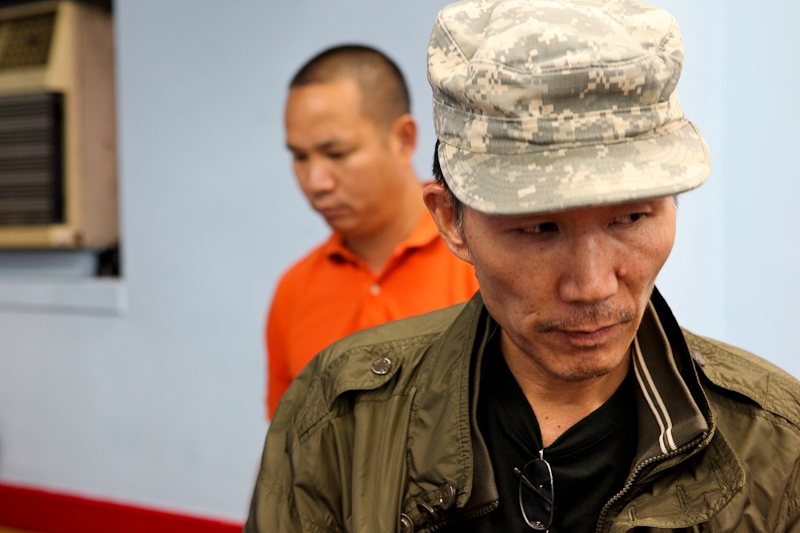 (Photo: Yan Tao Chen, Danny Chen's father, wears his son's hat at a conference announcing the vigil, which will include singing and posters of Chen. Stephen Nessen/WNYC)
The next trial is for First Lieutenant Daniel Schwartz, and begins on October 24. He is charged with six counts of maltreatment and using racially abusive language and dereliction of duties.