1 in 4 Given Solitary Confinement in State Prisons, Study Finds
One in every four people in New York's state prisons is sentenced to forced isolation that deprives them of necessary interactions, according to a report by the New York Civil Liberties Union released Tuesday.
New York handed out 68,100 sentences of extreme isolation from 2007 to 2011 for violation of prison rules — meaning prisoners would spend an average of five months in a confined cell they call "the box," according to the study. (PDF)
Of the isolation sentences given out last year, many were for minor offenses, according to NYCLU's Executive Director Donna Lieberman.
"Substance abuse, talking back… having too many postage stamps in your cell," Lieberman said of the 13,500 isolation sentences last year.
Isolation for assault or weapon offenses made up 16 percent of sentences from 2007 to 2011, according to the study.
Brian Fischer, the commissioner of the state Department of Corrections, defended the use of isolation and said possession of drugs, cell phones or weapons can pose a "serious threat" within the prison system.
"As society removes those individuals who commit crimes, so too we must remove from general population inmates who violate the department's code of conduct and who threaten the safety and security of our facilities," he said in a statement.  
He added that the department was also undertaking an extensive review of it's polices regarding placements and length of stay in these units.
The study is the result of interviews with more than 100 inmates, family members and Department of Corrections staff over the course of a year.
The amount of time inmates are confined to these cells—referred to by inmates as "the box" -- is also a concern of family members.
Queens's resident Sade' Jackson said her 21-year-old brother spent a year in solitary confinement at the Upstate Correctional Facility in Franklin, N.Y.
"I pray that this horrible experience won't change him for the worst and that he won't leave the box thinking that he's an animal," she said.
Eight percent or about 4,286 prisoners are currently in isolated confinement where prisoners spend 23 hours in their cells, according to the report.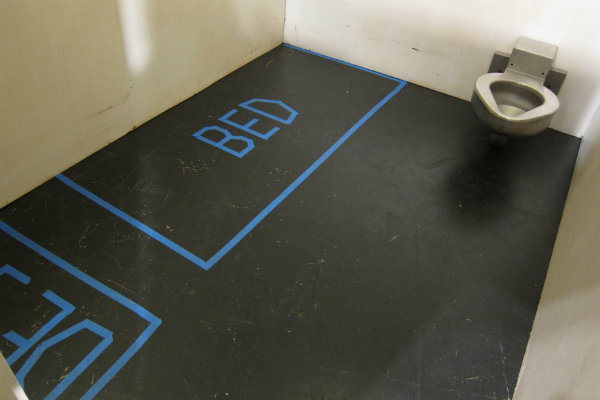 (Photo: The NYCLU created a mock prison cell to show what life is like in solitary confinement. Kathleen Horan/WNYC)