Note to Self
The Maker Movement: The Next Industrial Revolution?
Reporter Stan Alcorn caught up with the editor-in-chief of Wired, Chris Anderson, to discuss the DIY movement of tech-savvy tinkerers known as "makers." In his new book, Makers, Anderson argues that "making" is a revolution with the power to revive American manufacturing.
Many of those makers gathered this weekend for the World Maker Faire — an event that bills itself as "the greatest show and tell on earth" and resembles a cross between a science fair, World's Fair and Burning Man — where makers showed off their creations.
The movement has even inspired Anderson to build a workshop in his home, and his daughters, he notes, take pleasure in creating plastic furniture for their dollhouses using a 3-D printer. He weighed in on the relationship between makers who start businesses with those who create things just for fun.
The subtitle of your book is "The New Industrial Revolution." How do you get from the ease of one person making something like dollhouse furniture to really altering industry more generally?
You know we've seen this picture twice before. This is really the third wave of the digital revolution. The first was the personal computer and we saw what happened when we added the word "desktop" and "personal" to computing. They weren't more powerful computers than the mainframes that preceded them, but they were in the hands of more people and these people had new ideas and they revolutionized the world once. We then did it again with the web. And in this case we put the ability to broadcast and to publish to a global audience, in the hands of everybody. And once again we revolutionized, in this case, the media industry and information industries. Now we're doing the same thing with physical stuff with manufacturing.
How do you put that together with the whole variety of what you see at Maker Faire? You look at the flame-shooting unicorn and you don't necessarily think: "This is the face of the new industrial revolution."
Think of it just like the web. You know the web has got cat videos and Facebook. The point is there's room for everybody. There's room for amateurs and professionals, there's room for niche and room for mass. Some of those niche amateur sites may in fact become companies, start-ups, and maybe even big ones. But they don't have to. This is what's unique about digital marketplaces, like the web, is that the amateur and the professional exist on the same plane. And when you think of your own consumption, many of us spend half our day in professional media content and half of it in amateur content, be it Twitter or Facebook or just blogs. And that's fine, they coexist, they compete for our attention. And I think of Maker Faire being the same way — that the amateurs and the professionals can coexist. The amateurs are driven by passion, by fun, because they can. Some of them may become start-ups and entrepreneurs and ultimately big companies. But they don't have to. And the point is people can make anything, whether driven by love or money.
There have always been a certain number of people that are tinkerers and hobbyists and like to build things. Is what's revolutionary that those people now can find a platform, start a company much more easily? Or is it actually that more people will necessarily get involved in building things? Because Maker Faire, as amazing as what these people are doing seems, it still seems like a niche phenomenon. I'm wondering if you see that as the beginning of something that's going to become more of a mass thing, or is more about super-charging a small group of people?
Maker Faire is just the physical incarnation of what is already a mass phenomenon. Look at Etsy or Kickstarter. These are billion-dollar-volume companies that are showing marketplaces for maker products, ones that originated in the grassroots. I think what defines the maker movement — as opposed to the tinkerers and the hobbyists that came before — is two things. One is they're the web generation. The web generation means they instinctively share. They do things in the open in public and they do things together, they collaborate. They use the web's innovation model from open source to informal collaboration to build on each other's work to innovate even more quickly. The second is that their ideas start on screens. The fact that they start digital — and that means they can be prototyped with a single copy on your desktop or uploaded and made in the millions by the biggest factories in the world. Because they start digital means they have a portability that can address any scale. They can be a hobby or they can be a company. The same format can allow you to design something, make it, collaborate, innovate with others and ultimately make it.
Below, check out a slideshow of images from the third-annual Maker Faire.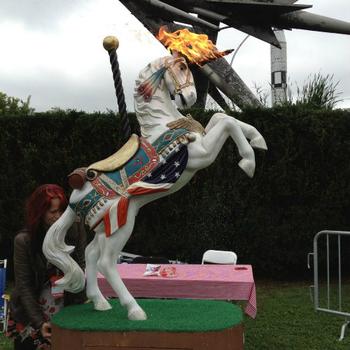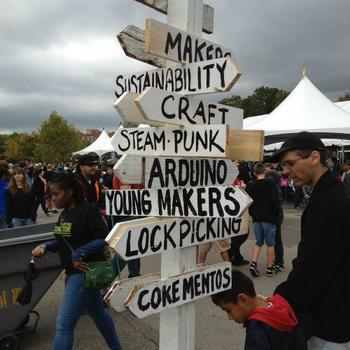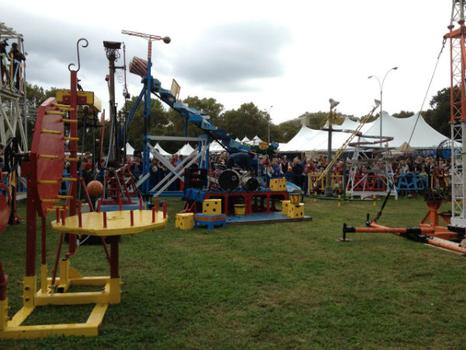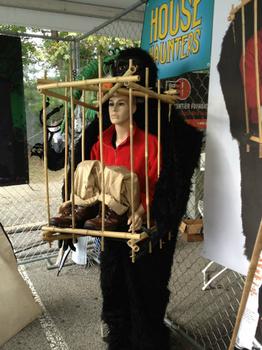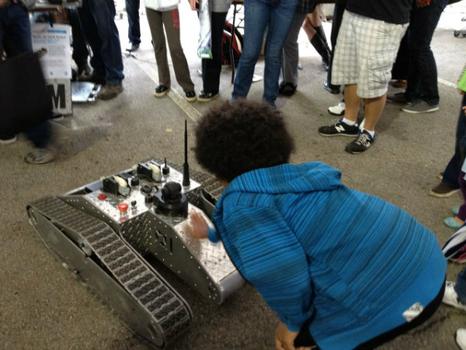 of