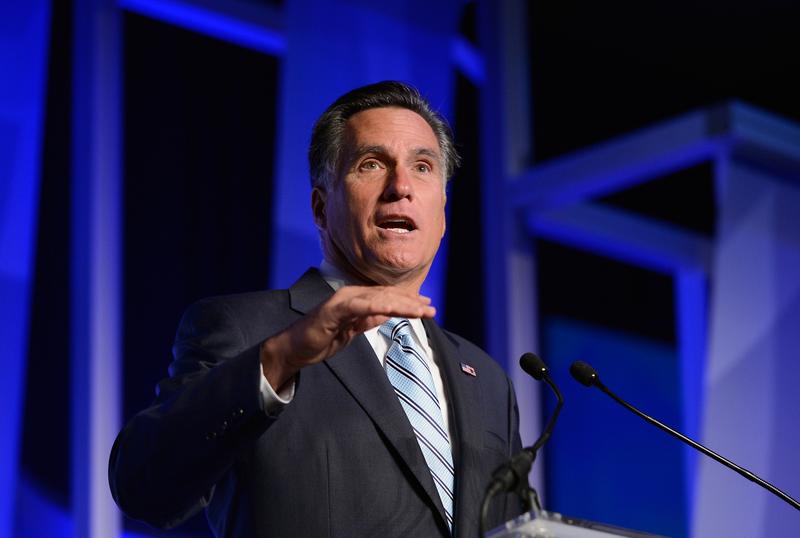 On this week's episode of Gabfest Radio from Slate and WNYC, Political Gabfest panelists Emily Bazelon, John Dickerson, and David Plotz discuss Mitt Romney's challenges in heading into the presidential debates, and alleged liberal bias in the media and polling.
Then on the Culture Gabfest portion of the show, panelists Stephen Metcalf, Dana Stevens, and Julia Turner discuss the documentary Queen of Versailles, director Lauren Greenfield's portrait of opulent excess and financial collapse, and what happens to a family's dream of constructing the largest private home in the country when the economy tanks. They then discuss Revolution, the new sci-fi drama from J.J. Abrams and Eric Kripke, pondering why Americans can't seem to get enough of the post-apocalypse in our entertainment. Finally they consider TV critic Matt Zoller Seitz's blog post about distanced or "unsophisticated" viewership, whether there exists a "wrong" way to watch a movie, and how to properly experience and appreciate art of an earlier age.
Join the Gabfest discussion all week long at the Political Gabfest Facebook page and the Culture Gabfest Facebook page.
Here are links to some of the items mentioned in this week's episode:
POLITICAL GABFEST (Click here for this week's individual episode at Slate):
Can Romney win without Ohio? Nate Silver summarizes some alternative paths to victory.
Emily speculates about the cause of Obama's stronger Ohio polling; one of several explanations, says The New Republic's Alec MacGillis, is an overemphasis of Obama's problems with white working class voters, which seem greater in the South than in the Midwest.
James Fallows plays debate coach in his technique and skill-focused preview.
But John reminds us: debates usually don't matter. For a review of the academic research, read John Sides in The Washington Monthly.
David says a new polling site purports to correct a liberal bias in polling. Chris Cillizza has a fact-check on the main argument -- that party identification is skewing polls.
Cocktail Chatter:
John chatters about the first photo ever taken of humans, circa1838.
Emily chatters about John's "Fresca" project (Slate's in-house term for a long reporting project), a look at what criteria we might use if we conducted job interviews for the presidency.
David chatters about The Washington Post's panda coverage.
CULTURE GABFEST (Click here for this week's individual episode at Slate):
Lauren Greenfield's documentary Queen of Versailles.
Claire Thompson for Grist on Queen of Versailles and the "1 percent."
Joe Nocera for The New York Times on the lawsuit against Queen of Versailles director Lauren Greenfield brought by the movie's subject David Siegel.
Jared Diamond's books Collapse: How Societies Choose to Fail or Succeed and Guns, Germs, and Steel: The Fates of Human Societies.
The actor Giancarlo Esposito, star of Revolution and Breaking Bad.
The actor Billy Burke of the The Twilight Saga movies.
The post-apocalyptic universes of The Hunger Games, The Walking Dead, and Contagion.
Revolution creator Eric Kripke and producer J.J. Abrams.
Brian Stelter's New York Times story about Revolution in which J.J. Abrams hints at the series' central narrative principle as distinct from that of his show Lost.
Troy Patterson on Revolution for Slate.

Matt Zoller Seitz for Indiewire on viewers distancing themselves from "unsophisticated" movies and his follow-up post in response to readers
NPR's Linda Holmes' thoughts on "the sophistication problem."
John Perich on Zoller Seitz's piece for the blog Overthinking It.
The 1963 James Bond film From Russia With Love.
The movies Three Days of the Condor, Goldfinger, Dr. No, Singin' in the Rain, Sneakers and The Rocky Horror Picture Show.
The Austin Powers trilogy, Mike Meyers' send-up of the James Bond espionage genre.
The TV series that showcases the ultimate in distanced, heckling viewership, Mystery Science Theater 3000.
Endorsements:
Dana's pick: The Tumblr blog speakcelebrity.tumblr.com, which features celebrities reading poetry, including Al Pacino reading Shakespeare's "Sonnet 150," Meryl Streep reading "Because I Could Not Stop for Death" by Emily Dickinson, and Benedict Cumberbatch reading Lewis Caroll's "Jabberwocky."
Julia's pick: The YouTube video "Best Line Delivery of All Time," starring Giancarlo Esposito.
Stephen's pick: The newly coined term "farmeur," to describe the yuppie who is convinced of his agrarian bonafides, and Émile Zola's 1885 masterpiece "Germinal."